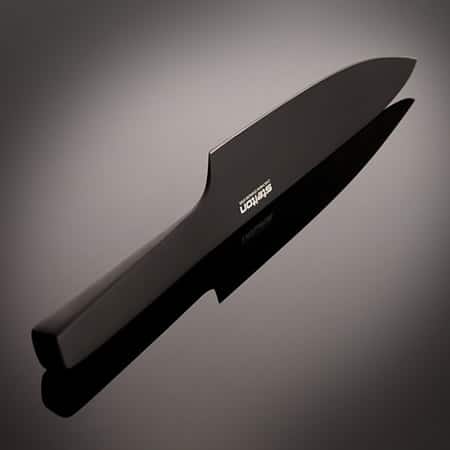 A thing of beauty is a joy forever. (Keats)
[Update 9/15/11 — This giveaway has ended. Thank you to Think Geek and everyone who entered!]
Forgive me, but I'm geeking-out pretty hard right now. See, there are few things in this world that tickle my fancy more than an object that is both functional and gorgeous. And if it's an awesome cooking tool? Then I'm beside myself.
Considering that a good chef's knife is probably the single most important and useful tool in a kitchen — and there are a lot of gorgeous knives out there — the bar is set pretty high.  So when I happened upon this chef's knife from ThinkGeek.com, my jaw dropped.  It's. Just. Stunning.
I contacted the awesome folks at ThinkGeek, and they quickly agreed to sponsor a giveaway of one of these totally badass knives!  They also sent me one to try out.  (Sadly, I have no more space in my knife block, so I'm going to give away the demo knife, too.)
This is no ordinary knife. This is the sexiest knife I've ever seen. Seriously. While trying it out, several friends walked past it in the kitchen and were equally impressed — it's simultaneously a conversation starter and stopper. Beyond its good looks, it has a solid heft to it (weighty, but not too weighty), and feels quite good in your hand (even with the tapered, square handle), and it's damn sharp (evidenced by the fact that I cut myself just putting it back into the box. Ahem.).
Okay, enough gushing. Here's the deal: Two lucky Eating Rules readers will each receive one of these knives — valued at $120!
Entering is easy. Here's what you need to do: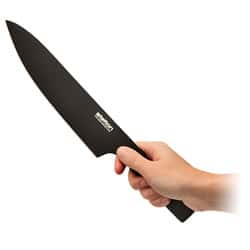 How To Enter
1. Leave a comment on this post.
Be sure to enter your email address in the form so I can contact you if you win (it won't be published, and I won't share your address).
Want More Entries?Each of these will give you another entry in the drawing:
2. Tweet it!
Follow me on twitter and tweet about the giveaway. Then come back here and leave an additional comment with a link to your tweet. These buttons should make it easy:
(If you're reading this via RSS or email, click through to the full post to see the buttons.)
You must include @eatingrules and a link to this post in your tweet. (You can use http://bit.ly/chefsknife if you want). Something like this:
Win an awesome Pure Black Chef's Knife
from @eatingrules! http://bit.ly/chefsknife
3. Facebook it!
First, "Like" the Eating Rules Facebook Page.  Then, share this post on Facebook (click the Share button up there at the top). You must leave an additional comment to let me know you've shared it.
The Fine Print
The giveaway ends at 11:59pm PT on Wednesday, September 14th.  I'll select the winner at random from all of the eligible entries received, and post the results shortly thereafter.
Limit of three entries per person: One for your original comment; one for following me on twitter, tweeting and posting an additional comment; and one for liking the Eating Rules Facebook Page, sharing the link on facebook and posting an additional comment. I will be picking the winner from all of the comments received, so please be sure to leave a comment for each type of entry.

If you're the winner, you'll need to email me your mailing address (no PO boxes, sorry) and phone number within three days, else I'll choose another winner. I'll then pass along your info to ThinkGeek, and they'll ship your prize right to you!
If you include a link in your comment to your own blog or site, I'll consider that spam and delete your comment, sorry.  Of course, please do enter your site's URL in the "website" field on the form.
This giveaway is open to U.S. Residents only, since we are limited to shipping within the U.S.  Although you may enter up to three times, you may only win once.  Odds of winning will depend on the number of entries received. Offer void where prohibited by law. Your mileage may vary.
Thank you to Shane Peterman ("PR Manager, Righteous Dude"), ThinkGeek.com, and everyone who enters!
Full disclosure: I am receiving no compensation for this giveaway (I'm giving away the demo they sent me). It's just something I wanted to do because I knew you would appreciate it.