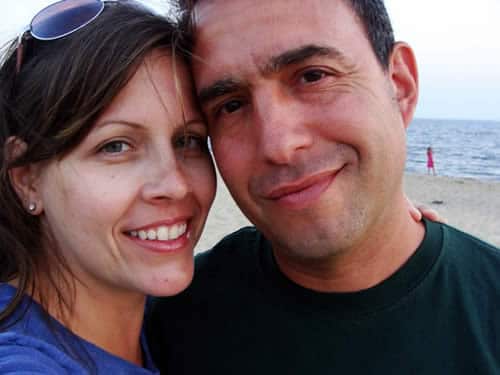 One.
I'm starting to lose track of how many times the food blogging community has made me cry. (Add one to the list today, even before putting my first words on this post).
No, not tears of sadness. Tears of joy. Well, sort-of. I'm not really sure if there's one word that can explain it. Tears of belonging, perhaps.
See, here's the thing. Food bloggers are talented, multi-dimensional folks. They create new recipes and bring them to life with masterful skill.  They make mouth-watering photographs so you'll be drawn in and excited to try to make it yourself. They tell stories stories with humor, love, irony, sadness, joy, color, and beauty.
But that's not what's really important. That's not what makes me cry.
It's the community. This generous, caring, supportive, and compassionate community.
With thousands of food bloggers, you might think we would all be in competition with each other.  (There are only so many readers, and only so many hours in the day, after all.)  But for some inexplicable reason, that's not what happens. Instead, we support, encourage, and uplift each other.
Two.
A few short weeks ago, Jennifer Perillo's husband passed away from a sudden heart attack.  She didn't even have time to say goodbye.  He left her with their two young daughters and not enough memories.
I was going to write "He left her alone," but that's not true.  He left her with us.
(Though still not enough memories, I'm sure.)
Three.
I don't think I've ever actually met Jennifer in person (perhaps briefly at a conference?), but that doesn't really matter. What matters is that she's a food blogger and she needs our support right now. They were on Mikey's health insurance, but that runs out in December. She now has to carry the mortgage on her own. She doesn't qualify for social security, since she earns more than the (rather low) $14k threshold.
Bloggers Without Borders (created by two generous food bloggers, naturally) has set up A Fund for Jennie, to help her and her girls through this difficult time. In just two days, direct donations have already raised nearly $8,000. They're also asking folks to auction goods and services on their own blogs. The current bids total somewhere around $7,000, with more coming in every moment.
Four.
I watched on the sidelines with great sadness as my twitter feed and many friends' blog posts reported on Mikey's death. I watched on the sidelines as thousands of bloggers and friends made Pies For Mikey, after Jennie shared with us that Mikey loved Peanut Butter Pie.  (I have to admit, making #apieformikey wasn't really in my skillset.)
I've decided it's time to get off the bench. I just sent in a few dollars; but that's not enough.
So I'm going to contribute something of value that is within my skillset: Tech Support for your blog.
Need advice on Search Engine Optimization? Help understanding your Google Analytics? Is your Facebook Like button not working properly?  Can't figure out The Twitter? Is your site loading slowly?  Here, I can help.
So here's my auction item:  Three hours of one-on-one tech support and training.  If you're in the Los Angeles area, we can meet in person. If not, we can chat on the phone and via email.  If you have specific questions, I'll answer 'em. Or perhaps you think your site just needs some improvement — but you're not really sure where to start — I can help with that, too.
Bidding starts at $150.  Just leave a comment below with your bid amount (be sure to enter your email address correctly, so I can contact you if you win).  Winning bidder will need to send payment to the fund for Jennie, directly through the Bloggers Without Borders Paypal account.
Bidding closes on Monday, August 29, at 11:59pm PST.
Five.
Don't need tech support? There are lots of other wonderful items up for auction from other bloggers. Or, please consider making a donation, no matter the size, to A Fund For Jennie instead. Click this donate button below and you'll go right to the Paypal donation page: