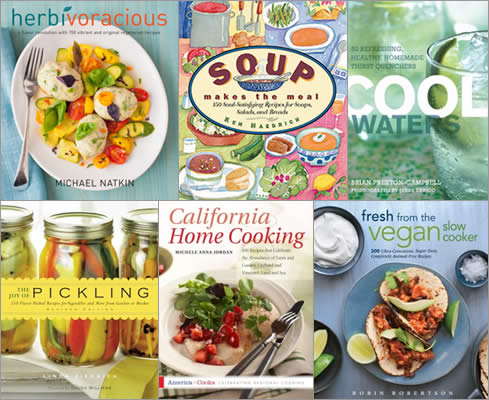 Sure, it's not necessary to cook your own food in order for it to pass the kitchen test, but if you do, it sure is a lot easier to know what's in it! (It's also usually a lot healthier… and less expensive… and more gratifying…)
If you're going to be cooking your own meals, it's essential to have some great cookbooks in your library! So to help you get started (or to expand your existing library), I wanted to offer a cookbook giveaway in the week leading up to October Unprocessed. Thankfully, my friends at Harvard Common Press enthusiastically agree.
[Update, October 2: The giveaway has now ended. Congratulations to Megan, Amy, Teri, Janelle, and Kelly…and thanks to everyone who participated!]
So here's the scoop: One lucky reader will receive a "Grand Prize" of all six cookbooks pictured above! Four more lucky readers will each receive one book of their choice from this list. We picked this particular group of books from their catalog because we felt they would be a great set for any cook — including vegetarian recipes, slow cooker recipes, soups, pickling & preserving, and even some refreshing beverages to round it out. Here they are:
To enter, follow the instructions in the "Rafflecopter" widget below (Email and RSS readers, click through to the full post to see it). Leave a comment on this blog post to "unlock" the other ways to enter!
Thanks to Adam and Bruce from Harvard Common Press for the books and their enthusiastic support of October Unprocessed!
(I received no compensation of any kind from Harvard Common Press for this post. The links to the books are Amazon affiliate links, so if you click through and make a purchase, I'll earn a few cents. Thanks for your support!)