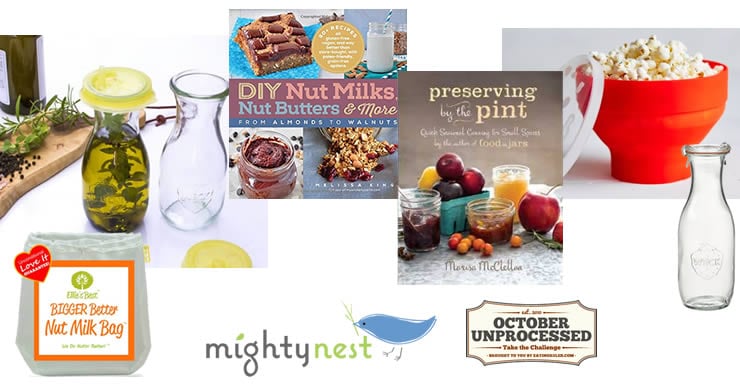 When people take the October Unprocessed challenge, they usually find themselves cooking a lot more, and bringing food with them when they leave the house. It's not necessary, of course, but most folks quickly realize it's actually easier — and a lot less stressful — when they leave the house prepared. (And of course, saving a ton of money by not dining out doesn't hurt, either!)
So when Annie at Mighty Nest reached out to me to see how they could support us again this year, it was clear that many of their products would be tremendously helpful for people taking the challenge (and beyond, of course). Mighty Nest is an online retailer with a positive mission: providing natural, organic, and non-toxic products all in one place. All of the products they sell are free from known toxic ingredients such as: BPA, PVC, Phthalates, Lead, Melamine, Formaldehyde, Flame retardants, Parabens, and more.
I kind of geek out about all this stuff, and I especially like that they focus on non-toxic, reusable, durable products. They carry glass and metal storage containers for your fridge and pantry. Green cleaning supplies, bath products, and other home essentials. Non-toxic "baby stuff" like burp cloths and swaddling cloths and sippy cups. (Okay, I'll admit it. The baby stuff is a bit out of my wheelhouse. But it seems great.)
They also offer the MightyFix, a subscription service that helps you discover an amazing product every month to help you and your family live healthier (and keep reading for a special MightyFix offer for October Unprocessed participants!)
This year, we decided to go with a "D.I.Y" theme, since so many foods are not only healthier when you make them at home, but also tastier and infinitely more satisfying. Mighty Nest also wanted to have as many winner as possible, so they're going to give away a whole bunch of prizes:
10 lucky people will receive this Silicone Microwave Popcorn Popper by Lékué
Matty got us one of these last year, and we absolutely love it! All you need to do is pour some kernels into the bowl, drop the lid on top, and put it in the microwave. When it's done, just drizzle some olive oil and toppings on top, using the popper as your serving bowl.
Store-bought microwave popcorn bags are actually pretty nasty creations. Not only are the bags lined with potentially toxic chemicals, they also add all kinds of processed, horrible-for-you ingredients (seriously, pick up a bag at the store and check out the ingredients). Also, they're crazy-expensive!
In the past, I've recommended using plain paper bags to make your own microwave popcorn. These silicone poppers are even better and safer because we don't have to worry about the glue used in the bags, nor the possibility of the bag actually igniting in the microwave (especially if there's a leftover staple still in the bag!).
Bonus: It collapses for easy storage in your pantry and is even dishwasher-safe!
Retail value: $18.99 each (before shipping)
3 lucky people will receive this D.I.Y. Nut Milk Making Kit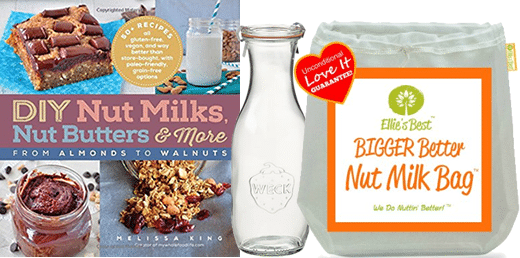 If you've never made your own almond milk (or any other nut milk) at home, you're in for a real treat. It's outrageously delicious. Not only does it taste far better than the store-bought stuff, but it'll be free of "natural" flavors and stabilizers like carrageenan. This prize pack includes a Bigger Better Nut Milk Bag, a Weck 1-liter glass jar to store it, and a copy of DIY Nut Milks, Nut Butters, & More by Melissa King.
Retail value: $32.97 value each (before shipping)
3 lucky people will receive this Infusing and Preserving Kit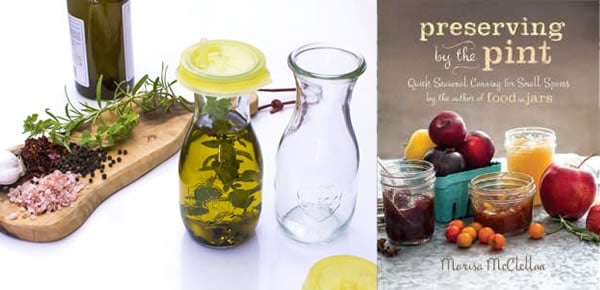 If you've ever wanted to infuse your own oils (or perhaps make vanilla extract), this is the kit for you. It includes a Weck 1/2 liter glass jar, and a Blossom Infuser eCap to give the jar a tight seal. And, they'll include a copy of Marisa McClellan's Preserving by the Pint: Quick Seasonal Canning for Small Spaces to give you even more year-round preserving ideas.
Retail value: $32.28 value each (before shipping)
Don't miss out on the $5 Glass Water Bottle or Stainless Steel Bento Box!
I'd be remiss if I didn't make absolutely sure you're aware of the great deal Mighty Nest is offering everyone who takes the October Unprocessed challenge: When you take the pledge and then sign up for the MightyFix, you'll get a Life Factory Glass Water Bottle or Stainless Steel Oval Bento Box shipped to you for a grand total of just five bucks. (Yes, that includes shipping!) After you accept the challenge, look for an email in your inbox that says "Your October Unprocessed Gifts" for the top-secret links.
How to Enter
Step 1: Go take the October Unprocessed challenge (if you haven't already).
Step 2: Use the Rafflecopter widget below, using your Facebook account or email address to log in.
Step 3: Follow the steps in the widget for more ways to enter.
Good luck!