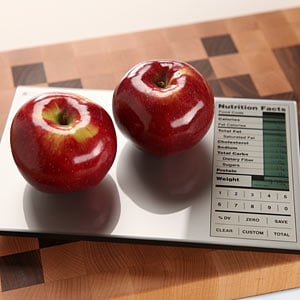 [This giveaway has ended — thanks to all who entered, and please stay tuned for more great giveaways in the future!]
A few weeks ago I found the Perfect Portions Nutrition Scale for sale over at ThinkGeek.com. I immediately contacted them because I thought this could be a great tool for healthy eating, and I wanted to share it with my readers. They agreed, and the very next day a free sample was on its way.
This glass-top scale is pretty slick. You simply place your food on the scale, look it up in the accompanying book, and punch in the code. That enables the scale to give you detailed nutrition information for your "perfect portion." It does the math for you (hey, I thought geeks liked math!), giving you get a quick readout of calories and all the other macronutrients in the food in front of you.
Sure, it might be a bit of a hassle to look up each code, weigh it, and figure it all out. However, I see this as a great tool for someone who really needs to watch their numbers carefully.  Or better yet, for someone who wants to learn the numbers — so they can better eyeball servings later.
Unfortunately, we have a tiny kitchen. Our cabinets are carefully crammed, and our counters are currently consumed by a cornucopia of jars of nuts, whole grains, cereals, and loose-leaf teas (Speaking of which: If you're ever in Paris, don't miss Mariage Frères, a magical tea shop in the Marais).
Although the scale is fairly petite, and I am indeed a sucker for gadgets, I'm nevertheless going to have to part with it. But my loss can be your gain: I'll be sending one lucky Eating Rules reader this brand new scale for Christmas! (or whatever your year-end holiday orientation may be.)
The full specs:
Kitchen scale weighs food, monitors carbs, salt, calories, cholesterol and more!
Built-in database of nearly 2000 foods
Easy-to-read nutrition facts adjusted to your portion size
Track daily totals
Weight + % Daily Value
Easy-to-clean stylish glass design
Includes sodium and sugars
Adapts to your diet with 99 custom foods
Hygienic touchpad keys
Measuring Units: g and oz (lb, oz)
Capacity: 10lb / 5kg
Resolution: .1oz / 1g
Dimensions: 9.25″ x 1″ x 6″
Batteries: 2AA, included
Perfect Portions Nutrition Scale Giveaway
This scale will make a fun (and functional) holiday present for you or your favorite healthy eater. Speaking of which, I'm working on an "Eating Rules Holiday Gift Guide," and would love to hear your ideas so I can include them in my upcoming post. So…
To enter the giveaway, simply share a

healthful holiday gift idea

in the comments below.
For another entry, tweet about the giveaway, including a link to this post and my twitter username, @eatingrules. Then come back here and leave an additional comment with a link to your tweet.
For another entry, share this post on Facebook. Please leave an additional comment to let me know you've shared it.
Limit of three entries per person: One for your original comment, one for tweeting and posting an additional comment, and one for sharing on facebook and posting an additional comment. I will be picking the winners from all of the comments received, so please be sure to leave a comment for each type of entry.
Contest ends at 11:59pm PST on Friday, December 17th.  I'll go to random.org and pick the winner shortly thereafter.  I will then notify the winner via email, and request his or her mailing address.  The winner will have four days to reply with their mailing addresses, or I will pick a replacement winner from the list.  (If you get back to me over the weekend, I will ship it on Monday via Priority Mail so you can have it in time for Christmas!).
This giveaway is open to U.S. Residents only, since I am limited to shipping within the U.S.
Although you may enter up to three times, you may only win once.  Odds of winning will depend on the number of entries received. Offer void where prohibited by law.
Huge thanks to Think Geek for donating the nutrition scale!