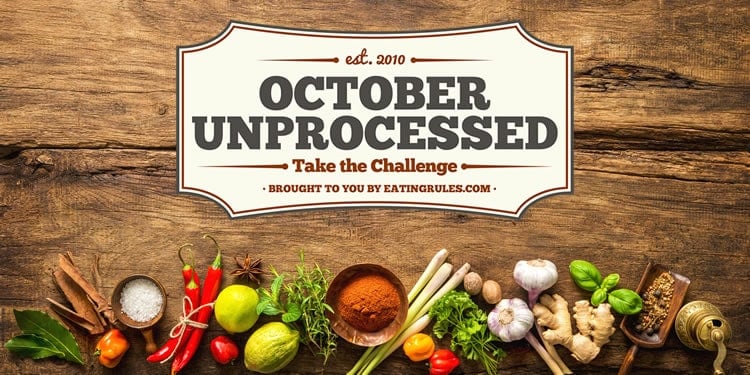 Way back in October of 2009, I was struck by a simple idea:
What would happen if I went for an entire month without eating any processed foods?
This question would have been laughable (or even nonsensical) just a few decades ago. Nowadays, it seems that almost every food that comes with an ingredients list on it is likely to be laden with extra sugar, fat, and salt. And preservatives. And flavorings. And artificial colors.
I'm not okay with this.
So I tried it, along with a few good friends: A month of no processed foods.
It was revelatory. My expectations and sense of taste were re-calibrated. I started to identify individual ingredients in the foods I ate. I didn't crave those salty snacks. I found myself often in the kitchen, excited to see what I could cook next. Above all, I simply felt better.
We took turns hosting small dinner parties, and shared our stories and experiences. It brought us closer together. Funny how real food does that.
In 2010, I decided to try it again, in a bigger way. I had started Eating Rules just a few months before, and I reached out to my fellow foodies, bloggers, and friends, and issued the challenge again. By the end of October, 415 people took the pledge and got this movement really started. We've grown each year since then — this is now the tenth annual October Unprocessed! — and by now, more than 30,000 people have joined in.
We've also shared a ton of great posts each year, and this year we'll be sharing more.
Although it's a lot of work to make this project happen, I want to do it again. It's just too important not to. And I want to share this experience with as many people as possible. Not just my experience, but our experience.
Together, let's see how many people we can get to eat no processed foods whatsoever during the month of October.
And then let's see what happens.
The "Kitchen Test" Definition
The first question I'm always asked is, "How do you define unprocessed?"
Obviously there's a wide range of implications in that word, and we will probably each define it slightly differently for ourselves. My definition is this:
Unprocessed food is any food that could be made by a person with reasonable skill in a home kitchen with whole-food ingredients.
I call it "The Kitchen Test." If you pick up something with a label (if it doesn't have a label, it's probably unprocessed), and find an ingredient you'd never use in your kitchen and couldn't possibly make yourself from the whole form, it's processed.
It doesn't mean you actually have to make it yourself, it just means that for it to be considered "unprocessed" that you could, in theory, do so.
Set Yourself up for Unprocessed Success!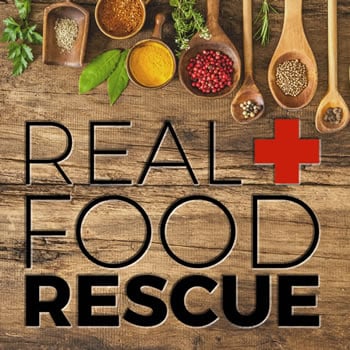 The October Unprocessed Challenge is totally free — but if you want a complete plan for unprocessed success for the next four weeks (and beyond), check out my Real Food Rescue program!
Filled with guidance, strategies, printable checklists & worksheets, dozens of recipes, and meal plans — this is the easiest way to have all the best resources and guidance at your disposal, helping you take control of what you eat, feel great, and transform your life.
Get $10 off the Real Food Rescue when you take the October Unprocessed pledge and purchase during September or October! (Once you take the pledge, I'll email you the discount code.)
Let's Do It!
Commit to eating no processed foods during the month of October by signing your name below.
This is an exercise in awareness. If an entire month is too much of a commitment, that's okay. Maybe it's only a week? Maybe just a day? Sign the pledge, and show your support!
Maybe you're not comfortable with my definition of "unprocessed." That's okay, too. Decide what it means to you and take the pledge on your terms.
Need an exception? Sure, no problem. Just make sure it's a deliberate choice, not just because of a habit.
Whatever your level of commitment (even if it's for just one day, please sign the pledge), and discover how it changes you, your family, your community, and the world.

The following people have taken the pledge:
| First Name | Location (City/State) | Comment |
| --- | --- | --- |
| Kerri Kasper | West Sacramento | |
| Jen | Stafford, CT | |
| Tracy | Columbus, Kansas | |
| Andrew | Santa Monica, CA | I'm in! Running late this year, but I'm in!! |
| Colleen | Sun Lakes, AZ | Committed for the month! |
| Angela | Little Rock Arkansas | Month of unprocessed food |
| Amy | Stockbridge, Mi | Lets do this! |
| Jen | Illinois | |
| Angela | Kamuela/HI | |
| Mary | Shoreline WA | |
| Virginia | Chicago | Taking this challange in 2019 with my whole family of 5 |
| Laura | Charleston, WV | Count me in! |
| Erica | Camden,SC | |
| Ann | Panama City , FL | You site is so admirable! It's insightful and enlightening as well. I'm working to lose weght and regain my health. I'm making my commitment for now through October 2019 to eat nothing, but whole food only. |
| Gretchen | Clever, MO | |
| Sherri | Springfield, Mo | My sister is a Fr. Of Nutrition so I am wholeheartedly behind you in this!! It seems like your post is a year old though. Best Regard, Shers |
| sherri | SAGINAW|MI | |
| Elsa | London | I'm in!!! |
| Kristi | Warren, MI | Hooray! |
| LaDonnya | Ridgeland/MS | |
| Heather | | |
| Brenna | Seattle, WA | |
| April | New Jersey | |
| Anna | houston,tx | |
| joelle | Rochester, NY | |
You can leave a comment below, but if you want to take the pledge, please fill out the form above!