Print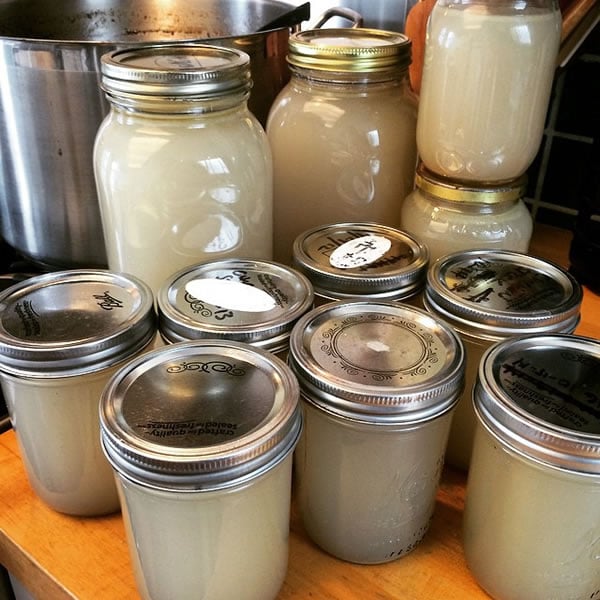 How to Make Bone Broth
Bone broth is one of those recipes that's going to be a little different every time, and that's just fine. Use whatever bones you have on hand (or get from your butcher), but I strongly recommend you always start with bones from pastured, humanely and sustainably raised animals.

For Molly, I didn't add any vegetables or seasonings, other than bay leaves and vinegar, since we want to keep it as simple as possible for her right now. But for you, I'd suggest adding vegetables, herbs, and spices - a few options are noted in the recipe below.

This recipe can be made on the stove or in a slow-cooker -- but don't try to speed the process with a pressure cooker. The vinegar helps leach out additional nutrients from the bones, and the bay leaves, according to Dr. Palmquist, are "antibacterial and anti-inflammatory, and drain the lymphatic system."
Total Time
6
hours
5
minutes
The Basics
2 to 3

pounds

bones

4 to 6

quarts

filtered water

2

bay leaves

1/4

cup

Apple Cider vinegar
Veggies
2

carrots

2

celery stalks

1

onion

chopped in large chunks (omit for dogs)

1/2

teaspoon

whole peppercorns

omit for dogs

spring of rosemary and/or thyme

salt

to taste (can add after cooking, omit for dogs)
In the largest pot you own (or in your slow-cooker), add the bones, bay leaves, and vinegar. Fill with water.

Bring to a boil, and then skim off any foam that comes to the surface. Turn heat to the lowest possible setting on your stove or slow-cooker, and cover.

Let simmer for at least 6 hours and up to 72 hours. The larger the bones, the longer you'll want to go. If you're losing a lot of water to evaporation, it's okay to top off with a little extra boiling water.

Allow to cool, and then skim the fat off the top and discard. Strain and pour into jars to store. If storing in the fridge, use within a few days, or store in the freezer for several months.
For determining quantity, you'll need to let experience and personal preference be your guide. As a general starting point, figure about two pounds of bones per gallon of water.
Two tips for storing in the freezer: First, you can freeze some in ice-cube trays and then you'll have some small amounts ready-to-go when you need them. Second, if it's at room temperature, you can pour into a zip-top bag and freeze flat in the bag -- just be sure the bag is sealed very well!