Print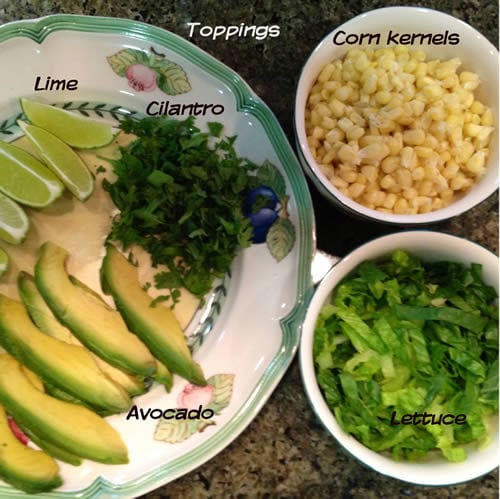 Casamiento Wraps
Once the cooked rice and beans are in the refrigerator, this dish comes together in 5 minutes. The "refried" red bean recipe below makes enough for about 16 servings. The vegetable brown rice instructions makes enough for about 8 servings.
Cook Time
1
hour
25
minutes
Total Time
1
hour
40
minutes
For The Beans:
16

cups

filtered water

1/2

teaspoon

kosher salt

or adjust to your preference

1

pound

bag of dried small red beans

4

large

cloves of garlic

peeled and cut in half (use 6 if cloves are small)

1

small

brown or white onion

peeled and quartered, plus 1/2 onion chopped small

1

Tablespoon

plus 1 teaspoon olive oil
For the Rice:
1

tablespoon

olive oil

1/2

cup

chopped carrots

about 4 small carrots

1/2

cup

chopped celery

about 4 celery stocks

1/2

cup

chopped brown onion

about 1/4 to 1/2 of an onion

1 1/2

cups

brown jasmine rice

not quick cook

3

cups

low sodium chicken broth

or water or vegetable broth

1/4

teaspoon

kosher salt

omit if broth is salty
For The Wrap and Toppings:
1

tortilla per wrap

Warm toppings

such as corn, cheese, chicken, sautéed vegetables

Cold toppings

such as avocado slices, cilantro, lettuce, salsa

Squeeze of Lime
For The Beans:
Sort the beans to remove little rocks and damaged beans. Rinse to remove mud.

Place a large pot on the stove and stir in water, salt, beans, garlic and 1 onion cut into quarters. Turn the flame on high, leave uncovered and bring to a boil. Then, reduce the flame to medium low, stir, and let simmer.

Stir occasionally and leave uncovered for most of the cooking time. Monitor the beans for enough water and doneness. Cook until the beans are tender. The cooking time varies from bag to bag and takes from one to two hours. The beans are not ready if they are white inside and have a sandy texture. Taste several beans in the pot for doneness, sometimes some beans are cooked and some are not. When the beans are done, you want about one cup of cooking liquid left in the pot. If most of the water cooks out before the beans are soft, add an additional 1 cup of hot water as needed. Once much of the water has cooked out, finish cooking with the lid ajar to keep the beans moist.

In a sauté pan on medium low heat, sauté 1/2 of a chopped onion in 1 tablespoon oil until the onion turns light brown and caramelizes.

Once the beans are tender, purée them with the remaining cooking liquid (about 1 cup) and the caramelized onions. Use an immersion blender in the pot or a regular blender.

Then add 1 teaspoon more oil to the sauté pan and lightly re-fry the puréed beans. Start with the flame on medium and stir frequently to prevent the beans from sticking. Once the beans start swelling and boiling, reduce the flame to medium low. Continue cooking and stirring for about 20 minutes or until the beans are a consistency that is not too watery and not too dry. The consistency is similar to mashed potatoes.
For The Rice:
In a medium-sized pot heat the olive oil. Add the chopped vegetables, and sauté on medium low heat until tender.

Add a small amount of the broth and purée the vegetables using an immersion blender in the pot, or use a regular blender.

Have the pureed vegetables in the pot, and add the rice, the rest of the broth, and salt. Stir, then bring to a boil using high heat. Then reduce the flame to low, cover and cook for the time recommended on the rice package, usually about 40 minutes. Cook rice until just done and each grain has a slight firmness to it. Do not over cook.
To Make A Casamiento Wrap:
In a bowl stir together some refried red beans and vegetable brown rice with a 50-50 ratio.

Place a tortilla on a microwaveable plate. Add the rice and beans mixture on top. Also add any toppings that need heating like corn, cheese, chicken, sautéed vegetables, etc. Microwave until warm, about 1 minute.

Add on any cold toppings like cilantro, lettuce, avocado, salsa, and a squeeze of lime.

Fold up the wrap and enjoy.