Print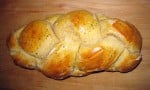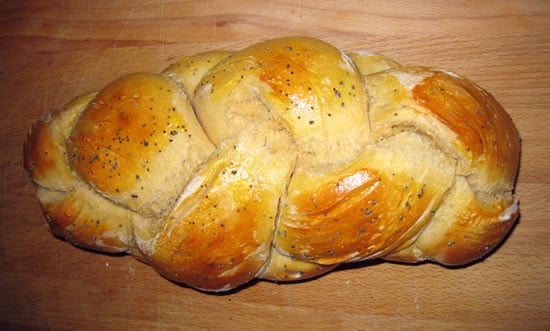 Grandma Wilder's Whole-Grain Challah
This is the challah that my (Andrew's) mom would make when I was growing up. It's sweeter than most, and it's definitely challenging not to eat too much of it. Oh, and it makes incredible French toast on Sunday morning.

Makes one 1.5 pound loaf.
Prep Time
2
hours
25
minutes
Total Time
2
hours
55
minutes
Mix yeast and lukewarm water. Add sugar and salt and stir well.

Add eggs and beat with beater. Add oil and beat slightly.

Combine both flours together. Gradually stir in 3 cups flour, mix well. Add a little more, up to 1/2 cup, if dough is too moist.

Place on floured board and knead for 3 to 4 minutes.

Place dough in lightly oiled bowl, and cover.

Loosely cover and let rise until tripled (2 to 3 hours).

Punch down dough, then divide into 4 parts.

Roll each part into ropes. Let it rest a little, just a few minutes, so it will be easier to braid.

Start in the center and braid "under 2 and over 1" with alternating outside strands, until the end, then slip ends underneath.**

Turn around and braid from the center strands "under 1 and over 2," with alternating sides.

Beat egg yolk, then brush on top of braided dough. Sprinkle with poppy or sesame seeds.

Let rise 10 to 15 minutes.

Bake at 350 degrees Fahrenheit for 30 minutes.
* Mom used to make this recipe with regular, unbleached flour. Now she makes it with half white whole wheat flour and half regular flour. The ones pictured above are both types -- and even mom reports that everyone liked the whole grain version more.
** If you need a little help on the braiding, check out this video, which I think is the same technique mom uses. Or, here's another good technique that starts on one end instead of the center.