Print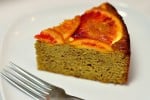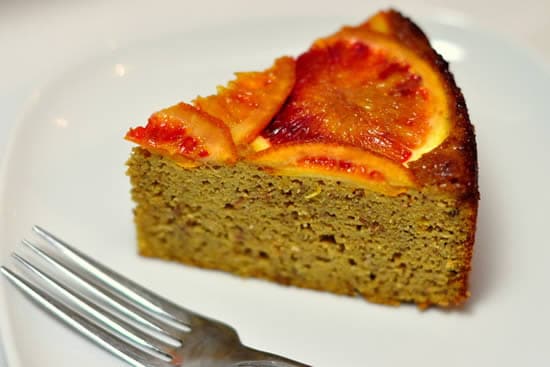 Blood Orange and Almond Upside-down Cake
This cake has a few steps to it but the result is well worth the effort! You can certainly make it with traditional oranges if you prefer but when blood oranges are in season they make for a lovely colour contrast on top of the cake. If you can't find Apple Juice Concentrate, feel free to substitute honey, agave, or maple syrup.
Cook Time
1
hour
55
minutes
Total Time
2
hours
10
minutes
1

cup

Almond Meal/Ground Almonds + 1 Tbsp extra

1

cup

Organic Whole Wheat Flour

2

tsp

Baking Powder

1/2

tsp

Baking Soda

1/4

tsp

Sea Salt

1/4

tsp

Ground Cloves

4

Eggs

1/3

cup

Apple Juice Concentrate + 1 Tbsp extra

3

Tbsp

Grapeseed or Nut Oil + 1 tsp extra

1

slightly heaped cup Orange Puree

approx. 3 organic Blood Oranges

2

Organic Blood Oranges

scrubbed and sliced thinly
Place 3 oranges into a saucepan and cover with cold filtered water -- the oranges will float, it's okay. Place a lid on the pan, bring to a boil and simmer gently for 45 minutes. Drain, rinse once with cold water, fill pan again, return to a boil and simmer for a further 30 minutes.

Drain, rinse with cold water again and set aside to cool slightly. Don't skimp on the simmering time -- this processes softens the peel and removes the bitterness! When cooled slightly cut oranges into quarters, remove any pips (seeds) and blend the flesh, including peel, until smooth. A handheld immersion-blender is brilliant for this. Set purée aside.

Pre-heat oven to 350 F / 180 C. Grease the base and sides of tall 8 inch cake pan or 8 inch springform pan with a bit of oil. Line base with a round of parchment paper and tap the extra tablespoon of almond meal around the pan so it sticks to the greased sides. Drizzle the extra tablespoon of apple juice concentrate on the parchment covered base of the pan, followed by the extra teaspoon of grapeseed oil. Layer the thinly sliced orange around the pan starting from the centre and overlapping each slice slightly with the next.

Sift together dry ingredients in a medium bowl. In a large bowl beat eggs with an electric beater for 4 minutes until thick and creamy. Slowly drizzle in the apple juice concentrate and continue to beat for another minute. Beat in oil and orange purée.

Gently fold dry ingredients into the egg/orange mixture and pour on top of the orange slices in the prepared pan, smooth top. Bake for approximately 40 minutes until the top of the cake is golden and a toothpick inserted into the centre comes out clean.

Cool cake in pan for 5 minutes then run a knife around the edge to loosen. Turn out on to a platter, remove parchment paper and leave to cool completely. Serve with thick greek yogurt and a cup of tea.
Unprocessed Note: There has been some discussion here about baking soda and baking powder, as both are made chemically but have been around for well over a century. I would recommend at least finding an aluminum free baking powder or just making your own with baking soda and a bit of cream of tartar.