Print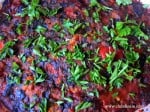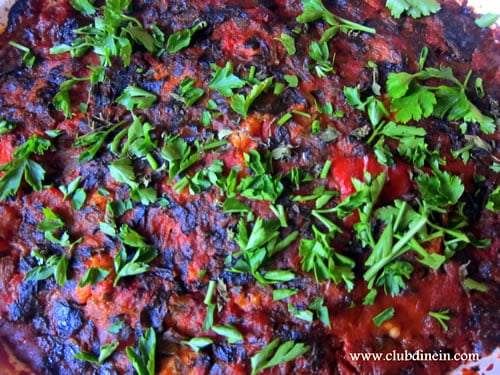 No Pasta Winter Lasagna
The order of the layering the vegetables does not really matter, as long as the potato slices are on the bottom. (So the layer doesn't fall apart before you can plate it). The vegetables in the dish are based on what I found at the farmer's market. You can switch out the cauliflower for broccoli and spinach for chard. The chard will require a slightly longer cooking time on the pan. Also, feel free to use whatever herbs you can find. You can use button or crimini mushrooms instead of the portobello. It's really a free-for-all kind of dish. Instead of having a slice of garlic bread with the lasagna, serve it with a side of quinoa. Quinoa is a super whole grain, containing complex carbohydrates and protein.
2

cups

plain marinara or pasta sauce

butter

for greasing

1

tablespoon

olive oil

4

cloves

garlic

finely sliced

1

teaspoon

red chili flakes

2

bunches spinach with stems

washed well and still damp

1

large

russet potato

scrubbed and cut into thick slices

1

portobello mushroom

cut into ¼ inch thick slices

1/4

cup

dried basil and/or oregano

1/2

teaspoon

freshly ground black pepper

¼ - ½

cup

Cauliflower

cut into small pieces

1

cup

fresh Ricotta

optional

1/4

cup

grated Parmesan or Pecorino cheese

optional

2

Tbs.

Olive Oil

for drizzling
Preheat the oven to 375 degrees F. Butter a 9" x 9" glass baking dish.

Warm 1 tablespoon olive oil in a medium pan, over medium heat. Add garlic and hot pepper flakes, and sauté until the garlic turns golden brown. Turn up the heat to medium-high and add spinach. Sauté the spinach until all of the water has evaporated, about 5 minutes.

Meanwhile, spoon ½ cup of the marinara sauce over the bottom of the prepared baking dish. Arrange the potato slices on top of the marinara. Next, arrange the portobello slices over the potatoes. Spoon more marinara and sprinkle 1 tablespoon of herbs over the mushroom. Spread out the sautéed spinach and cauliflower over the marinara and herbs. Next, spread the ricotta with the remaining marinara over the layers of vegetables. Sprinkle with parmesan, black pepper, and remaining herbs. Drizzle two tablespoons of olive oil.

Bake for 40 minutes. Serve warm over a bed of cooked quinoa.