Print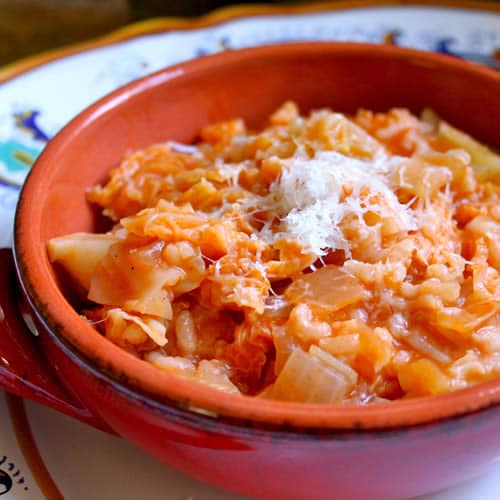 Italian Cabbage and Rice
There's really no way to mess this up. Make it more soupy (add more water) for wintertime, or more dry for the hot summer weather. There's no right or wrong amount of vegetables, and as long as the rice is cooked, the length of cooking time can vary greatly too, and will not affect the final outcome in a significant way; it's a very forgiving meal!
Total Time
1
hour
15
minutes
3

tablespoons

extra virgin olive oil

1

medium

onion

diced

1 or 2

celery stalks

chopped

3/4

cup

tomato purée

or fresh tomatoes, pureed in a blender

4 to 5

cups

water

1

medium

Savoy cabbage

1

teaspoon

sea salt

more or less to your preference; you can always add more later

1/2

teaspoon

pepper

1/3 to 1

cup

arborio rice

or any other rice

grated Parmesan or Pecorino Romano cheese

to serve, optional
Heat the olive oil in a heavy pot, over medium high heat. Add the chopped onion and celery when hot. Stir and cook for about 5 minutes, until onion starts to become opaque.

Remove the core from the cabbage (I eat this part, it's very yummy and good for you too!) and chop into thin strips.

Meanwhile, add the tomato purée to the celery and onion and cook for about 5 minutes.

Next, add the water (you can always add more later) and salt; then add the cabbage. Stir often, and bring to a boil, then allow to simmer for about 10 minutes, still continuing to stir occasionally.

Then add the rice. Use less for a more soupy dish, more for a drier result.

Stir well, and continue to simmer for 30-40 minutes, until rice is cooked.

Serve with plenty of grated Parmesan (or Pecorino Romano) cheese!
This is a perfect crock pot meal too. Just sauté the veggies, then transfer to the crock pot, adding the rest of the ingredients. Let cook all day. Easy-peasy!!