Print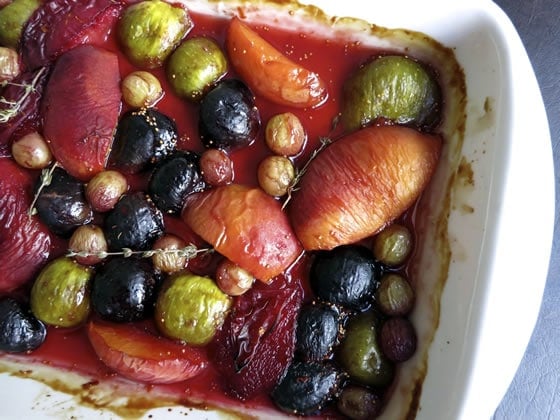 Roasted Fruit with Pomegranate Molasses
Inspired by a roasted fig recipe from David Lebovitz, I created a variation by adding stone fruits and grapes, pomegranate molasses, and port. Think of it as a fruit crisp, without the crisp topping. It's simple to put together, can be made ahead of time, and is perfect for breakfast, lunch, snacks, or dessert. The amount of each type of fruit is approximate, you can vary the quantities of each based on what you have at hand. In the winter, I would think some apples or firm pears with a scattering of raisins or currants or cranberries would be delicious!
1

tablespoon

blood orange olive oil

regular is fine

14 - 18

fresh figs

about 1 lb - any type you have, stem removed and halved from stem end

1

pluot or plum

sliced into 8 pieces

1

peach or nectarine

sliced into 8 pieces

1

cup

red grapes

approx.

2

tablespoons

pomegranate molasses

2

tablespoons

port

2

tablespoons

honey

zest of 1/2 an orange

4

thyme sprigs - rosemary would be nice also
Wash and slice the fruit.

Grease a 9 X 13ish baking pan with a dab of olive oil, blood orange if you have any.

Lay the figs flat side down in the baking pan and scatter the rest of the fruit around the figs.

In a small bowl whisk together the pomegranate molasses, honey, port, and orange zest.

Pour the molasses mixture all over the fruit. Lay the thyme sprigs on top. Cover with foil and put in the oven for 10 minutes*. After 10 minutes, loosen the foil but leave it on and bake for another 10 minutes. Then take the foil off, slosh some of the pan juices on the stone fruit slices if they are a bit dry then let it cook for 5 more minutes. Check and cook for 2 more minutes if needed. Fruit should be bubbling and just starting to turn a bit dark on the edges. A minute less or more will not matter. Remove from oven and let cool before devouring or putting in a container and saving in the refrigerator.
I used convection when I cooked this both times - if you don't have convection or prefer not to use it, add 3 - 5 minutes to the cooking time at each 10 minute foil stage. You're looking for the juices to have emerged and to start vigorously bubbling when the foil comes off. Each oven is so different, that it's best to look for visual cues than to follow exact times, whether using convection or regular bake.