Print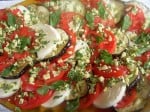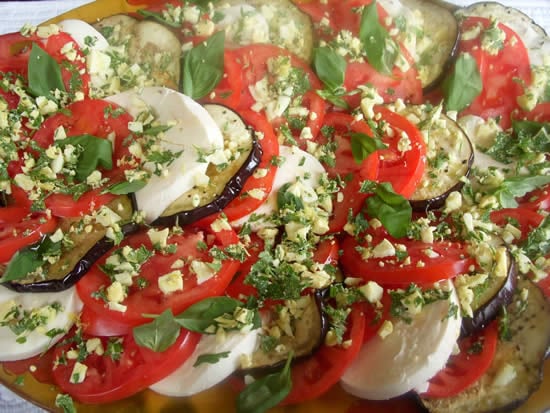 Heirloom Tomato, Mozzarella, and Eggplant Salad
This dish is based on traditional Caprese salad that combines fresh mozzarella, ripe tomatoes and basil. The addition of grilled eggplant adds heartiness to this version. Gremolata is a garnish that combines lemon zest, garlic and parsley. To kick up our salad even higher, I added chopped egg to the gremolata. The result is a kissin' cousin salad to the Caprese that's just delicious served at room temperature where the flavors meld together.
Total Time
1
hour
25
minutes
1

1-pound eggplant

sliced into 1/4 inch rounds

2

Tablespoons

olive oil

Salt and freshly ground pepper

3

large

heirloom tomatoes

cut into 1/2-inch slices

1

pound

fresh mozzarella

cut into 1/2-inch slices

1/4

cup

fresh basil leaves

2

large

organic eggs

hard-boiled, peeled and chopped

3

large

garlic cloves

peeled and minced, about 1 tablespoon

1

lemon

zested, about 2 teaspoons

2

tablespoons

chopped fresh parsley

Olive oil

Balsamic vinegar
Brush the eggplant slices with olive oil and season with salt and pepper. Heat a grill pan over medium high heat. Grill the eggplant slices, in batches, turning once until golden and just soft, about 6 to 8 minutes. Cool to room temperature.

Assemble the salad on a large platter, alternating slices of tomato, eggplant and mozzarella. For the gremolata, place the chopped egg, garlic, lemon zest and parsley onto a board. Chop to combine the ingredients into a fine dice. Season with salt and pepper. Sprinkle the egg mixture onto the salad. Drizzle the dish with olive oil and a dash of balsamic vinegar. Grind fresh pepper over top. Serve at room temperature.

Note: You can assemble the salad in advance, without the garnish. Cover with plastic wrap and place into the refrigerator. Remove about 1 hour before serving. Just before you present the platter, top with the egg garnish, olive oil and balsamic. Finish the dish with the chopped egg garnish, olive oil, balsamic and pepper.