I'm splitting the ingredients list into two parts -- the first are the mandatory ingredients (though I suppose you could omit the onion). The second are recommended additions -- feel free to adjust, change, add as you see fit. When assembling the dish, it helps to think of it as "Mexican lasagna," since the tortillas are layered just like lasagna noodles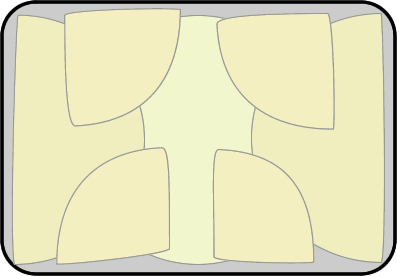 Tear tortillas in halves or quarters as necessary to create a single layer. I usually start with one whole tortilla in the middle, and then tear another in half to create flat edges, which go on the outside of the pan. I may tear a third one in quarters, and use that to fill in the gaps. It's good if they overlap a little.
Using canned enchilada sauce speeds things up, but the sodium content is usually frustratingly high. You can also use canned tomato puree or chunks (or fresh diced tomatoes, simmered for a few minutes), with cumin, chile powder, oregano, garlic/garlic powder and any other spices as you see fit. It should be thin; the tortillas will absorb that extra moisture.