Print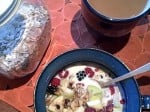 Mostly Local Granola
I like to source as many of my ingredients as possible from my own bioregion. In this case, the fat, sweetener, orange zest, fruit and nuts are all from my local farmer's market. I like it with raw milk or plain full-fat yogurt and chopped Granny Smith apples for breakfast or as a garnish on fruit anytime. For maximum digestibility, mix with yogurt the night before and let it soak. Some folks like to carry little baggies of granola around for a snack, too. Cinnamon helps regulate blood sugar, and may help prevent diabetes. I mix it into all sweet, baked goods to even out the blood sugar roller coaster. Be sure to make as many of your ingredients organic as possible -- omit the orange zest if you can't find an organic orange, as orange peel can be particularly high in pesticides. Adapted from a recipe by Vanessa Barrington, who warns, "honey will produce a sticky granola that clumps together" -- you'll want to scoop it out with a spoon.
1/2

cup

melted pastured butter

(such as Straus or Kerrygold), or melted coconut oil, or a combination

1

tablespoon

cinnamon

1/4

teaspoon

freshly grated nutmeg

Zest of 1 orange

4

cups

rolled oats

1

cup

organic coconut flakes

I leave these out for my family, in for myself

1

cup

coarsely chopped walnuts

1

cup

coarsely ground or chopped almonds

1/3

cup

raw local honey

1

cup

unsweetened dried cherries

raisins, chopped dried apricots or a combination
Mix everything except the honey and dried fruit thoroughly together in a large bowl. Spread it in a thin layer on a large baking sheet, and bake at 350° F until evenly browned, 20-25 minutes.

You'll want to stir it once or twice, and keep a close eye on those coconut flakes. Remove from the oven, and drizzle the honey over all while it is still warm. Stir to evenly coat the ingredients.

When the granola is cool, place back in the large bowl, and stir in the dried fruit. Pack into a couple of Mason jars, lids on tight, and keep in the fridge or freezer to protect those essential fatty acids until serving time.
You can omit the oats and use 3 cups of large coconut flakes if you want to make a paleo-friendly, lower-carb version. Or try quinoa flakes instead for a gluten-free start to your day. Or skip the sweetener, fat and baking altogether to make muesli, best prepared by soaking in yogurt overnight before serving.