Print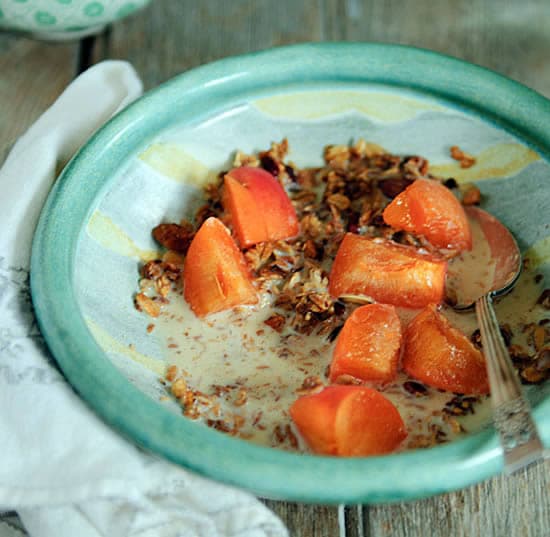 Nutty Olive Oil Granola Recipe
If you're bothering to make your own granola, then why not make a lot? In my experience, granola keeps very well. This recipe contains no dried fruit so it's not very sweet, but you are welcome to toss some in after it's baked: raisins, dried cherries, and chopped dried apricots are all tasty additions. You're also welcome to substitute (liquified) organic coconut oil for the olive oil in this recipe. I enjoy homemade granola with organic milk or plain yogurt and fresh fruit.
6

cups

organic rolled oats

use certified gluten-free oats if you must avoid gluten

1

cup

organic shredded unsweetened coconut

unsweetened coconut

1

cup

chopped almonds

I used roasted, sea salted almonds

1/2

cup

skinned chopped hazelnuts

1/2

cup

raw sunflower seeds

1/2

cup

raw sesame seeds

3/4

cup

olive oil

1/2

cup

honey

I used a local clover honey

1/2

cup

demerara

or other non-refined sugar

1

tablespoon

ground cinnamon

1

tablespoon

pure vanilla extract

1

teaspoon

fine sea salt
Preheat oven to 350°F. Line a rimmed baking sheet with parchment paper.

Place oats, nuts, and seeds in a very large bowl. Add the olive oil, honey, sugar, cinnamon, vanilla, and salt and use a wooden spoon or your (very clean) hands to mix everything together (note: if you measure and pour the olive oil before the honey, the honey will slide right out of your measuring cup).

Spread the granola evenly onto your parchment-lined baking sheet: you will have a thick layer. Press the granola down firmly...I think this helps it clump.

Place the baking pan in the oven and bake for about 15 minutes.

Rotate your pan (you can stir the granola around at this point but I didn't) and bake for another 15 minutes, or until the granola is golden brown on top and it smells amazing.

Leave granola to rest in the pan for at least an hour or as long as overnight (covered tightly with foil) before breaking it up and transferring it to an air-tight container(s) for storage. I store my granola in a giant Mason jar, but smaller glass jars can be used at well; you can freeze some if you don't think there's any chance you'll eat up the whole recipe in the near future.