Ten Ways to Save Money on Unprocessed Food (And a Nutty Olive Oil Granola Recipe)
Oct 03, 2012, Updated Sep 28, 2017
Winnie Abramson writes at Healthy Green Kitchen, where she shares her passion for real foods, healthy home cooking, and green living. She lives in New York's Hudson Valley with her husband and two kids, plus their dogs, cats, turtles, chickens, and honeybees. She has a degree in naturopathic medicine…and a blackbelt in karate. You can also find her on Twitter and Facebook.
This is a guest post for October Unprocessed. If this is your first time here, welcome – and it's not too late to join in! Click here to learn more.
If you have made a commitment to a eating unprocessed, you may be worried that your food bills will skyrocket. While it is true that organic produce costs more than conventional produce, raw and organic dairy costs more than pasteurized dairy, and organic and grass-fed meats cost more than factory-farmed meats, here are 10 ways you can save money on your unprocessed adventure.
1. Eat at home. Meals prepared at home are almost always better quality and are definitely less expensive than meals out.
2. Eat less meat, so that you can put your money toward better (preferably grass-fed/organic) meat when you do. Consider purchasing grass-fed meat in bulk directly from the farmer (it's usually very reasonably priced if you do this): visit Eat Wild for a directory of grass-fed farms.
3. Skip going out for tea and coffee. You'll save a lot of money (and you'll do your health and the environment a favor) by preparing your own organic and fair trade varieties as home. Plus, if you make coffee and tea at home, you won't be tempted to buy the processed pastries staring you down at your favorite cafe.
4. Start a garden. Though it might cost a bit to get a garden up and running, you'll love having "free" organic produce a stone's throw away once it's established. Food stamps can be used to buy plants and seeds (visit Snap Gardens to learn more). If you don't have space or the time for a garden, signing up for a CSA (community supported agriculture) farm-share can be a great value, especially if you split your share with someone else. To learn more about CSAs, visit Local Harvest.
5. Learn how to preserve fruits and vegetables from your own garden, CSA, or the farmer's market. Preserving can be both economical and fun: I've got a pantry full of pickles, jams, jellies and sauces I made this summer to enjoy all winter long. Homemade preserved  foods also make great (inexpensive!) holiday gifts for family and friends.
6. Consider joining a co-op that allows you to order directly from a natural foods distribution company. Items are typically ordered by the case so it is a good way to buy larger quantities of healthy staple items, canned and jarred goods, and all-natural body care items that you use frequently at discounted prices. You can also purchase large quantities of grains, beans, nuts and seeds this way, and you can split the large quantities with other members of your co-op.
7. Take advantage of sales. Large supermarkets as well as health food stores are always running various sales, so take advantage of these whenever you can. When organic butter and frozen fruit are on sale, for example, I stock up, then keep them in the freezer.
8. Buy what you can in bulk: nuts, seeds, grains, and dried beans are best purchased this way. This cuts down on packaging, so it's better for the environment, but buying in bulk also saves money. Beans in particular are much less expensive if you buy them dried (and soak and cook them yourself) instead of in cans.
9. Learn to prepare items that are easy to make at home, but which can be pricey when store-bought. These include things like granola (see recipe below), vegetable, chicken, and beef stocks, and kombucha.
10. Be realistic about your budget. Don't buy all organic produce if you can not afford it. I feel it's really important to buy organic for the produce that's known to contain the most pesticides (you can find these items on the Environmental Working Groups's Dirty Dozen List). For other foods, it might make more sense to just buy local conventional fruits and vegetables, and clean them well with a produce wash: the benefit of eating whole foods far outweighs the negatives of them not being organic.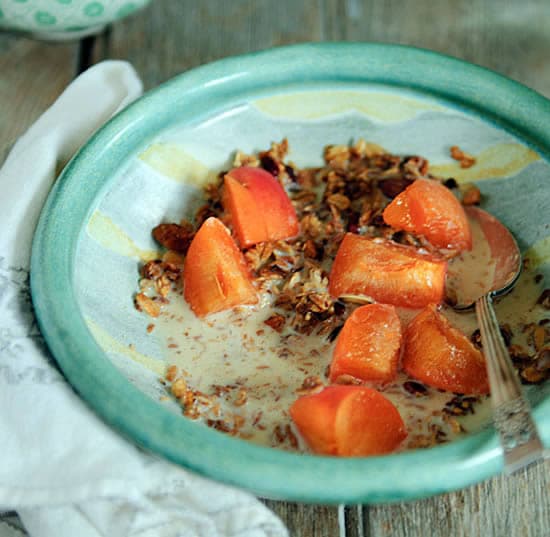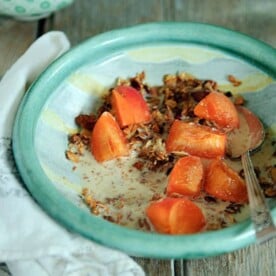 Nutty Olive Oil Granola Recipe
If you're bothering to make your own granola, then why not make a lot? In my experience, granola keeps very well. This recipe contains no dried fruit so it's not very sweet, but you are welcome to toss some in after it's baked: raisins, dried cherries, and chopped dried apricots are all tasty additions. You're also welcome to substitute (liquified) organic coconut oil for the olive oil in this recipe. I enjoy homemade granola with organic milk or plain yogurt and fresh fruit.
Ingredients
6

cups

organic rolled oats

,

use certified gluten-free oats if you must avoid gluten

1

cup

organic shredded unsweetened coconut

,

unsweetened coconut

1

cup

chopped almonds

,

I used roasted, sea salted almonds

1/2

cup

skinned chopped hazelnuts

1/2

cup

raw sunflower seeds

1/2

cup

raw sesame seeds

3/4

cup

olive oil

1/2

cup

honey

,

I used a local clover honey

1/2

cup

demerara

,

or other non-refined sugar

1

tablespoon

ground cinnamon

1

tablespoon

pure vanilla extract

1

teaspoon

fine sea salt
Instructions
Preheat oven to 350°F. Line a rimmed baking sheet with parchment paper.

Place oats, nuts, and seeds in a very large bowl. Add the olive oil, honey, sugar, cinnamon, vanilla, and salt and use a wooden spoon or your (very clean) hands to mix everything together (note: if you measure and pour the olive oil before the honey, the honey will slide right out of your measuring cup).

Spread the granola evenly onto your parchment-lined baking sheet: you will have a thick layer. Press the granola down firmly...I think this helps it clump.

Place the baking pan in the oven and bake for about 15 minutes.

Rotate your pan (you can stir the granola around at this point but I didn't) and bake for another 15 minutes, or until the granola is golden brown on top and it smells amazing.

Leave granola to rest in the pan for at least an hour or as long as overnight (covered tightly with foil) before breaking it up and transferring it to an air-tight container(s) for storage. I store my granola in a giant Mason jar, but smaller glass jars can be used at well; you can freeze some if you don't think there's any chance you'll eat up the whole recipe in the near future.
Nutrition
Calories:
396
kcal
,
Carbohydrates:
42
g
,
Protein:
7
g
,
Fat:
23
g
,
Saturated Fat:
4
g
,
Sodium:
163
mg
,
Potassium:
246
mg
,
Fiber:
5
g
,
Sugar:
18
g
,
Vitamin C:
0.1
mg
,
Calcium:
96
mg
,
Iron:
2.8
mg
Like this recipe? Rate and comment below!