Show your support of October Unprocessed by putting the October Unprocessed logo on your website or social media account!
How to Install
You can just copy the code that's beneath the image you'd like to use.
In WordPress, go to Dashboard->Appearance->Widgets.  Add a "Text" widget to your sidebar, and paste the code into the larger form field.
In Blogger, go to Layout->Add a Gadget.  Choose "HTML/Javascript" and paste the code into the "Content" field.
If you get stuck, just drop me a note.
300 x 152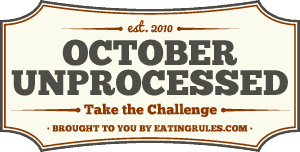 <div style="text-align:center"><a href="https://eatingrules.com/october-unprocessed/"><img title="Take the October Unprocessed Challenge" src="//cdn.eatingrules.com/assets/ou/october-unprocessed.png" alt="October Unprocessed" style="width:300px; height:152px; border:0; margin:15px 0;" /></a></div>
200 x 101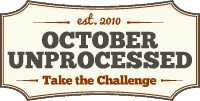 <div style="text-align:center"><a href="https://eatingrules.com/october-unprocessed/"><img title="Take the October Unprocessed Challenge" src="//cdn.eatingrules.com/assets/ou/october-unprocessed-contributor_200x101.png" alt="October Unprocessed" style="width:200px; height:101px; border:0; margin:10px 0; /></a></div>
500 x 254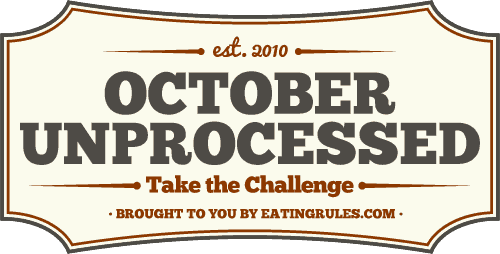 <div style="text-align:center"><a href="https://eatingrules.com/october-unprocessed/"><img title="Take the October Unprocessed Challenge" src="https://eatingrules.com/assets/ou/october-unprocessed_500x254.png" alt="October Unprocessed" style="width:500px; height:254px; border:0; margin:20px 0;" /></a></div>