Convincing Your Family To Go Unprocessed (and BBQ Veggie & Rice Bowls)
Oct 07, 2018, Updated May 20, 2020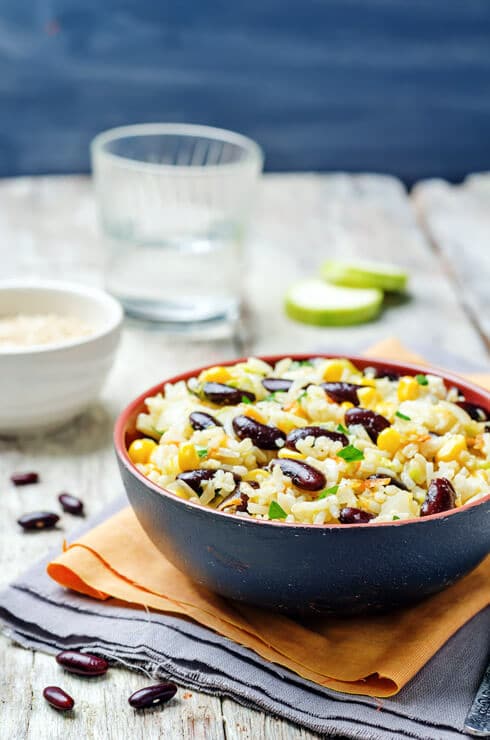 Going unprocessed is one of the best actions you can take towards your ultimate health. It's not always easy to give up processed food habits that have been with us for years. Support is essential to making significant changes and reaching your health goals.
If you are having some difficulty in getting everyone in your household onboard the unprocessed train, here are a few things you can try with your family.
Concentrate on one small change.
Asking your family to do a complete eating 180 could set you up for failure. Start with one thing and it will seem less challenging. Celebrate the small wins like moving from store-bought dressing to homemade dressing. Go slow and over time, you will have created sustainable habits for everyone.
Read labels together.
One of the most effective ways to get my two boys on board the new eating rules was to start reading the labels. Craving a store-bought cookie? No problem, let's read the ingredient list. It changed the way they look at food and gave them a new perspective on the choices they have about what to put in their bodies. We often talk about food in terms of labels and can easily identify what is not in our best health interest. It gives my family the power to choose wisely.
Put healthy options in plain view.
Sometimes the path of least resistance can be an effective way to get your household making better choices. Fill a bowl with unsalted nuts; have cut vegetables on hand for quick snacking, and keep the healthy snacks front and center. Make it easy to go for the unprocessed choice. Create obstacles for unhealthy choices. Out of sight can sometimes mean out of mind.
Be a role model.
If they don't seem ready to make the changes with you, push forward on your own. Show them the results of moving away from a processed diet and they might just decide to join you further on down the road. Be the change!
Be consistent.
You don't have to give up on the first failure. Just because they didn't like it once, doesn't mean they can't grow into new foods. Keep the ingredient rotation full of variety. Serve one vegetable a few different ways over the course of a few weeks. Don't force it but keep serving and suggesting and see if the barrier of likeability can be softened.
Change the language.
It doesn't have to be healthy talk all the time. Instead of using "healthy," find new words to use about food. Your family might be more excited to eat something that is "delicious" or "tasty" than they are about something "healthy."
Make it look good.
Beautiful food is easier to eat. Why not spend a little extra time in food preparation and see if there is more enthusiasm for eating newly introduced foods? Presentation can be an effective tool.
Cook together.
I hear all the time about the time crunch of getting to the dinner table. It's a real issue for millions of households. What if we could change the conversation every once in a while and make dinner the destination instead of the pit stop on the way to an evening of television and Facebook? When you cook together, you eat together and it often takes the mystery out of new foods.
Ask for help.
Often times I hear about families resisting change. The most important thing you can do is to ask for help. Let your family know that you are trying to make a positive change for yourself and you need their support in order to succeed.
Cook good food.
No one wants to eat food that tastes like cardboard no matter how good it may be for your health. It may seem simple but cooking good food can eliminate the apprehension to "healthy eating."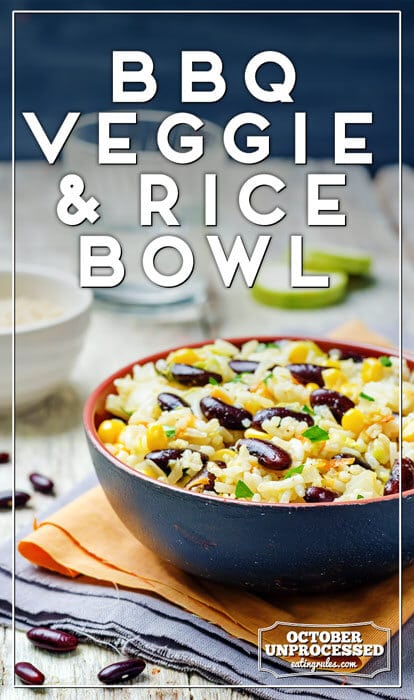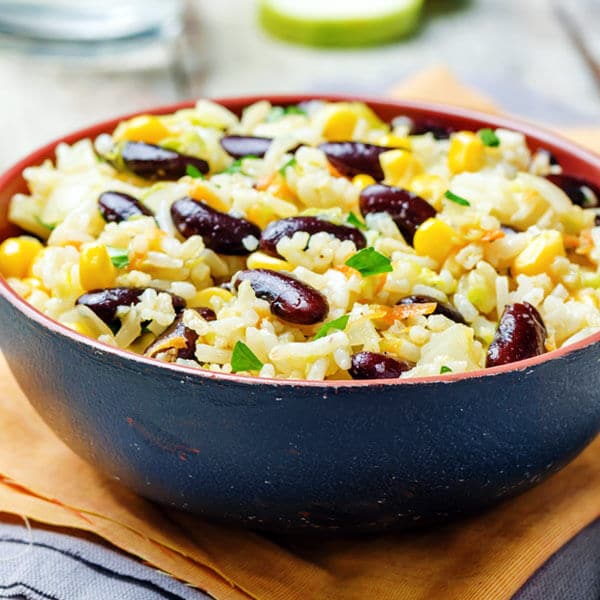 BBQ Veggie & Rice Bowl
This is a nice, warm bowl of comfort food. Perfect for those chilly fall nights - and a great recipe to help your family to make some changes to their eating habits.
Ingredients
Beans
1

tablespoon

oil

1/2

yellow onion

,

minced (about 1 cup)

2

cloves

garlic

,

minced

2

15-ounce cans

pinto beans

,

half the liquid drained off

1

teaspoon

ground cumin

1

tablespoon

tomato paste

1/2

teaspoon

black pepper

1/2

teaspoon

smoked paprika

1

tablespoon

maple syrup

2

tablespoons

water
Veggie Rice Bowl
2

cups

frozen corn kernels

2

zucchini

,

diced (about 2 cups)

4

tomatoes

,

diced (about 3 cups)

1/2

cup

chopped cilantro

4

cups

cooked brown rice

,

warmed
Instructions
Heat oil in a saucepan over medium heat. Add onions and garlic; cook for 2-4 minutes.


Add remaining ingredients for beans, turn heat to low; cook for 5 minutes.


Stir in corn, zucchini, tomatoes, and cilantro; bring to a simmer and remove from heat.


Serve over warmed brown rice.

Like this recipe? Rate and comment below!