How to Deal With Food Sensory Issues (and crock pot garlic chicken)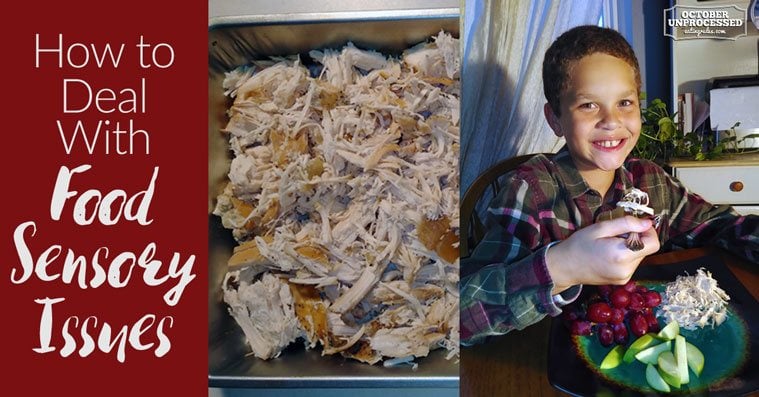 I have five awesome kids – two girls, three boys – ranging in age from 5 to 24.  They are smart, funny, creative people with differences and similarities that astound me.  In the process of raising these five kids, we've run into our share of issues.  Our oldest son, David, has recently been diagnosed with Autism Spectrum Disorder.  We're still learning about ASD — and David, if I'm going to be honest.
David is nine years old, the funniest person I have ever met, and the odd man out.  He didn't talk until he was almost four years old, which is rough when you're the biggest kid in the room and everyone thinks you're 5 or 6, instead of 3.  The looks he would get when he would babble and little kids couldn't understand a thing he said were heartbreaking.
Speech therapy in a Pre-K Special Education setting changed our lives and unlocked the thing that prevented him from speaking clearly.  With David talking, we thought we were over the worst of it and that he'd move on to kindergarten, make some friends and eventually he would catch up to everyone around him.
At first, he did pretty well.  We noticed some small things: his fine motor skills were off, he couldn't tie his shoes, he couldn't ride a bike without training wheels.  We were reassured by our trusted pediatrician and the fantastic faculty at his school that he would catch up, eventually.  But, he didn't.
Near the end of first grade, it became more apparent that his maturity level wasn't on par with typical kids at the same age and stage of development, so we pushed a little harder and had him evaluated.  Finding out that he is "on the spectrum" has given us peace of mind – we now know that he isn't wired like the average kid – and that knowledge has allowed us to see him in a new light.
His quirks that make him so special to us, also make him autistic.  For example, he hates sauce (except ranch dressing. Gross, I know, but sometimes you do what you have to do) and will go hungry rather than eat any kind of sauce or gravy.  He hates mashed potatoes and loves baked "fries".  He won't touch most vegetables if they're cooked, but give him a mound of raw broccoli and he'll eat all the "trees" (no branches or trunks, though!)   Like most kids, he does love pizza and chicken nuggets.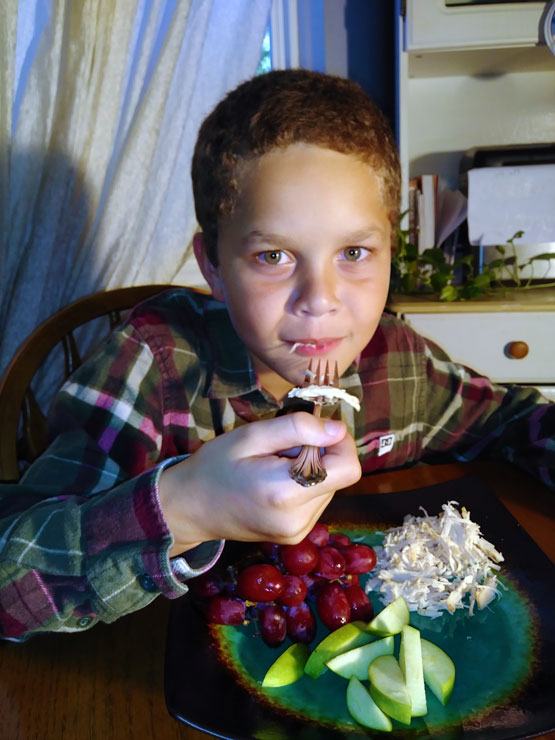 Finding healthy versions of those (as I became acutely aware of how poor his diet really was) was tough.  But a Google search directed me to October Unprocessed which has been a game-changer for my family, my sanity, and my ASD kid who struggles mightily with food.  Here are some things we do to help ease the mealtime madness:
1. Keep It Simple.
Know what your kid likes and repeat those foods.  With sensory processing issues, kids feel safer and more in control if they have repetitive options.  We keep celery, bell peppers (all colors – YAY!), grapes, apples, and oranges in the house at all times.  We know he'll always eat those things, so we can always get fresh produce in him.  We also use this chicken nugget recipe to keep the processed nuggets out of our freezer. Bonus: they're cheaper to make than they are to buy!
2. Don't Force It.
We used to make him try new things and it ended in battles that were never good for anyone.  The more we pushed, the harder he resisted.
Now, we put new food on his plate…when he resists we tell him he doesn't have to eat it.  We repeat the introduction of the new food – sometimes it works and he'll eat a new thing.  Sometimes it doesn't work and we all move on and get over it.  If it's something that you really think your kid will love (if they'd just try it for crying out loud!) then drop it for a couple of months and try again.
3. Plan Ahead.
We know we'll be preparing a special meal for Thanksgiving.  We also know that David will eat almost nothing we are planning.  So, we make sure to have plenty of fresh fruit and veggies on hand so that he has plenty of foods that he loves, just like the rest of the family will have.
This isn't something we deal with just on holidays, though.  Our family loves food.  Our other two boys are adventurous eaters and we encourage them to try anything and everything.  Since David is not like that, we plan ahead, spend a few extra minutes in the produce section, and everyone is happy.  When we completely miss the mark with a meal and David hates everything – it happens, we're human – we pop a few of those chicken nuggets in the oven and the problem is solved.
4. Let Them Help.
David isn't super-excited about helping in the kitchen (that's his little brother's thing), but David LOVES to go to the grocery store.  We have managed to get him to try fish (he HATES fish) by letting him plan and make the choice to buy it.
He has also tried "unusual" fruits like starfruit, because he got to pick it out.  For him, it's also important to try it right away.  We took that starfruit home, washed it, sliced it, and he and his brothers devoured it.  It doesn't always work, and sometimes I just need to go shopping alone because, kids.  But we usually are able to get him to try a new thing if it feels like an adventure.  (FYI – that doesn't mean he likes everything, just that he'll try!)
5. Be Flexible.
Like many kids, something he ate a few weeks ago and liked may now be too much for him to handle.  Sometimes even a food that is in heavy rotation can turn off a sensory kid.  Spaghetti is a good example of this for my son.  One night, he'll be so into it that he'll nearly inhale it.  The next time I serve it, he won't touch it.  It's exactly the same both times, but he just has to be in the mood to deal with it.
6. Do Your Best.
Sensory processing issues can be overwhelming for the whole family.  But when it relates to food, there is a lot at risk.  Everyone needs food to survive, that's non-negotiable, and a well-balanced diet is important to every child, but sometimes it's OK to not reach perfection.  Sometimes a full tummy and a happy kid (and Mom and Dad!) is more important than perfect nutrition.  Don't beat yourself up.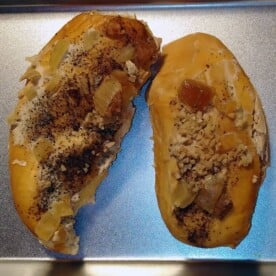 Crock Pot Garlic Chicken
This mildly seasoned crock pot recipe is a staple in our house. We can put it in any dish that calls for chicken and it blends in beautifully. A little extra seasoning of your choice and it is amazing on its own.
Ingredients
8

boneless, skinless chicken breasts

4

cloves

garlic

,

minced

1

sweet onion

1/2

teaspoon

sea salt

1/4 to 1/2

teaspoon

black pepper
Instructions
Place half the chicken in a single layer on the bottom of the crock pot. Top with half of the garlic, onion, salt, and pepper.

Place the remaining chicken breasts on top of the first layer, and top with the remaining garlic, onion, salt, and pepper.

Cover and cook on high for 3-4 hours, low for 6-8 hours.

Chicken is done when it shreds easily with a fork.
Notes
For a richer flavor, you can add your favorite homemade bone broth or stock.  About 1/2 cup is perfect.  Adjust the salt and pepper as you see fit - we are heavy-handed with the pepper and the garlic because we like it.  The great thing about this recipe is that it is basic.  Adjust it to your taste and you'll still have great results.  Bonus: it freezes well.
Nutrition
Calories:
72
kcal
,
Carbohydrates:
1
g
,
Protein:
12
g
,
Fat:
1
g
,
Cholesterol:
36
mg
,
Sodium:
140
mg
,
Potassium:
236
mg
,
Sugar:
1
g
,
Vitamin A:
15
IU
,
Vitamin C:
1.9
mg
,
Calcium:
8
mg
,
Iron:
0.3
mg
Like this recipe? Rate and comment below!