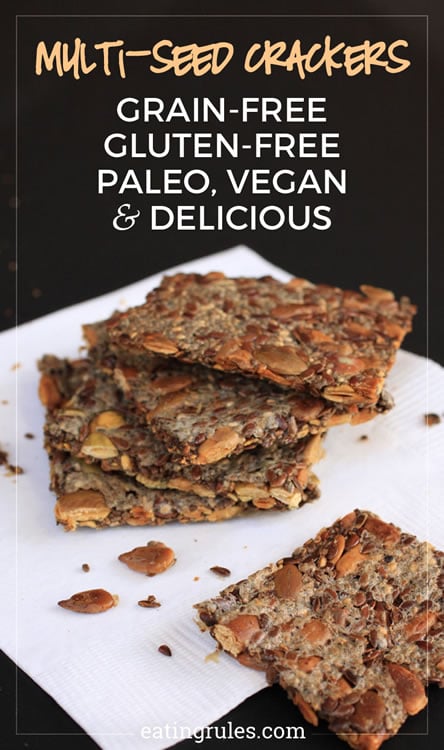 So, I looked at the October Unprocessed challenge, and I'm thinking, no problem – I've got this one in the bag. I make almost all my food from scratch. Shop the perimeter of the store. Have a garden that I preserve and freeze from. I write a blog focused on clean eating, for crying out loud! But before I throw my shoulder out patting myself on the back, I have a dirty little secret.
I love crackers.
Now, not to say that all crackers are über-processed, but I'm thinking the majority of them wouldn't pass the Kitchen Test. So if I was really going to embrace this month free of processed foods, I knew I was going to need crackers and I knew I was going to need to make them myself.
The results of this quest are these Multi-Seed Crackers – chocked full of whole foods thanks to October Unprocessed sponsor, Bob's Red Mill. So simple to make and totally customizable, plus vegan and gluten-free to boot. They're super on their own but it's really a party when paired with dips like No Bean Spiced Carrot Hummus or Edamame Miso Dip.
These crackers are so delicious and so addicting, you just may never need to buy crackers again!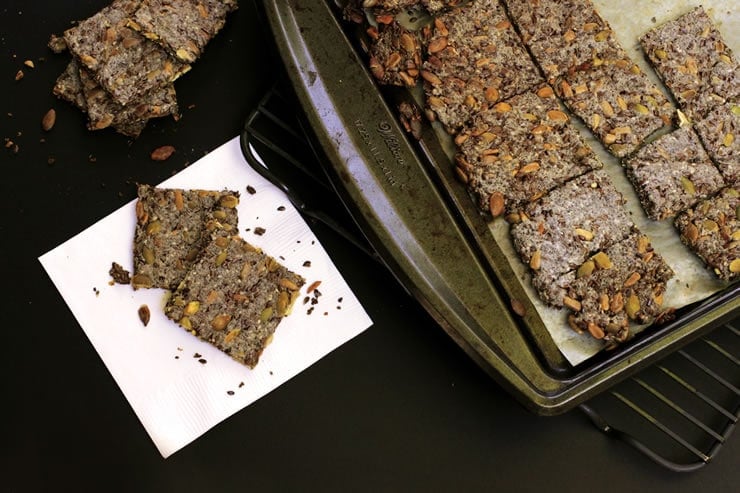 Multi-Seed Crackers
Simple to make and totally customizable, these multi-seed crackers are so delicious and so addicting, you just may never need to buy crackers again!
Total Time
1
hour
20
minutes
Ingredients
1

cup

water

1/2

cup

Flax seeds

whole, raw

1/2

cup

Chia seeds

whole

1/2

cup

Sunflower seeds

raw

1/2

cup

Pumpkin seeds

raw

1/2

teaspoon

Maldon sea salt

Your choice of seasonings such as black pepper, chili, onion or garlic powder, oregano, rosemary, or thyme
Instructions
Preheat the oven to 350°F.

In a large bowl, mix all the ingredients together plus whatever additional seasonings you might want and stir until combined.

Let sit 10 minutes to allow the flax and chia seeds to become somewhat gelatinous.

Line a baking sheet with a piece of parchment and spray with cooking spray. Spread mixture out, pressing until the sheet is less than 1/4 inch thick.

Bake for 30 minutes. Remove from oven and slice into crackers (a pizza cutter is super-handy).

Carefully turn the crackers over and put them back in the oven for an additional 20-30 minutes.

Stored in an air-tight container they will stay fresh for a week.
Recipe Notes
Recipe inspired by Gluten Free Girl.
About the Author
Linda Whittig's food blog, Bistro One Six,  focuses on clean eating recipes, gardening, and living a healthy lifestyle in Idaho. One of Linda's big achievements this year has been to turn the alley behind her house into an edible vertical garden, which had the unpredicted side-effect of turning the block into a community, and neighbors into friends. Visit her site for more information on the SNOW Block Alley project, along with lots of recipes to making weening off processed foods delicious and easy. You can also find Linda on Facebook, Pinterest, and Instagram.