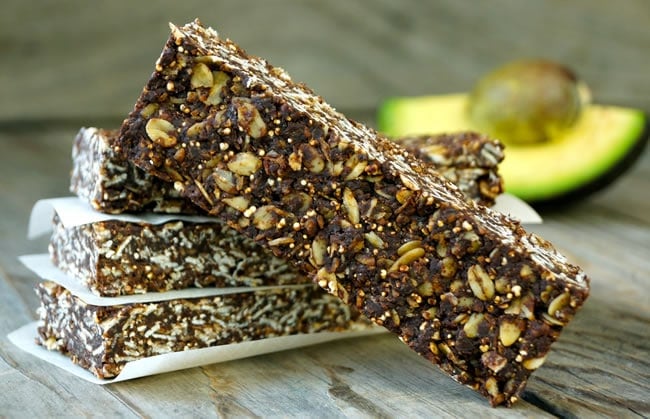 How about adding a whole bunch of nutrients to delicious, unprocessed chocolate to get you going in the morning?
These breakfast bars are sweet, crunchy, and incredibly satisfying. You might even feel like you're having a treat — oh wait, you are!  Chocolate-Avocado Breakfast Bars taste like a treat and they're packed with unprocessed goodness.  So when you enjoy this recipe, you're actually treating your body as well as you're treating your palate.  Scrumptious and healthy — all in one.  Perfect.

Chocolate-Avocado Breakfast Bars
Makes 1 dozen bars
Total Time
1
hour
10
minutes
Ingredients
2

cups

oats

½

cup

almond meal

½

cup

shredded unsweetened coconut

½

teaspoon

sea salt

¼

cup

coconut oil

melted, plus 2 teaspoons

3

tablespoons

amaranth

"popped" (here's how to pop it)

½

pound

dark chocolate

finely chopped (here's information on unprocessed chocolate)

½

ripe avocado

medium-large

3

tablespoons

honey
Instructions
Preheat the oven to 375 degrees F, and line an (8 X 8-inch) baking pan with parchment paper. Set aside. (Use a large piece that will cover the sides and cut slits in each corner so that it will lay flat.)

Add the oats, almond meal, shredded coconut and salt into a large mixing bowl. Drizzle with the coconut oil, mix until everything is evenly coated, and then pour the mixture onto a baking sheet and roast in the preheated 375 degree F oven until it's golden brown, about 20 minutes. (Do not wash the bowl you mixed in -- set it aside for later.)

Pour the melted chocolate into the saved mixing bowl and add the mashed avocado and honey. Mix until smooth.

Once the oat mixture is out of the oven pour it into the chocolate-avocado mixture, along with the popped amaranth.

Stir until everything is evenly blended and pour it into the parchment-lined baking pan. Use your hands to firmly press down, spreading it evenly into the corners of the pan. Then use a large, flat-bottomed metal spatula to press down again, to flatten it evenly.

Cover the pan with plastic wrap and refrigerate for at least 3 hours, and ideally overnight, before cutting it into 12 evenly sized bars.
About the Author
Valentina K. Wein is a recipe developer, food photographer and owner of the popular food blog, Cooking On The Weekends. Her focus is working with whole foods to create beautiful, comforting recipes for casual entertaining. Outside the worlds of food and photography, Valentina's other passion is her family (including her two young boys, her husband and her dog, Maple.)
You can also keep up with Valentina's recipes on Facebook, Google +, Pinterest, and Twitter.