Sweet and Savory Grain-Free Granola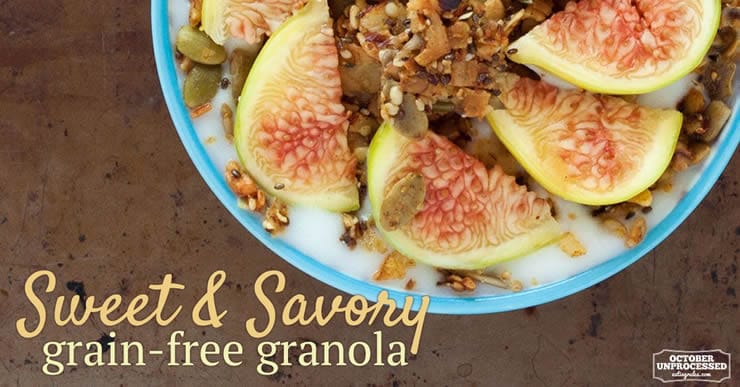 Bob's Red Mill is a sponsor of October Unprocessed, and I was given free product by Bob's Red Mill when I developed this recipe. All opinions are my own. 
Recently, I did a sugar detox for three weeks and it opened my eyes even wider to just how much sugar is in our foods. The main focus on the detox was to remove all sugars, even those from fruits, and focus on whole, real foods. The more I would turn around a food on the shelf, the more I would see sugar in many iterations lurking in so many foods in the store.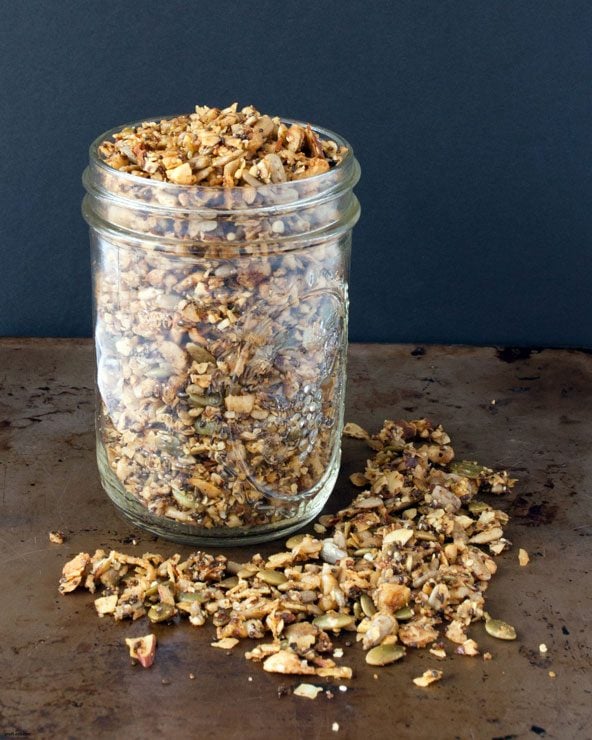 One of the foods that's easy to find lots of sugar in it is granola. Most companies use several different kinds of sugars for flavor and to use as a binder to hold all the ingredients together. Depending on what brand you pick up, you'll find lots of sugars that fail the
Kitchen Test
, as well as just more sugar in a food than your body and blood sugar should handle in one sitting.
Rather than skip out on granola this month, try making it yourself. Granola is very easy to make with less sugar without compromising on flavor. It's also easy to make in a way to be friendly to people with gluten and dairy sensitivities, as well as those who eat paleo or who don't eat grains. Grain-free granola takes the oats and any other wheat out of the granola and focuses on nuts, seeds, and coconut. This increases its fat content and makes it more filling than other granolas.
This Sweet and Savory Grain-free Granola can also be easily adapted for what you have in your pantry already or to the flavors you prefer. Feel free to add a little more or less of each nut or seed, or swap them out for other nuts. If you're not into savory granola, omit two spices and you'll get a more traditional tasting granola without having your taste buds blasted with sugar. The flavor in this granola comes from the spices rather than sweeteners.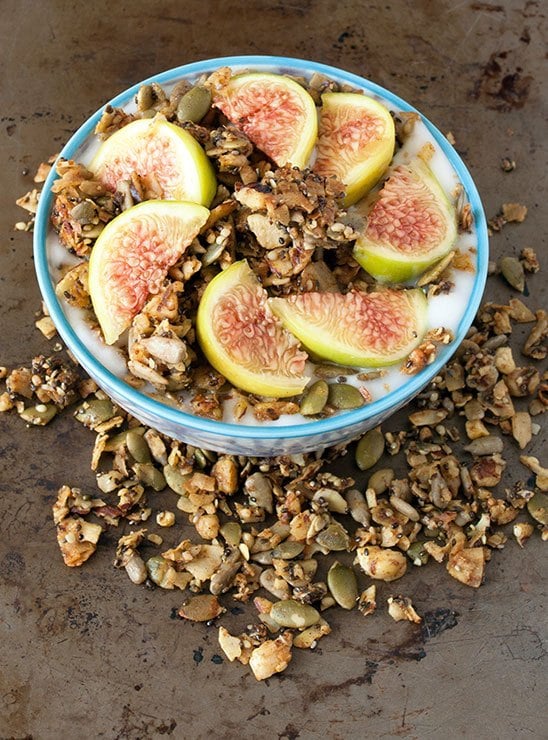 If you want to swap out the honey for maple syrup that's also an option. The egg white helps form the clusters. If you want to up the coconut oil and honey to compensate you could try that, but I didn't test that when I created this recipe. If you don't have coconut oil, you can swap that out for an unrefined olive oil or avocado oil.
The amount of spices to add is just a starting point, if you want to add more as you're making it or if you make another batch, go for it. Go up by a teaspoon or some extra shakes of your spice jar and see how you like it.
After you've been enjoying this lightly sweetened granola during October, try a brand you used to eat and notice if you find the brand sweeter, maybe too sweet compared to what you've had. It's amazing how much your taste buds can adjust when you focus on whole foods and less sugars.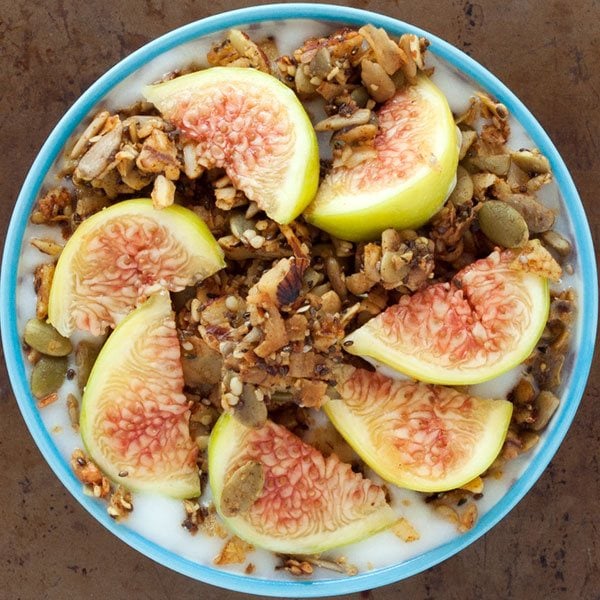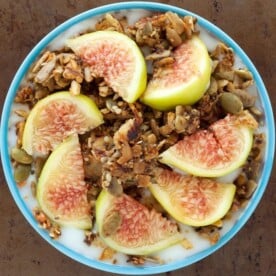 Sweet and Savory Grain-Free Granola
Lightly sweetened granola, made two ways
Ingredients
1

cup

Bob's Red Mill almonds,

sliced

1/2

cup

walnuts

,

raw

1/2

cup

cashews

,

raw

1/2

cup

Bob's Red Mill pumpkin seeds

1/2

cup

Bob's Red Mill sunflower seeds

,

raw

1

cup

Bob's Red Mill coconut flakes,

unsweetened

1/4

cup

Bob's Red Mill hemp seed hearts

1/4

cup

Bob's Red Mill chia seeds

1

egg white

,

whisked

1/4

cup

unrefined coconut oil

,

melted

2

tablespoons

water

2

tablespoons

honey

salt

,

to taste

2

teaspoons

ground cinnamon

1

teaspoon

ground nutmeg

1

teaspoon

ground ginger

1

teaspoon

curry powder

,

omit for sweeter granola

1/2

teaspoon

chipotle powder

,

omit for sweeter granola
Instructions
Add nuts, pumpkin and sunflower seeds, and coconut to food processor. Pulse 3-4 times until more things are broken up, but not over processed.

Pour in large mixing bowl, add in chia and hemp seeds. Stir to combine.

In a small bowl, combine egg white, coconut oil, water, honey, salt and seasonings. Pour into large mixing bowl and stir thoroughly to combine and evenly spread the wet mixture.

Arrange granola in even layer on parchment lined baking sheet. Bake for 10 minutes, toss granola, bake for additional 10 minutes

Allow granola to sit to solidify clusters, then store in an airtight container.
Nutrition
Calories:
320
kcal
,
Carbohydrates:
13
g
,
Protein:
9
g
,
Fat:
27
g
,
Saturated Fat:
9
g
,
Sodium:
12
mg
,
Potassium:
259
mg
,
Fiber:
5
g
,
Sugar:
4
g
,
Vitamin A:
80
IU
,
Vitamin C:
0.2
mg
,
Calcium:
77
mg
,
Iron:
2.7
mg
Like this recipe? Rate and comment below!