I was the kid who tried to hide her pear at lunch. I would wrap it in a napkin and eat it behind my crumpled brown bag. I wished with all of my third-grade soul that I could have a shiny pouch of Gushers. I have since thanked my mother for sending authentic fruit. But somewhere on my way to creating a healthy home for my own kids, I forgot about that younger version of myself that wanted to eat what everyone else was eating.
Raising three four small children has helped me understand that food isn't just a pile of calories. Food is comfort. Food creates a culture. And food for kids is a badge of belonging. I allowed my son to eat school lunch two times this semester. His teacher promptly reported that he was thrilled. He isn't insulting my awesome unprocessed lunches. He just enjoys participating with his peers by holding a speckled plastic tray and selecting a carton of milk.
Although there is a lot at stake, we need to be patient and loving with our kiddos as we haul them into a world of unprocessed foods. So parents, I invite you to take off your serious hat. You know the one you wear when you're wrinkling your brow while thinking about Monsanto. Make healthy living the happiest, most attractive option for your kids. Create traditions at mealtime. Rename vegetables after different superpowers. We can raise kids who are confident in making healthy choices regardless of what is on the plates of their peers.
Here are a few things that I wish someone told me when I began the messy business of healthy parenthood:
Learn together.
While you're at the table eating carrots, look up information on your smart phone about the health benefits of carrots. It's okay if you don't know everything already.
Be positive.
Be verbally positive about the healthy foods you serve. I love to narrate how much I love crunchy carrots, juicy peaches, or tangy yogurt. It helps them learn about the distinctiveness of real food ingredients and to enjoy eating.
Create Table Memories.
You can't control everything that happens with food outside of your home. So make the moments at home memorable by creating a few great traditions. Bust out candles every Friday morning at breakfast. Ask everyone to share something good that happened during the day. Share corny jokes. Whatever. Make the table a place where your kids feel relaxed and happy to belong. This means no nagging to clean their plates.
Mix it up.
Kids enjoy novelty. My solution is to keep real food as a constant and then add novelty by other means. Today I served fruit on a skeleton plate and called the carrot sticks monster claws.
Be polite.
Teach them to politely turn down offers of junk food. I even have my kids practice saying, "No, Thanks." Usually people aren't intentionally trying to undermine your health efforts. The lollipop lady at the bank won't be offended if my 3-year-old says, "Not today," with a dimpled smile.
Refrain from Guilt.
Never make a child feel guilty about liking junk food. If guilt is part of the equation, your kids will stop talking to you about what they eat at school or at a friend's house. If they eat junk, use it as a teaching moment. Ask them how the food made them feel. Ask them if you could try making something similar at home with healthier ingredients. Move forward. No Guilt.
Thanks for working hard to change the food culture for our children. It all adds up. Let's get to work! I'd love to hear about your positive parenting ideas as you transition to unprocessed food in the comments below!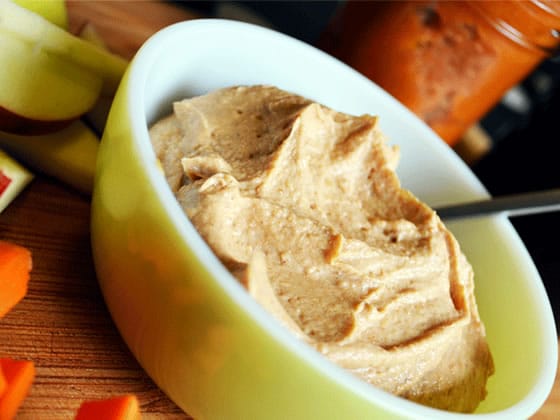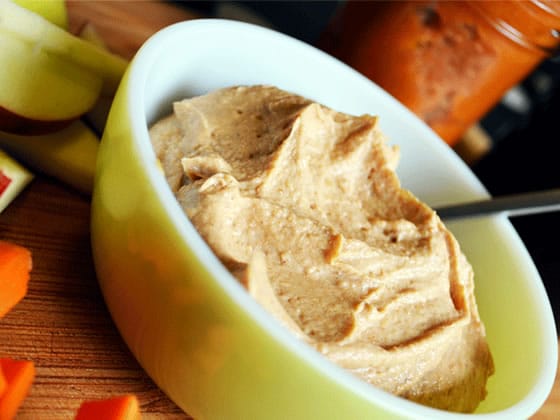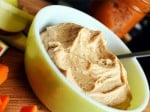 Pumpkin Dip
This is a recipe that I make nearly every week. It's the kind of recipe that you don't have to print out for elaborate measurements and instructions. Just dump and stir the ingredients until you like the consistency. I've served this to toddlers, preschoolers, kindergarteners, tweens, teenagers, and adults. In other words, this unprocessed recipe is loved by all. I typically use peanut butter for this recipe. However, there's a kid in my son's kindergarten class with a severe peanut allergy. We've subbed for other nut and seed butters with delicious results. This is also a great recipe for kids to make themselves. It requires only a bowl and a few spoons. This version includes some tasty pumpkin puree. Add your own combination of fall seasonings for a memorable dip.
Ingredients
½

cup

nut butter or seed butter

½

cup

plain yogurt

2

tablespoons

pumpkin purée

2

tablespoons

honey

½

teaspoon

pure vanilla extract

optional

½

teaspoon

cinnamon

optional
Instructions
Mix together with a spoon until creamy. If you'd like a whipped texture, use a food processor.

Serve with any combination of sturdy fruits and veggies. We like jicama sticks, carrots, pea pods, and apples.
About the Author
Alli Howe, MPH, CHES began parenthood with a lot of anxiety, but quickly traded in her panic for a fun, positive approach to family health. She uses her training in marketing and health education to rally people around healthy living. Her day job is leading preventative health services for a regional health department and serves on city council by night. When she makes it home she loves riding bikes with her four kids, hunky husband, and nine chickens. You can find some of her health writing gems at Don't Panic Mom. Follow her on Facebook, Instagram, Pinterest, and Twitter. "