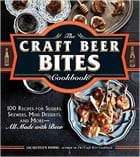 Jackie Dodd's beer-infused recipes earned her a spot as a finalist for Saveur Magazines Best Original Recipes, 2014 as well as crowned winner for Best Beer Coverage in 2015 (yes, craft beer is unprocessed). The Beeroness was also a finalist for Better Homes and Gardens Best Food Blogs, 2015. She has been seen on The Today Show, Lifetime Network, CBS News, as well as interviewed in print publications such as Imbibe, Bite and The San Francisco Chronicle. She also writes for Parade Magazine, Draft Magazine and Whisk Magazine. Jackie is the author of The Craft Beer Cookbook and The Craft Beer Bites Cookbook, and you can connect with her on Twitter, Facebook, and Pinterest.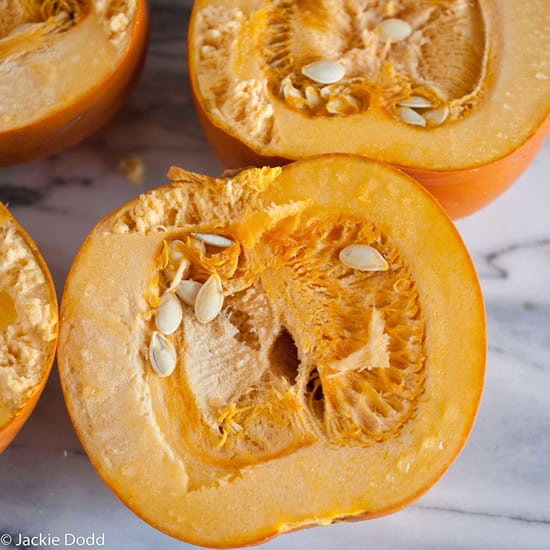 Sooooo, you want to Pumpkin All The Things but you took a pledge to ban the cans? I got you covered. And really, it's simple. Turning a pumpkin into a pumpkin flavored treat is really easy, just takes a bit of time. But you can totally do this, and your unprocessed life will soon be filled with pumpkin scones, pumpkin pie, pumpkin cookies, pumpkin soup, and pumpkin toothpaste (oh wait…).
First, lets talk about the pumpkins. What pumpkins can be used? Can you make pie out of those Jack-O-Lantern pumpkins you buy your kids at the grocery store? What is a pie pumpkin?
You can eat any variety of pumpkin; all are squash and all are edible but not all pumpkins are grown to be eaten, so the variety you use will affect your results. (Be careful not confuse pumpkins with gourds – those are not edible.)
Jack-O-Lantern pumpkins have been bred for decades for qualities that have nothing to do with taste. Although still technically edible, the flavors are not taken into account when breeding. Jack-O-Lantern pumpkins are now bred for thick skin that can hold up to carving, as well as a heartiness to survive after being carved, and set outside with a candle stuck in its guts. Look for a pie pumpkin, most commonly called a Sugar Pie Pumpkin. They're small, about the size of a cantaloupe. If you're confused, jut ask your grocer.
Let's get started.
1. Preheat oven to 375° F.
2. Remove the stem by running a butter knife around the edges and then prying it off.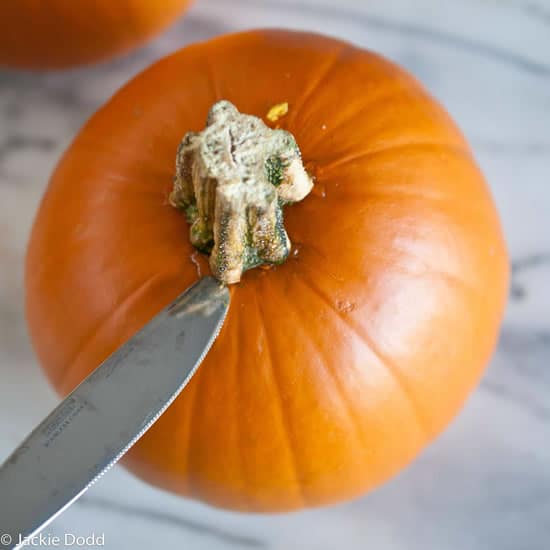 3. Cut the pumpkin in half, right through the hole left by the stem.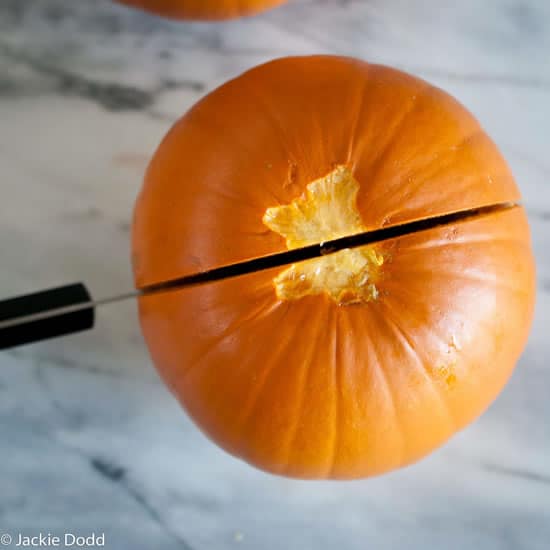 4. Scoop the seeds out with a spoon.
[Andrew adds: Don't toss those pumpkin seeds! Although it's a rather slimy process, if you separate out the seeds, you can roast them in the oven for a fantastic Fall snack. Here's a good tutorial on how to do it.]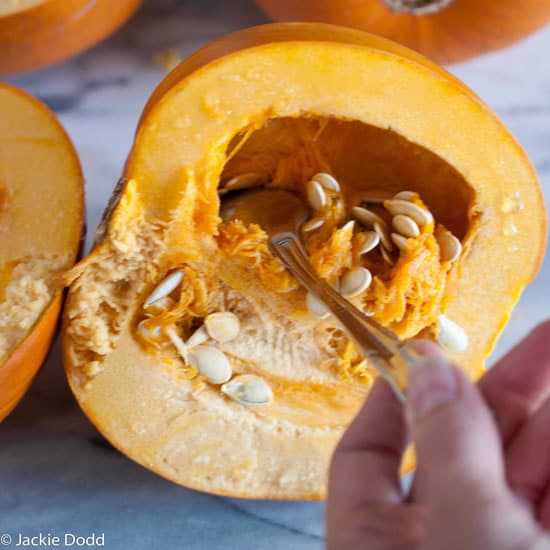 5. Line a baking sheet with aluminum foil. Place pumpkins on baking sheets, cover tightly with aluminum foil. Roast at 375° for 1 to 1 1/2 hours, or until a fork can easily slide into the skin.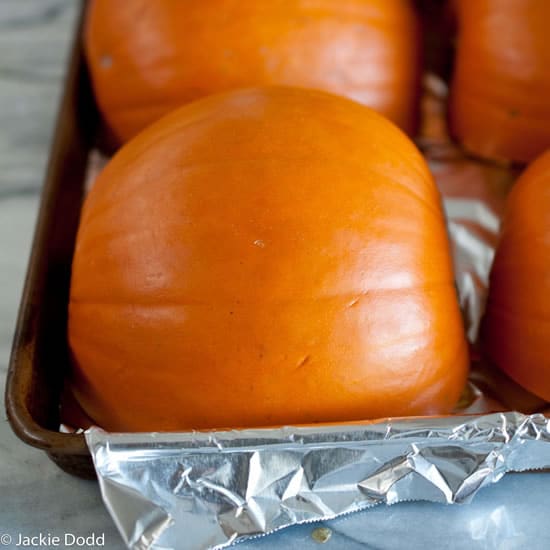 6. Allow to cool and scoop the flesh out.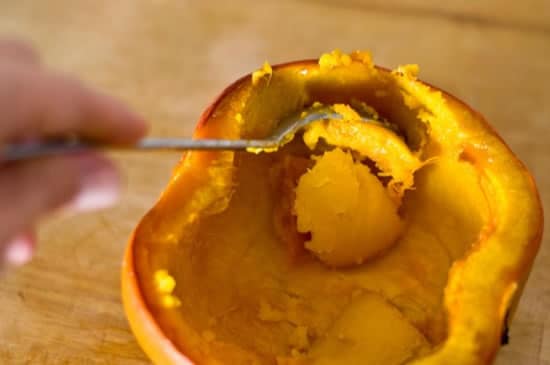 7. Add to a food processor and puree until smooth.
8. Store in an air-tight container. Pumpkin puree also freezes well.