Homemade Sriracha
Oct 24, 2018, Updated Jul 02, 2019
If you're a hot sauce lover,  this homemade sriracha is the recipe for you. It can go on just about anything!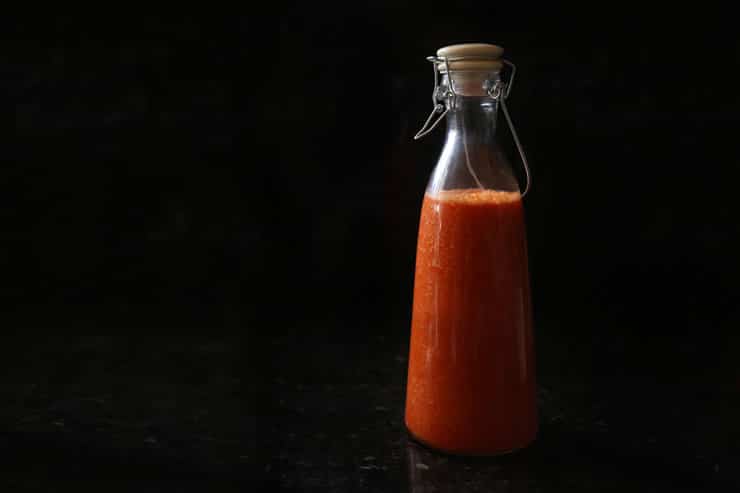 My husband is a hot sauce lover.  Whenever I go somewhere I bring him back a bottle of hot sauce that is from the region I'm visiting.  The hotter, the better.  But as with anything that needs to be shelf stable, I find most are chock-full of preservatives.  Even if it's just xanthan gum, who needs it?
Of course buying prepackaged items is convenient, but making things from scratch is not only healthier, it can be fun and creative.  When you take a look at most recipes, you'll realize the time invested is really minimal, and the rewards great.  I don't know about you, but I'm super proud of myself when I whip up some homemade apple jam, bake some bread, or in this case, make a batch of Sriracha Hot Sauce that my husband loves. So worth it!
My Sriracha consists of only a few ingredients, and as with anything homemade, you can tweak it to use your favorite chiles, or to reflect what is currently in season.  Make sure, though, that your vinegar is 5% acidity.  This is super important to naturally preserve your hot sauce for short-term storage.  (Please note, this recipe is not to be canned. I was going for taste to a similar, popular Sriracha, over balancing ph levels with the acidity of the chiles.  For more information on proper water baths for hot sauces, please visit the National Center for Food Preservation.  This site is a great resource for preserving seasonal ingredients.  A perfect companion to October Unprocessed!)
This homemade Sriracha recipe will give you about two and a half cups and can stay refrigerated for a few weeks.  It never lasts that long in our house though. It's a perfect condiment for, well, everything!  Enjoy!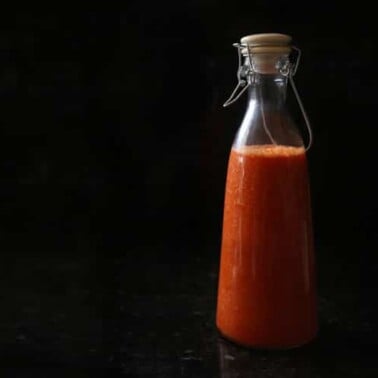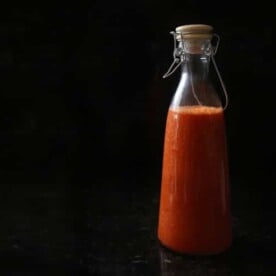 Homemade Sriracha
If you're a hot sauce lover this is the recipe for you. This homemade sauce can practically go on anything!
Ingredients
1

pound

jalapeño, serrano, or other mix of chiles

,

seeded

1

cup

garlic cloves

,

peeled

1/2

cup

vinegar

,

5% acidity

6

tablespoons

sugar

1 1/2

teaspoon

salt

1/2

cup

hot water
Instructions
In a saucepan, add chiles, garlic, vinegar, sugar, and salt.

Cover and simmer gently, over very low heat for 30 minutes.

Add mixture and hot water to a blender.

Blend until smooth, opening vent to release steam often.

Add more hot water to get to the consistency you like.

Store in refrigerator in an airtight container for up to two weeks.
Nutrition
Calories:
317
kcal
,
Carbohydrates:
73
g
,
Protein:
6
g
,
Fat:
1
g
,
Sodium:
1764
mg
,
Potassium:
835
mg
,
Fiber:
7
g
,
Sugar:
45
g
,
Vitamin A:
2445
IU
,
Vitamin C:
290.2
mg
,
Calcium:
150
mg
,
Iron:
1.7
mg
Like this recipe? Rate and comment below!