Homemade Whole Grain Cheez-Its
Some of you might remember my confession-slash-recipe from a previous October Unprocessed challenge, where I shared tales of my relentless need to stuff my face with salty snacks like Fritos. My self-imposed therapy of making at-home versions of all my favorite junky treats has more or less taken consumed all my waking ours in the year since that post, but don't worry about me. I've got a really good excuse for revamping my Fritos recipe, licking Doritos for hours, and dreaming of Cheetos (yes, this really happened): I've been writing a whole cookbook devoted to the topic, Classic Snacks Made from Scratch: 70 Homemade Versions of Your Favorite Brand-Name Treats (Ulysses Press, January 2013).
I admit that not all the recipes in the book are fully unprocessed – though I shy away from turning my homemade Sno-Balls neon pink and use pure Vermont cheese powder on my Cheetos, organic vegetable shortening sneaks into a few things here and there – it's pleasantly surprising to find how many things can be recreated very easily with whole ingredients. Dairy Queen soft serve? Fresh, unhomogenized cream is the key to that silky, melty texture. Funyuns? Yep, there's an organic cereal that's the secret ingredient to those crunchy deep-fried rings.
Apart from "you can make that?", the question I've been hearing most over the past few months is which homemade snack is my favorite of the bunch. It's most often the recipe I'm developing at the time (unless it's something that's giving me trouble, like when I had to make the entire fruit pie chapter in 90-degree July heat), but I'll always have a place in my heart for Cheez-Its, which were one of the first recipes I replicated from scratch.
This unprocessed, whole grain version differs slightly from the cookbook recipe, but if you didn't know the crackers were made with whole wheat flour, you'd never be able to tell the difference. The slightly heartier flavor reminds me of the batches of Cheez-Its that are slightly darker brown around the edges than their boxed brethren, the just-on-the-edge-of-burnt crackers that I'd always root around for, and then save for last. (Yeah, I still do the same thing with the extra-browned Triscuits too.)
Never fear: they're still salty enough for my saline-loving taste buds, they've still got cheesiness out the wazoo, and they leave just a hint – just a wee, wee hint – of buttery grease on your fingers, like a good Cheez-It should. And somehow they're even better a few days after you first make them, so don't gobble your way through the whole batch right off the bat.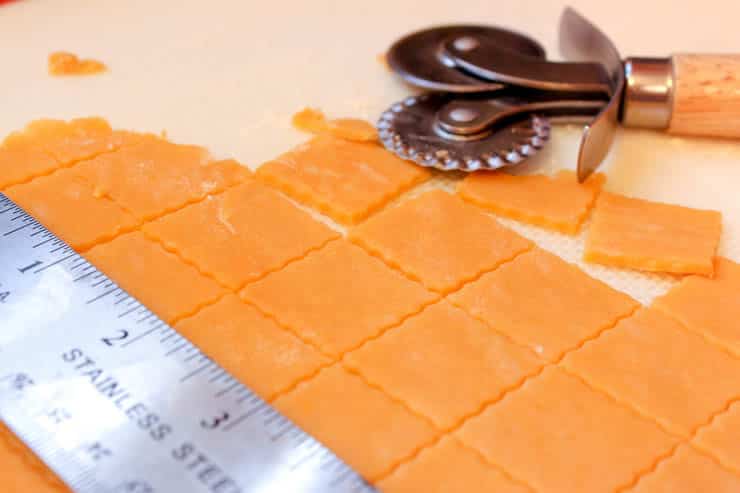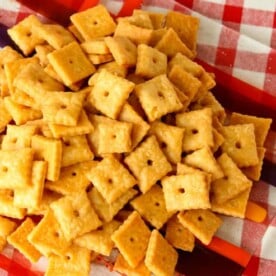 Homemade Whole Wheat Cheez-Its
Once you try these homemade Cheez- Its, there is no going back!
Ingredients
1

8-ounce

block extra sharp Cheddar cheese

,

coarsely shredded

1

ounce

finely grated Parmesan cheese

,

(about 1/4 cup)

4

tablespoons

unsalted butter, at room temperature

,

(2 ounces)

1

teaspoon

kosher salt

1

cup

white whole wheat flour

,

(4 1/4 ounces)

1-2

tablespoons

ice water
Instructions
Blend the Cheddar, Parmesan, butter, and salt in the bowl of a stand mixer fitted with the paddle attachment on medium-low speed, or pulse the ingredients in the bowl of a food processor fitted with the blade attachment until soft and homogenous.

Add the flour and mix on low speed/pulse to combine; the dough will be dry and pebbly.

Slowly add the water (through the feed tube if using a food processor) and continue to mix/pulse as the dough coalesces into a mass. Depending on the cheese used and the humidity levels when you're making the Cheez-Its, you might only need a small dribble of water or the full 2 tablespoons.

Pat the dough into a disk, wrap tightly with waxed paper, and refrigerate for at least an hour.

Preheat the oven to 375 degrees Fahrenheit. Line two baking sheets with parchment paper or Silpat liners.

Divide the dough into two pieces and roll each into a very thin (1/8 inch or less) 10- by 12-inch rectangle. Using a fluted pastry cutter or a pizza cutter, cut the rectangles into 1-inch squares, then transfer to the baking sheets. Use the tip of a chopstick or a toothpick to punch a hole into the center of each square.

Bake for 12-15 minutes or until puffed and browning at the edges. Watch carefully, as the crackers will go from golden to burnt in the blink of an eye.

Immediately move the crackers to racks to cool. Cheez-Its will keep at room temperature in an airtight container for up to a week.
Notes
I use Cabot extra sharp Cheddar, Plugra butter, and King Arthur Flour white whole wheat flour.
Nutrition
Calories:
129
kcal
,
Carbohydrates:
5
g
,
Protein:
6
g
,
Fat:
9
g
,
Saturated Fat:
5
g
,
Cholesterol:
27
mg
,
Sodium:
291
mg
,
Potassium:
25
mg
,
Vitamin A:
280
IU
,
Calcium:
151
mg
,
Iron:
0.3
mg
Like this recipe? Rate and comment below!