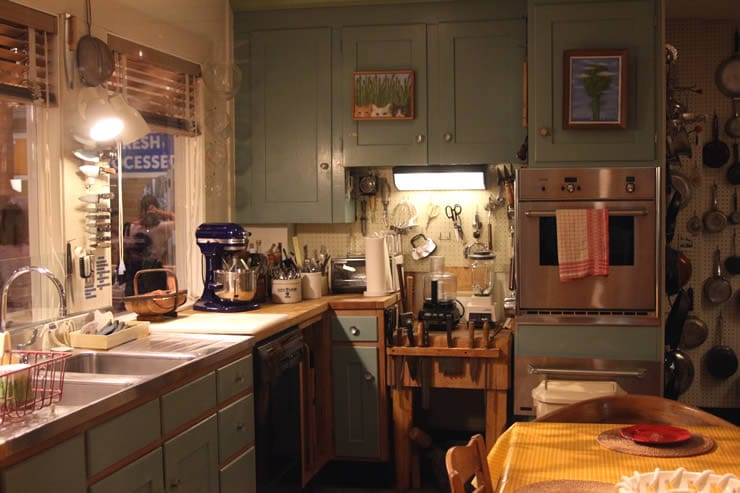 We're just a couple of weeks away from the start of the October Unprocessed challenge!  If you haven't taken the pledge yet, please check it out and then come back here and keep reading.
I get asked a lot of questions about how to define "unprocessed," and how my definition applies to specific ingredients and foods. I've previously published a series of Frequently Asked Questions posts – I'll be re-publishing them over the next few weeks to bring them to the top of the pile and help everyone prepare for this year's challenge.
The Kitchen Test
Because there are always so many questions about how to apply my "Kitchen Test," let's take a quick look at it:
Unprocessed food is any food that could be made by a person with reasonable skill in a home kitchen with whole-food ingredients.
The Kitchen Test is how I define "unprocessed." It works well for me, and many people find it works well for them, too. But it may not fit with your definition of "unprocessed," and that's totally okay. In fact, I encourage disagreement and discussion, since that's the best way for us to learn together.
I also recognize that the Kitchen Test isn't perfect.  My goal here isn't perfection – it's more to spark a dialogue, increasing awareness about how our food is made, what we're putting into our bodies, and how we relate to our food.
Whole-Food Ingredients
The Kitchen Test doesn't mean that you have to make the food. Nor does it mean that you necessarily need to be able to make the food (you don't have to be Julia Child!). It just requires that the food could be made in a home kitchen by someone who knows what they're doing, using whole-food ingredients.
So we also have to define "Whole-Food Ingredients."
I start by trying to figure out if I could grow/create/produce that ingredient at home, at least in theory. If the answer is yes, then it's good to go. But if it's made through an industrial or complicated chemical process that couldn't be done in a kitchen (however you define "kitchen"), or could only be made "in a laboratory," then it's out.
The big idea, ultimately, is to consider each ingredient in your food: How it's produced, where it comes from, and whether its benefits outweigh its detriments.
We'll talk more about specific ingredients over the next few weeks, but in the meantime, just remember that anything you could make at home, from ingredients that you could produce at home, will pass the test.
Packaged Foods
While cooking from scratch is obviously the ideal choice, it's not always feasible or practical. Most people (myself included!) are not going to prepare everything from scratch, especially if you've got a job, school, kids, pets, or are traveling…
So what to do when you buy packaged food?  The answer is simply to consider every ingredient separately.
My favorite example is comparing two "energy bars."  Here are the ingredients for the 
PowerBar Chocolate Peanut Butter Crisp
*:
GLUCOSE SYRUP, RICE AND SOY CRISPS (RICE FLOUR, SOY PROTEIN ISOLATE, ALKALIZED COCOA), CHOCOLATE FLAVORED COATING (SUGAR, FRACTIONATED PALM KERNEL OIL, COCOA, WHEY, NONFAT MILK, SOY LECITHIN, NATURAL FLAVOR), WHOLE OATS (CONTAINS WHEAT), ROASTED PEANUTS, SOY PROTEIN ISOLATE, OLIGOFRUCTOSE (FROM CHICORY ROOT), PEANUT BUTTER (PEANUTS, SALT), RICE CRISPS (MILLED RICE, SUGAR, SALT, MALTED BARLEY), INULIN (FROM CHICORY ROOT), VEGETABLE GLYCERIN, AND LESS THAN 2% OF: CALCIUM PHOSPHATE, SOY LECITHIN, SUGAR, NATURAL FLAVOR, POTASSIUM PHOSPHATE, SALT, GROUND ALMONDS, ASCORBIC ACID (VITAMIN C), FERROUS FUMARATE (IRON), BUTTER (CREAM), PYRIDOXINE HYDROCHLORIDE (VITAMIN B6), THIAMIN HYDROCHLORIDE (VITAMIN B1), RIBOFLAVIN (VITAMIN B2).
* The ingredients list has changed slightly since I first posted this list four years ago, and it's a perfect example to see the subtle ways even ingredient names are changed to seem better. They previously called the first ingredient "corn syrup" instead of "glucose syrup." Likely the exact same stuff, but it seems people no longer like to see  "corn syrup" (whether or not it's "high fructose"), and especially not at the top of the list.  The "Soy Crisps" are now "Rice and Soy Crisps" – even though there was rice flour in them before.  "Barley Malt" became "Malted Barley" (sounds more wholesome, doesn't it?), and the "Chocolate Flavored Coating" used to be called "Chocolatey Coating." Yum. Oh, and they've also dropped "Triple Threat" from the name, whatever that meant.
Restaurant Foods
Eating out is probably the hardest part of the challenge. Since you don't know the ingredients, you just have to do the best you can. Some dishes are more likely to pass the kitchen test. Here are some strategies I use — if you have other suggestions, please share them in the comments:
Talk to your waiter. It's totally okay to tell your waiter that you're eating only unprocessed food, and ask him or her questions about the food they serve. You're about to put it in your body – you have every right to know what it is. If the waiter doesn't know, ask to speak with the Chef. Just remember to be friendly and polite.
Avoid large, chain restaurants. They often have lots of additives, stabilizers, conditioners, and preservatives in their foods (since they're rarely made fresh). Obviously that's a generalization, but you're usually better off at a small, family- or chef-owned restaurant.
Find a local, "farm to table" restaurant, if you can. More and more like-minded restaurants are popping up all over the country, so seek them out… and let them know about the challenge!
A Fresh Salad is usually a good choice. It's the dressing you've got to watch out for. A good choice is Olive Oil and Balsamic Vinegar, both of which pass the Kitchen Test.
Pasta may pass the test — if it's made with unbleached, unenriched flour (if you can find 100% whole wheat pasta at a restaurant, you'll be in good shape). Then you just need to ask about the ingredients in the sauce. Olive oil and garlic, anyone?
Cooked Vegetables usually work well.
If you eat meat, that's usually a good choice, depending on how it's prepared. (Again, watch the sauce.)
Tofu and tempeh usually pass the kitchen test. (Seitan is a gray area… You could make seitan at home from wheat flour, but at the commercial level it's usually made with vital wheat gluten).
The Deliberate Exception Clause
I encourage you to consider exceptions, if any, you will make to your definition of unprocessed. The idea is to decide on any exceptions before we start, if possible.  It's not there for you to use your exceptions as a way to cheat in the moment. Instead, it's about making an informed decision, in advance, about a particular food.
For example, Matty and I have decided that Vital Wheat Gluten is an acceptable ingredient for us, because we'd rather eat whole grain bread (preferably baked ourselves) that is made with some extra gluten, than to eat bread made with refined grains. We carefully considered it in advance, and decided that the "pros" outweighed the "cons."
It's also okay to make an exception for something you feel you need to do to make it possible for you to complete the challenge at all. For example, maybe you're a five-cans-of-soda-a-day person (like I once was), and have decided that for October, you're going to limit yourself to just one can of soda each day.
Remember that this is fundamentally an awareness exercise, and ultimately, you need to do what's right for you, and what's going to work for you.
---
If you haven't taken the October Unprocessed pledge yet, please do!  And then encourage your friends to join in -- it's a lot more fun that way!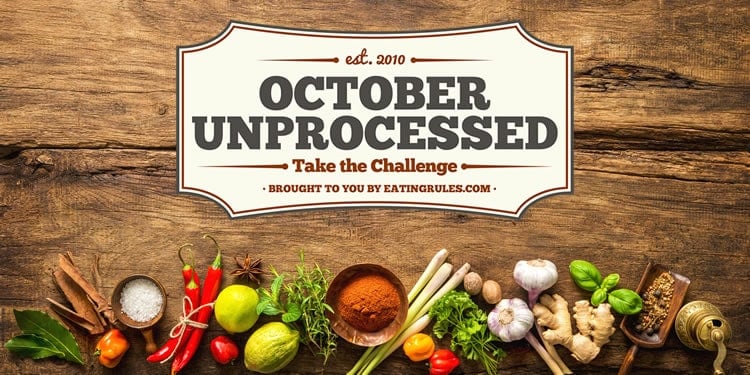 ---
Photo of Julia Child's kitchen at Smithsonian Museum of American History by Jeffrey Keeton, used under Creative Commons License.