Ten Unprocessed School Lunch Ideas
Here are ten unprocessed snacks and meal ideas that you can pack in your child's school lunch that will keep them interested and begging for you to pack it again the next day.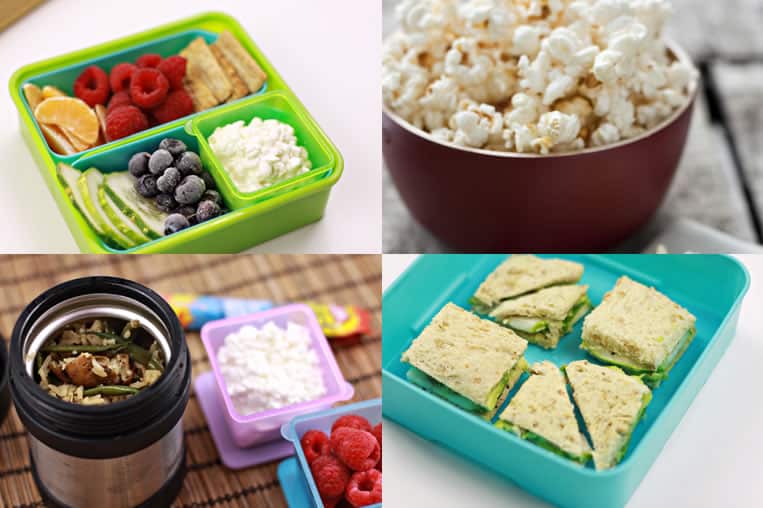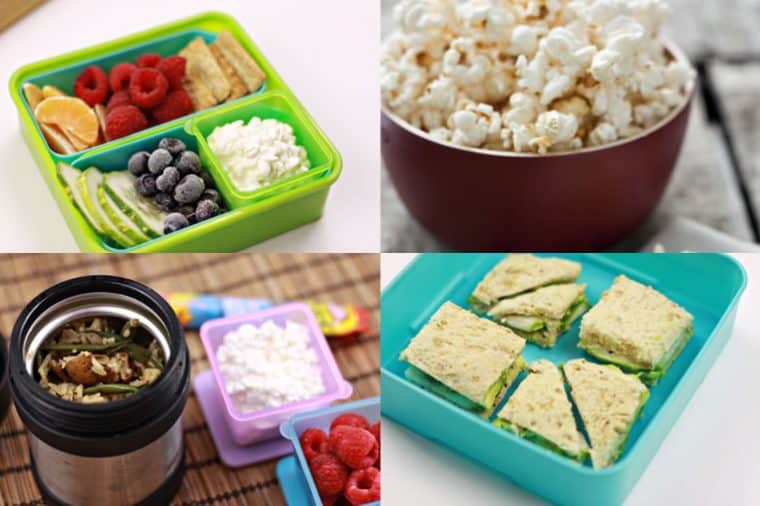 A few weeks ago there was an aligning of the stars. Immediately after signing the October Unprocessed challenge, my son returned home from school with papers and activities for one of his first big social studies lessons, including a field trip form. Like his sister before him, he would be studying American history, starting with a look into what life was like for a child his age in the 1800s.
With one daughter already having visited Gibb's Farm, a museum from a family who settled here in the 1800s, convincing my children that we would spend a week eating like pioneers wasn't a hard sell. The younger two were easily convinced with promises of rolled fruit leather and unlimited apples for snacks.
A plan was instantly put into place that involved getting the entire family on board with our "pioneering week" of unprocessed where we would make our own butter and then use that and meat drippings as our oil for the challenge. The following weeks we decided we would focus on a more sustainable way of whole food eating and no processed convenience foods.
A Hurdle to Unprocessed School Lunches
The first hurdle we needed to get over to truly complete the unprocessed challenge was looking at what was going to school in our lunch boxes. While my children are used to having lunches packed from home, there are a few items that we would be missing during the challenge that are sometimes used to help switch lunch up and make it interesting: A fruit rope here and there, a packet of organic yogurt or the conveniently packaged applesauce.
While these things aren't really necessary and can be substituted, they do serve to make lunch more interesting and to keep the attention of three kids in a sea of school lunches, chocolate sandwich cookies, and juice boxes. Obviously we'd need to rethink our snacks and lunches to make sure opening their lunch would be more of a fun exploration than five school days of the same foods packaged in the exact same way each day.
Here are ten unprocessed snacks and meal ideas that you can pack in your child's school lunch that will keep them interested and begging for you to pack it again the next day.
1. Fresh Raw Produce
This seems like the most obvious choice to include in a lunch, especially if your kids are interested in eating them. Our favorites include apples, berries, cherries, bell peppers, and carrots. Cutting fruits and vegetables into manageable, bite-sized pieces can help make eating them easier, especially when lunchtimes are limited.
2. Dried Fruits and Vegetables
When your kid gets sick of having an apple a day, try instead the dried version. These are more fruit-snack-like, and they taste sweeter because the natural sugar is concentrated. Dried apples or apple chips, bananas, mangoes, raisins and cranberries are all great options.
3. Homemade Fruit Roll-Ups
If your kids are missing fruit snacks or gelatin fruit cups, impress them by cooking down apples and honey to make their very own. I remember the first time these appeared in our house, my kids proclaimed my status as the best mom ever. I'm okay with that.
4. Hummus
There's something magical when it comes to dips for most kids, and equally as amazing and astounding is how making food with them can turn bland and boring into something they actually request. My formerly hummus-hating son declared homemade hummus his preferred protein of choice recently.
6. Popcorn
A popular snack around these parts, we make our popcorn over the stove generally, but it can also be made air-popped in the microwave without any added fat. A bit of butter and salt over organic popcorn is a simple and fun snack for kids.
7. Eggs
I love sending eggs as a protein source. They're easy to do ahead and then peel and pop in the lunch box the night before. I send them with a pinch of salt, or I'll make deviled eggs with homemade mayonnaise and sandwich the two sides together to keep them from spilling or rolling around.
8. Homemade Yogurt
We love yogurt around here, and we love yogurt in lunches as well (usually frozen a bit before being sent to school.) Making homemade yogurt will require live cultures from already made yogurt, but once you have it started, you can make yogurt again and again and again.
9. Soups
Soup is a great unprocessed food. Sent in a preheated insulated container, it can be made with homemade stock, vegetables and leftover meats for a complete meal in and of itself.
10. Seeds and Nuts
Seeds and nuts are always a great option to get protein and healthy fats into your child's diet. Plus, they'll help keep them full longer, avoiding midday hunger pains. We buy your seeds and nuts raw and roast and flavor them ourselves. Seeing as it's pumpkin season, pumpkin seeds are the obvious choice of the moment. Bonus points if the kids scoop them out of the pumpkin they're about to carve.
What unprocessed lunch ideas do you utilize to keep your kids interested and engaged while going through the challenge?