I'm going to let you in on a dirty little secret of the microwave popcorn industry: It's all a sham.
That's right, I said it. Store-bought microwave popcorn is a lie.
Here's the scoop: You don't need to buy those expensive, high-fat, high-salt, individually-wrapped packets. You can just take plain popcorn kernels, toss 'em in a paper bag, and pop them yourself in the microwave.  No oil or grease needed.  No reflective foil in the bottom of the bag needed.  No salt needed.
You'll get wonderful, fresh popcorn, just like out of a hot-air popper, in about three minutes. It's 95% less expensive, 99% less wasteful, and 100% better for your health (You do know that popcorn is a whole grain, right?  It's a perfect snack for October Unprocessed!).
The only downside is that a few less kernels will pop.  Big whoop, I say!
Homemade Microwave Popcorn
1. Add 1/4 cup Organic Corn Kernels to a brown paper bag.
2. Fold the bag closed, and microwave on high for 3 to 4 minutes. Just like the store-bought stuff, you need to stand there and listen to the popping. Once there's about 2 seconds between pops, stop the microwave (else you'll burn some of the kernels.)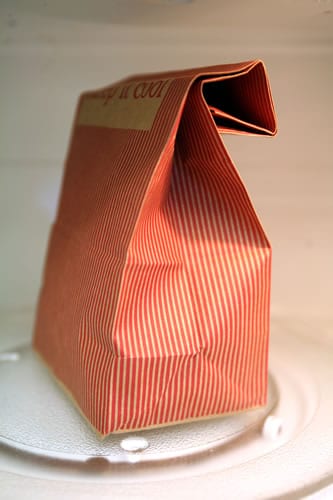 3. Pour into a bowl, sprinkle on your favorite toppings, and enjoy! (And save that paper bag for next time.)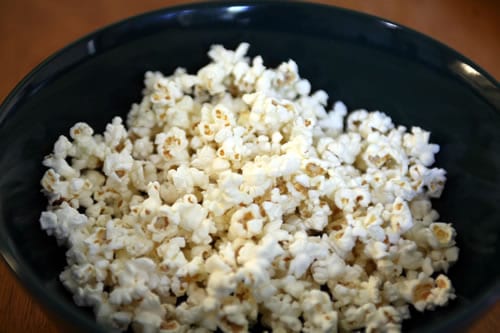 Below are a few topping ideas.  I recommend using an Oil Mister
— you'll use very little oil that way, but still get the flavor of the oil (and it'll be enough to help the toppings stick to the kernels).
– Olive Oil, Sea Salt, and freshly ground Pepper.
– Olive Oil and Nutritional Yeast.
– Butter, Grated Truffle, Sea Salt, freshly ground Pepper, and grated Parmesan cheese. (Too fancy?)
– Tabasco and Garlic Salt. (Kapow!)
What's your favorite popcorn topping? Share in the comments!