Seven Ways to Survive October Unprocessed with Kids (Maple Apple Chips)
Oct 07, 2011, Updated Oct 03, 2017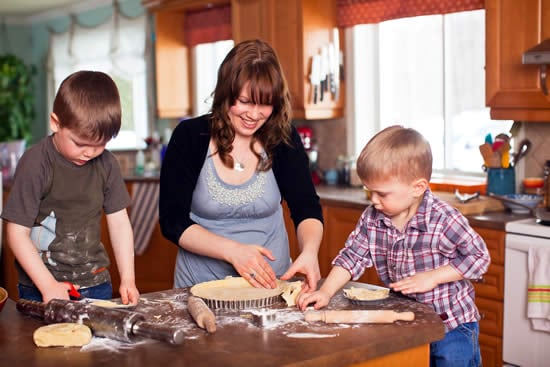 Raise your hand if you are completely enthusiastic about October Unprocessed, but not sure if your whole family is ready to jump in. Or worse yet, are pretty sure your kids will either starve or run away from home if you sign the pledge. Anyone?
A few of you are feeling this way, and that is perfectly all right. As a mother to two children with highly selective palates — I've been there.
Hopefully by the end of this post you'll be encouraged to include the whole family in the challenge without hesitation or doubts. Believe me, I wouldn't be writing to you if I didn't wholeheartedly believe that it was possible.
I come from an "unprocessed" background, and those beginnings laid the foundation for my love of whole foods and passion for scratch cooking today.  In our rural setting, we grew and raised most of our food and learned to love simple preparation and homegrown cooking.
The strong, unprocessed food culture that my siblings and I were immersed in as children has left a lasting impact on our current food choices. It is this obvious connection that has encouraged me to avoid processed foods in our home and create a healthy food culture for my family.
We want our children to grow up to be healthy eaters, aware of the way their food is produced and how their food choices affect the planet. Most importantly, we want them to connect the dots between health, whole food, and happiness. By creating a healthy food culture in the home, you are giving your children the very best attitude toward food.
October Unprocessed is one way to build a healthy food culture. Why? Because it narrows our food choices down to real, whole foods. Food should be recognizable, change with the seasons, and come from known sources — and I don't mean a supermarket shelf.
While you may think that taking on a challenge such as Unprocessed will be tough on your kids (and partner, potentially), remember that you're sowing seeds for future healthy food choices. Who knows? This month could be a turning point for your family's eating habits.
1. Talk it out.
Communication is essential, especially with little ones who are suddenly deprived of their beloved jar of processed peanut butter. Explain in simplest of terms what the project is about and why it is important. If your children are older, watch an eye-opening food documentary such as Food. Inc together as a family and discuss it afterward. If your children are much younger, try a lighter, fun approach, as suggested next.
2. Get creative and re-name the challenge.
Call your unprocessed project "Pioneers" or "Little House on the Prairie at Home." One can be sure Laura Ingalls or Davy Crockett didn't snack on fish crackers and fruit roll-ups! Often just by using their imagination to slip into a different character can help kids open up their minds and expand their palates.
3. Focus on what you can eat, rather than what you can't.
I admit, even I started to panic a little when I thought about the immensity of this challenge. No oil? Lunch meat? Chocolate? However as soon as I opened to a fresh page on my notebook and starting listing all the ingredients I could either source or make, I had to laugh. This was going to be simple – and darn delicious to boot.
4. Use the challenge as an opportunity try new ingredients, and get out of a cooking rut.
Even with a background in professional cooking and a fairly impressive cookbook collection, I can easily slip into a rut of making the same old 8-10 dinners in a month. Making a menu plan for October Unprocessed was the perfect kick in the pants to really change things up. Your kids will appreciate a change too.
5. Make a menu plan.
A menu plan will help you stock your pantry, figure out your meal options, facilitate a one-stop shop, and finalize your October unprocessed challenge. It's a vital step in succeeding with this project, especially as a busy mother with a myriad of other projects on the go.
I put together a one-week menu plan for our Unprocessed challenge that also includes snacks – important for this pregnant mother! Knowing that I have that plan in place gives me peace of mind and allows me to stay organized during the challenge.
6. Invite the kids in the kitchen with you.
Allowing children to help prepare the food gives them a sense of ownership and pride. Cooking with kids helps them learn practical skills, such as counting and measuring, along with social skills like following instructions and patience – all while fostering creativity.
Tips: Be sure to cover safety guidelines at the onset, set yourself up properly, and give the children small, manageable tasks. And don't forget: praise is invaluable, as is plenty of patience on your part.
7. Use October Unprocessed as a chance to get to know your fruits, vegetables and fresh herbs.
Fortunately, the markets are bursting with unbelievably beautiful fresh produce at this time of the year and the selection couldn't be better. Let the kids pick produce at the market – one fruit and one vegetable each – and include them in the preparation of the food. Kale chips, sweet potato fries, and squash macaroni & cheese are all good examples of kid-friendly foods that highlight vegetables.
Bonus tip: Don't bite off more than you can chew.
…or impose more on your children than you think they are comfortable with. In our house we are challenging ourselves to a week of "hard core" unprocessed eating, and a month of "soft core." That means we're not going to feel guilty about enjoying a batch of chocolate-chip cookies (homemade, of course!) or hot cocoa (from scratch!) after school.
Find the balance that works for your family and most importantly – have fun!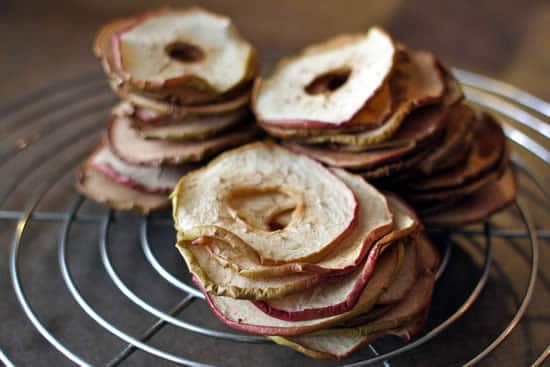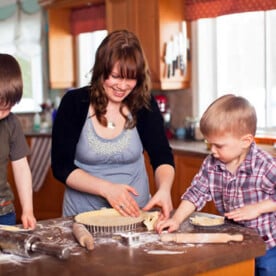 Maple Apple Chips
These have helped tremendously to stave off my sugar cravings and are the perfect grab-and-go snack for busy moms.

I used MacIntosh apples and they didn't require any special measures to prevent browning. If you think your apples will brown excessively, dip them in a solution of 2 cups water and 2 tablespoons lemon juice right after they have been sliced.

Depending on how strictly you apply the Kitchen Test, spices might be out for Unprocessed. Since I bought my cinnamon whole while in Mexico this summer and ground it myself for the apples, I figured it was okay.
Ingredients
3

medium

Apples

1/4

cup

Maple Syrup

1

tsp.

fresh ground Cinnamon
Instructions
Preheat oven to 200 degrees Fahrenheit. Mix together maple syrup and cinnamon in a small ramekin or bowl.

Wash and core the apples using an apple corer.

Slice off 1/4 of the top and bottom of the apple and discard. Slice the remaining apple using a mandolin set to 1/8 thick.

Spread the apple rings out onto two parchment-lined baking sheets. Try to avoid overlapping the rings.

Using a pastry brush, coat apple slices lightly with maple syrup. Place in oven.

Bake for approximately 2 hours, rotating once or twice. Start checking on them around 30 minutes*.

They may be slightly pliable when they come out of the oven, but should crisp up when cool.

Store in an airtight container at room temperature for up to five days.
Notes
*Baking time will vary with apple varieties, thickness of slices, and position in the oven. Keep an eye on them!
Nutrition
Calories:
85
kcal
,
Carbohydrates:
22
g
,
Sodium:
2
mg
,
Potassium:
127
mg
,
Fiber:
2
g
,
Sugar:
17
g
,
Vitamin A:
50
IU
,
Vitamin C:
4.2
mg
,
Calcium:
28
mg
,
Iron:
0.2
mg
Like this recipe? Rate and comment below!