The Nourishment of a Roast Chicken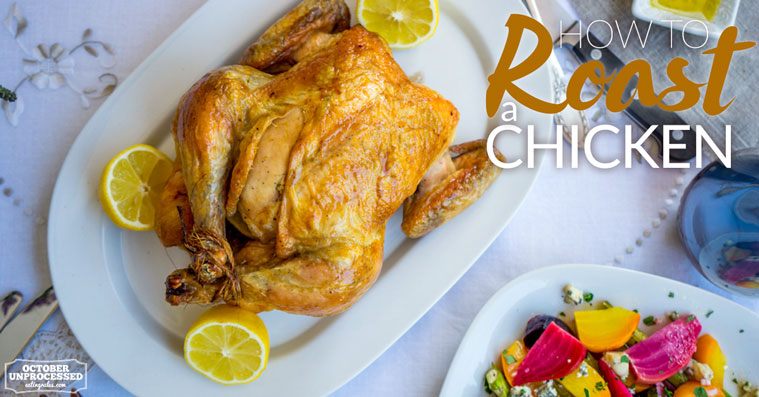 "I just want you to roast a chicken," my husband, Christopher, said to me when I asked what I could make him after being up all night to help those in the grip of the Northern California wildfires. "I just want comfort."
I gladly obliged. Ever since we got the call that my parents were evacuated in the middle of the night and awoke to smoke-filled skies surrounding our own town, all I've wanted to do is provide comfort.
And serving that chicken to Christopher and my mom and dad — weary after their harrowing ordeal — felt like I was nourishing them not just with food … but with love.
A few years ago I was getting a haircut when conversation turned to comfort food. We'd started with what to cook in a big, old Dutch oven . . . which led us to braised pork shoulder and various types of stews . . . which led to roasting a chicken.
"Roast chicken saved my life once," my hairdresser said, her gaze distant. She, someone who loves to cook, went on to tell of the early days after a rough divorce when just gathering groceries leveled her, sparse as they were for one. So for a time she turned to frozen meals and convenience foods while the sorrow swept through. And then, she roasted a chicken. "It warmed the house up and made it smell like somebody lived there again," she said. "It made me feel like things were OK, like I was OK."
I find it amazing how food has the power to do that; to wrap itself around us like a giant, ephemeral hug. Roast chicken is like the quintessential hug-in-food-form, and it's a meal that continues to give and give and give. Our practice is to eat the dark meat right out of the oven, save the white meat for sandwiches and salads on a later date, and use the carcass to make a stock for soup — three meals out of one chicken.
And that's just what we're doing with the chicken I roasted on Monday night. My family chose to evacuate from our home shortly after roasting that bird, and as we headed out the door I said to Christopher, "grab the leftover chicken and carcass!"
Now, safe at a friend's house in San Francisco, the breast is going to become lunch, and I've got a pot of stock burbling on the stove (comfort incarnate) that will serve as dinner for the many friends gathering tonight.
Some people have elaborate methods of roasting a chicken that involve flipping and flopping every few minutes. And that's fine. But I believe a big part of making real food possible in real life is having techniques and recipes under your belt that don't require babysitting a bird for the 50 minutes or so while it cooks. So you'll find my approach almost comical in its simplicity, yet serious when it comes to flavor.
I could have written about how a roast chicken is an easy win, and an economical way to practice "real food cooking." But I think it's better to use it as an example for just how deeply nourishing real food can be.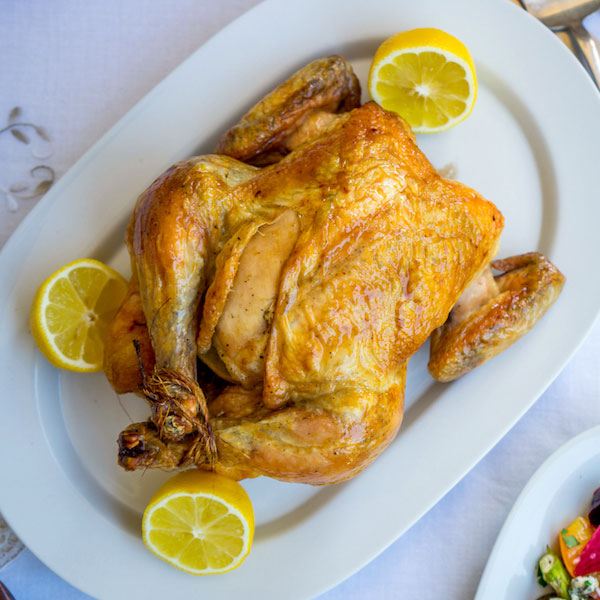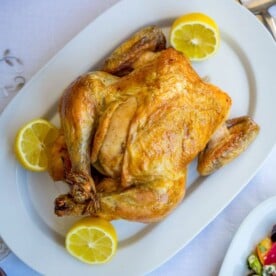 Simple Roast Chicken
I'm lazy when it comes to roasting a chicken, and I've found this super simple technique works every time. If you haven't tried roasting a chicken yet, I think you'll be surprised just how simple--and utterly nourishing--it is.
Instructions
Pat the chicken dry with paper towels or a clean kitchen towel. Gently work your fingertips under the breast, leg and thigh, and rub meat with salt and pepper (I like to fill a separate little ramekin with a mix of salt and pepper to do this so I don't get my pepper grinder all chicken-y). Sprinkle more salt and pepper on top of skin and in cavity. Stuff the thyme sprigs under the skin and the lemon halves into the cavity.

Roast on a V-rack in a roasting pan, breast side up, for 50-75 minutes, until the legs pull away easily and the juices run clear. A thermometer in the deepest part of the thigh should read 160°F (the temperature will continue to rise to 165°F after taking it out of the oven).

Let chicken stand at room temperature for 15 minutes (tent it with foil to keep it warm) before carving.
Nutrition
Calories:
250
kcal
,
Carbohydrates:
3
g
,
Protein:
32
g
,
Fat:
25
g
,
Saturated Fat:
7
g
,
Cholesterol:
127
mg
,
Sodium:
119
mg
,
Potassium:
370
mg
,
Fiber:
1
g
,
Vitamin A:
335
IU
,
Vitamin C:
20.2
mg
,
Calcium:
34
mg
,
Iron:
2
mg
Like this recipe? Rate and comment below!