Jackie Gonzalez-Feezer is the recipe developer and photographer behind La Casa de Sweets, where she shares her grain-free and (mostly) vegan recipes. Having made the switch to a grain-free lifestyle a few years ago, her goal is to make healthy food taste good. You can also find Jackie on Facebook, Twitter, and Instagram.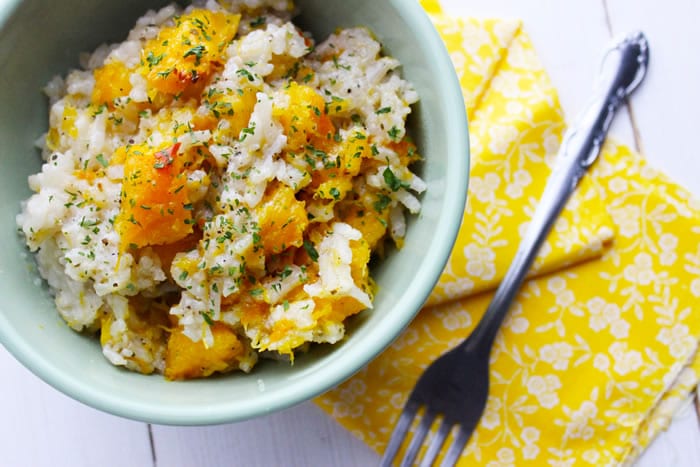 I just love it when October rolls around.  The leaves start changing, the temperatures start dropping, and pumpkin spice lattes start appearing everywhere.  One of the things I look forward to in October is Andrew's Unprocessed movement.  As someone who values clean eating and living, I just love that so many people come together to sign the unprocessed pledge every year!  Thanks for everything you do to remind us that clean, unprocessed living is the way to go, Andrew!
For this year's October Unprocessed, I've decided to focus on healthy, all-natural recipes that will save time in the kitchen.  If you follow my blog, you'll know that the past few weeks have been crazy busy here.  I've been homeschooling my girls since they were three, but now with the start of the kindergarten year for my oldest daughter, life has become even more hectic.  With full days of school every day of the week, sports, church life, and blogging, it's taken all my energy just to punch out three home-cooked healthy meals a day!
We all want to eat healthy, right?  But a lot of times I find people think they just don't have the time or energy to cook healthy food.  It's so much easier and faster to stop by your favorite fast food chain, pick up some burgers and fries, and head home.  But, I promise you, cooking healthy, unprocessed foods does not have to take hours in the kitchen.  And I've created this slow cooker risotto recipe to prove it!
When most of us think of risotto, we think of standing over the stove, stirring without stopping for half an hour.  Using your slow cooker saves time, and energy!  Roasting a small sugar pumpkin also takes very little effort.  You cut the pumpkin in half, scoop out the seeds, and let the oven do the rest.  (If you don't have time for that, you can always substitute a cup of pre-made pumpkin purée.)
This October, celebrate the unprocessed movement with a little help from your slow cooker.  With very little effort on your part, you can enjoy a healthy home-cooked meal that tastes like you slaved away in the kitchen for hours.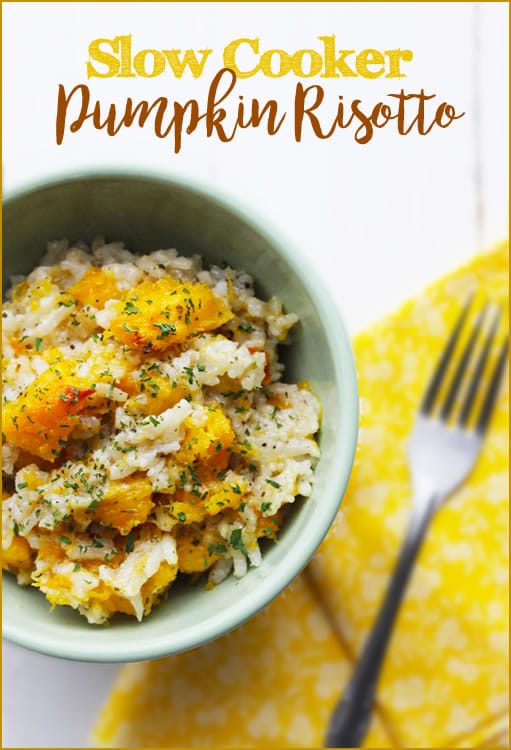 Slow-Cooker Pumpkin Risotto
With very little effort on your part, you can enjoy a healthy home-cooked meal that tastes like you slaved away in the kitchen for hours.
Cook Time
1
hour
30
minutes
Total Time
1
hour
38
minutes
Ingredients
2

tablespoons

olive oil

2

teaspoons

dried sage

1

tablespoon

crushed garlic

½

cup

chopped onion

1-1/2

cups

Arborio rice

4

cups

vegetable broth

or water

2

teaspoons

salt

1

teaspoon

pepper

2

cups

roasted pumpkin

see note
Instructions
In a medium-sized pot, cook the olive oil, sage, garlic, and onion over medium heat, until the onion softens, about 4-5 minutes.

Stir in the Arborio rice, and cook for an additional 2-3 minutes. Transfer the rice to a lightly greased slow cooker, and stir in the vegetable broth, salt, and pepper.

Cover the slow cooker pot, and cook on high for 1.5 hours, until the rice is tender. Stir in the roasted pumpkin (or puree, if using), and taste. Add salt and pepper, if necessary, and enjoy!
Recipe Notes
To make the roasted pumpkin, cut a sugar pumpkin in half, and scoop out the seeds with a spoon. Drizzle the pumpkin halves with 1 tablespoon olive oil, and sprinkle with salt, pepper, and 1 teaspoon dried sage. Roast at 350° for 80-90 minutes, or until fork-tender. Once roasted, remove the pumpkin from the oven, and let cool. Once cooled, remove the outer skin, and use a fork to cut the roasted pumpkin into chunks.