Print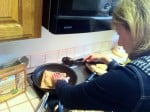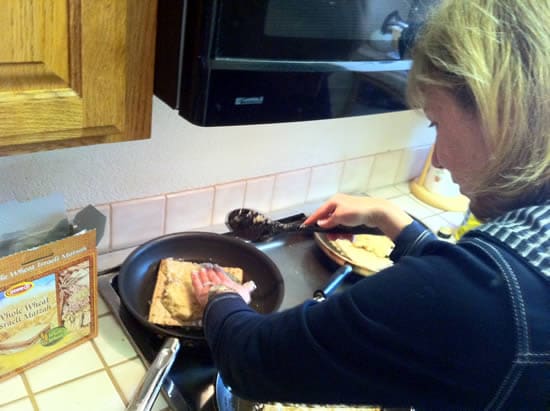 Grandma Rose's Matzah Latkes
These are great topped with a dollop of apple sauce or Greek yogurt. The ingredients below make one large pancake, which is plenty for one person, with some left over. For more servings, just multiply everything by the number of servings -- so it's basically one potato, one onion, one egg, and one sheet of matzah per person.
1

medium

Potato

1

small

Onion

1

Egg

1/2

teaspoon

Salt

2

Tablespoons

Matzah Meal

maybe a bit more

1

sheet of Matzah

we use Whole Wheat

2 to 3

teaspoons

Oil

for frying
Wash and grate the potato (keep the skin on, it's healthier and at least as tasty) and add to a large bowl. Pour off any excess moisture. Finely grate the onion and add to the bowl.

Crack an egg in a small bowl, scramble it with a fork, and add it to the potato and onion mixture.

Add the salt and Matzah Meal, and mix thoroughly. (The Matzah Meal works to absorb a bit of extra moisture from the potatoes and onions -- if it's really runny, just mix in a little more matzah meal.)

Take a sheet of Matzah and run it briefly under cool water to moisten both sides.

Place the matzah on a flat surface (such as a cutting board) and scoop about 3/4 cup of the potato mixture on top. Flatten it out with the back of the spoon or your hands so there's about 1/2 inch (1.25 cm) of mixture on top.

Heat the oil on medium in a large, nonstick skillet. Gently place the Matzah, potato side down, in the pan. Be sure the heat is not too high -- else you'll burn the potatoes before they cook all the way through.

While it's cooking, add the potato mixture to the other side of the Matzah. Once the bottom is browned, about 4-5 minutes, gently lift the matzah with a large spatula and -- very carefully -- flip it over so the other side will cook. (Tip: After you lift the pancake out of the pan, tilt the frying pan up to about a 45 degree angle. You won't have to flip it over quite as far, and that also helps any excess oil move out of the way so it doesn't splatter as much upon landing).

Cook the other side until brown, about 4-5 minutes. Remove from heat, slice into quarters (squares or triangles) and serve immediately.
Leftovers keep well in the fridge for a few days, and they reheat well in the oven.