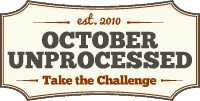 Hooray! Every day throughout October, I'll be sharing (at least) one guest post about Unprocessed. I'll include tons of recipes and lots of other topics that should get you thinking. In the meantime, here are your next steps:
#1: Tell Your Friends
The challenge is WAY more fun when your friends, family, and coworkers join in! You can use these handy social media sharing buttons to tell them about it:
Or just share this link: http://bit.ly/unprocessed
#2: Follow on Social Media
Follow @eatingrules
We're also using the hashtag #Unprocessed.
#3: Get the Meal Plan Guide
To help make your month of unprocessed eating easier, we've created The October Unprocessed Simple Meal Plan Guide, a digital download with more than 50 simple, unintimidating recipes that all pass the kitchen test. Learn more about the meal plans here.

The meal plan guide normally sells for $27, but during October it's on sale for just $17 — and we're giving 10% of the proceeds to the Food Literacy Center, an awesome nonprofit that helps kid learn to love their veggies!
#4: Join our Facebook Group
We have an active and very supportive community in our own October Unprocessed Facebook Group. Just request to join and we'll add you as soon as we can (we have to keep it request-only to avoid the spammers, but rest assured we'll welcome you with open arms!).
#5: Get the Official Guide
I've put together a free PDF guide to help you get started. It also includes appendices with links to all the guest posts from our previous challenges (TONS of great recipes and ideas in there!), and the all of the Frequently Asked Questions posts, which should be very helpful.
#6: Update your Profile Picture

Show your support on Twitter and Facebook! Click here to add the October Unprocessed logo to your profile picture.

#7: Got a Blog? Get some Bling!
Show your #Unprocessed pride with the October Unprocessed logo in your blog's sidebar. Click here to get it for your site.
Thanks.
Thanks again for taking the pledge, and here's to a wonderfully unprocessed October!