Thank you for your interest in spreading the word about October Unprocessed! Please find all the materials you'll need right on this page. Contact Andrew with any questions or customizations.
The October Unprocessed Story
October Unprocessed began in 2009, when Andrew Wilder and a few of his close friends decided to eat zero processed foods for one entire month. Andrew writes, "It was revelatory. My expectations and sense of taste were re-calibrated. I started to identify individual ingredients in the foods I ate. I didn't crave those salty snacks. I found myself often in the kitchen, excited to see what I could cook next. Above all, I simply felt better."
When October 2010 came along, Andrew decided to try the challenge again, in a bigger way. He reached out to fellow foodies, bloggers, and friends, and inspired 415 people to take the pledge. He shared over 40 guest posts to support the crew throughout the month.
In its third year, October Unprocessed 2011 inspired over 3,000 people to take the pledge, increasing the movement by nearly ten-fold. Andrew's blog, Eating Rules, hosted over 55 guest posts, on topics ranging from "healthy eating on a budget" to a Rabbi's sharing about food & Judaism.  In 2012, more than 6,000 people took the pledge, and in 2013, more than 15,600 people joined in!
This year, our goal is to inspire 20,000 people to sign the pledge, committing to eating no processed foods whatsoever during the month of October.
About Andrew Wilder
Andrew Wilder has been a "foodie" for as long as he can remember, but it wasn't until his "a-ha!" moment in 2009 when he decided to make healthful living and eating a primary focus in his life. The turning point came after an experiment with a few friends, to try to eat zero processed foods for one entire month. "It was revelatory. Above all, I simply felt better." From there, Andrew's popular food blog, Eating Rules, and the October Unprocessed Challenge were born. Now in its fifth year, Andrew's goal is to inspire 20,000 people to take the challenge.
When he's not blogging to help others find joy in healthful food, Andrew can be found working on related projects such as Blog Tutor, internet consulting and web design for food bloggers, and Healthy Ads, a boutique advertising network connecting ethical companies with health bloggers and their audiences.
Andrew lives in Santa Monica, CA with his husband Matty, their rescue dog Molly, and a big green tray of "pet" composting worms.
Links
The Main Page:
https://eatingrules.com/october-unprocessed/
Twitter hashtag: #unprocessed
Andrew is at @eatingrules, or https://twitter.com/eatingrules
Facebook: https://www.facebook.com/eatingrules
(You can sign the pledge, too!)
Photos & Images
Feel free to use these images with any coverage of the challenge. High resolution logo is available here (1.5MB) or right-click and "Save As…" either of these: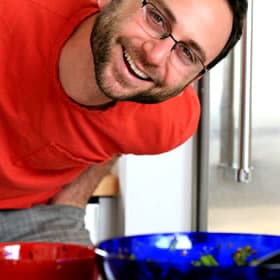 Media Highlights
Featured "Taste Maker" in Eating Well Magazine – Sept/Oct 2014 Issue
Take the 'unprocessed food' challenge! – ABC6 TV, Philadelphia, October 3, 2013
October #Unprocessed: L.A. blogger challenges you to clean up your act – Los Angeles Times, September 26, 2013
"He wants to keep it real" – Los Angeles Times, Saturday Health Section, September 22, 2012
Jamie Oliver's Blog of the Month, November 2012
Featured in Jamie Oliver's Food Revolution, October 2012
Are you Taking the October Unprocessed Challenge? – Los Angeles Times, 2011
Could you go without processed foods for a month? – Grist, 2011
Eating Real: October Unprocessed – The Kitchn, 2011
Kick that Chemical Habit: October Unprocessed – Care2, 2011
A Real Food Challenge: October Unprocessed – Mother Earth News, 2011
Andrew Wilder's Wild about Going With . . . Processed Foods! – Farmersmarket.com, 2011
Introduction to October Unprocessed and My Menu Plan – Simple Bites, 2011
October Unprocessed: Take the Challenge – Pinch My Salt, 2011
Are you Unprocessed? – Punk Domestics, 2011
October Unprocessed 2011: Giveaway – Bob's Red Mill, 2011
October Unprocessed and Non-GMO Month – Eat Drink Better, 2011
Blogger Kicks Off A Month Without Processed Foods – New York Times, 2010
Yea or nay: Are you taking the unprocessed challenge? – Los Angeles Times, 2010
Bloggers Go on Strict Diets and Blog About It – Eater National, 2010
Will You Take The Unprocessed Challenge? – Slow Food Los Angeles, 2010
Real Food Only, Please – Culinate, 2010
Taking Back Our Plates: October Unprocessed – Civil Eats, 2010
It's Unprocessed October: What's in Your Cupboard? – Eco Salon, 2010
For interview requests & questions, contact Andrew.