As the creator of the lifestyle blog Family Fresh Cooking, Marla Meridith has great experience in healthy recipe development, food styling, photography, social media and graphic design. She has an upbeat, fresh style and personality that is captured in her vibrant whole food recipes. She is well-recognized in the field for her food, lifestyle and travel photography – her portfolio MarlaMeridith.com will give you a taste! Marla is the proud mother of two small children. She delicately balances a life filled with great ambitions, athletics, parenting and lots of travel. You can find Marla on Pinterest, Twitter, Facebook, StumbleUpon, and Instagram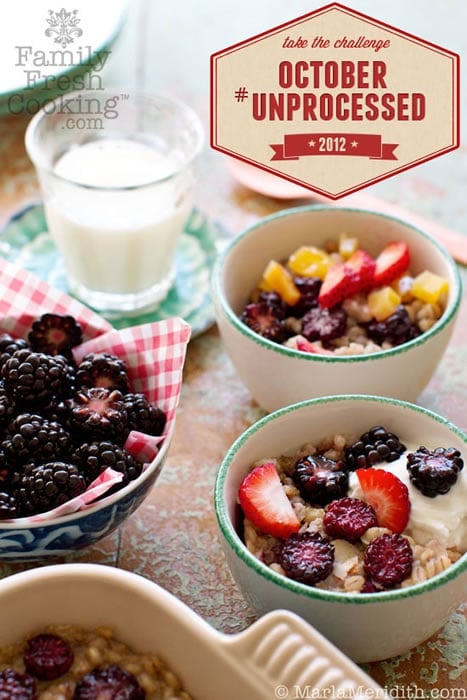 As soon as I open my eyes breakfast is all I think about. After sleeping for so many hours we should wake up hungry. Our bodies have had ample time to rest and digest the calories & activities from busy days. They say breakfast is the most important meal of the day and I agree! It boosts your energy, revs up your metabolism and tastes really good. I have two kids and I could not imagine them going off to school without the proper fuel to kick-start their day.

Unprocessed ingredients are so important to my family. No matter what our age, budget, or lifestyle – our bodies best process foods that are minimally handled. Growing up I spent a large part of my childhood on an organic dairy farm in the UK. Little did I know this was a crash course in eating fruits and veggies from the earth. Each morning we were treated to freshly laid eggs and milk that had been taken from the cow about 60 minutes prior to my wake-up. What a treat! I wish I had access to such fresh ingredients today!

We do the best we can though. Our fridge is filled with fruits, vegetables, and real, whole food. Fast food around here is carrot sticks and homemade hummus. Minimal efforts can yield big results. Around here we want fit waistlines and energy packed days. No time to feel sluggish and drained, often the result from too much processed food.

I love sharing the benefits of whole foods with the recipes on my blog. A favorite wake up call in our house is this recipe I created, Blackberry Barley Breakfast Bake.

Have you ever had barley for breakfast? I love this grain for its flavor and the way it pops in your mouth. If it is not blackberry season where you live feel free to use any other berry. Experiment with all types of fruit. Banana, figs, strawberries, apple. The sky is the limit!

You can make this a little bit more decadent (but still really healthy) by adding a dollop of Homemade Coconut Whipped Cream. If you have not tried this yet you must!

Enjoy!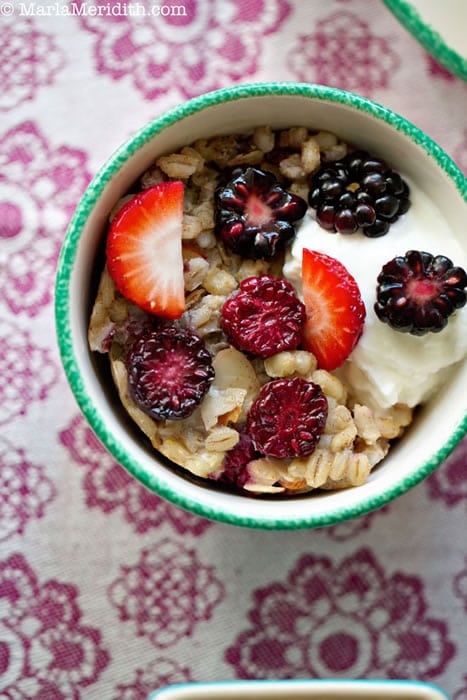 Blackberry Barley Breakfast Bake
Ingredients
3 cups cooked barley, cook according to package directions
2 large eggs, whisked
½ teaspoon ground cinnamon
pinch of sea salt
½ cup almond milk (any milk is great)
1 teaspoon vanilla extract
¼ cup raw honey or grade B maple syrup
¼ cup toasted, slivered almonds
1 cup fresh or thawed frozen blackberries, divide portion in half
Instructions
Pre-heat oven to 350 degrees F with the rack in the middle.
Spray an 8X8" bake-safe casserole dish with cooking spray.
Cut blackberries in half. Combine all of the ingredients, gently folding in ½ cup of the blackberries last. Top the barley bake with the other ½ cup of sliced blackberries.
Bake for about ½ hour until the barley is set. Serve with any of the following: cream, coconut milk, yogurt, almond milk, honey, maple syrup dried fruit or nuts.
Notes
Feel free to use milk, goats milk, unsweetened coconut or any other milk if you do not have almond milk on hand.