When I pledged to join the Unprocessed Challenge this October, a few of my close friends were amused. "You don't eat any processed foods," they said.  Well, that statement is largely true. I'm a holistic healthcare professional, for gosh sakes. Yet there are still a few areas where things sneak in, and, judging by the orders at my local food coop, these areas are common ones where even hardcore locavores, scratch cooks and farmer's market shoppers sometimes cut corners: Cereal, crackers, mayonnaise (and other condiments) and energy bars.  Sometimes when I work at night or my husband is home alone, I find empty boxes of Annie's macaroni and cheese and Trader Joe's shrimp wontons.  Most of these foods can be found in packaged form in relatively less processed states, e.g. our favorite Café Fanny granola only has real ingredients, Mary's Gone Crackers are actually real food, and Annie's is a world apart from Kraft, yet in the spirit of October it would be nice to break free of even this dependence.

Sometimes the best way is to just eat a bit lower on the (refined) food chain, as in homemade trail mix instead of energy bars, homemade crostini, otherwise known as (artisanal, unprocessed) bread brushed with olive oil and baked until crispy, or a mini-batch of aioli (whips up quick with a handheld blender) instead of commercial mayonnaise, or hot oatmeal instead of boxed cereal in the morning.

Another huge reason to go unprocessed and try to avoid all food in boxes is that this is one of the few ways to avoid ingesting Genetically Modified (GM) foods.  After extensive research on the topic, I am quite convinced that GM foods are nutritionally inferior to natural foods, are likely to cause harm, carry an increased risk of allergic reactions, and may play a role in the increasing diabetes and obesity rates we see in populations who ingest industrially processed foods, the vast majority of which contain genetically modified ingredients.  Most scary to me is that a single meal containing GM soy was shown to alter the intestinal flora of people who consumed it. The only way to ensure food that you are buying in a box, bag, package or can is GM free is to buy certified organic foods.  But you don't have to take my word for it.  The best site out there covering the topic is the Institute for Responsible Technology.  You'll find all the data you need.  It's a happy coincidence (or is it Gastronicity?) that those folks have also declared October National GMO-Free Month.  Heck, why not take the GMO-Free pledge, too?  Visit to find out more and download GMO-free shopping guides.

Ok, so on those rushed or groggy mornings when no one quite feels like whipping up a hot breakfast. You don't have to succumb to the siren call of the food industry. Just be sure to bake a batch of homemade granola right now to get you through. Inspired by my pal Vanessa Barrington, author of the newly minted book D.I.Y. Delicious: Recipes and Ideas for Simple Food from Scratch, I have developed my personal favorite omega-3 granola formula which makes two quarts — one to eat now and one to freeze for later.

DIY granola enables you to have it your way, using the exact ingredients which meet your particular culinary and nutritional needs.  Check out my post on 18 Reasons to DIY if you need further inspiration to get you doing it yourself.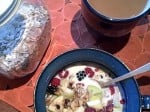 Mostly Local Granola
I like to source as many of my ingredients as possible from my own bioregion. In this case, the fat, sweetener, orange zest, fruit and nuts are all from my local farmer's market. I like it with raw milk or plain full-fat yogurt and chopped Granny Smith apples for breakfast or as a garnish on fruit anytime. For maximum digestibility, mix with yogurt the night before and let it soak. Some folks like to carry little baggies of granola around for a snack, too. Cinnamon helps regulate blood sugar, and may help prevent diabetes. I mix it into all sweet, baked goods to even out the blood sugar roller coaster. Be sure to make as many of your ingredients organic as possible -- omit the orange zest if you can't find an organic orange, as orange peel can be particularly high in pesticides. Adapted from a recipe by Vanessa Barrington, who warns, "honey will produce a sticky granola that clumps together" -- you'll want to scoop it out with a spoon.
Ingredients
1/2

cup

melted pastured butter

(such as Straus or Kerrygold), or melted coconut oil, or a combination

1

tablespoon

cinnamon

1/4

teaspoon

freshly grated nutmeg

Zest of 1 orange

4

cups

rolled oats

1

cup

organic coconut flakes

I leave these out for my family, in for myself

1

cup

coarsely chopped walnuts

1

cup

coarsely ground or chopped almonds

1/3

cup

raw local honey

1

cup

unsweetened dried cherries

raisins, chopped dried apricots or a combination
Instructions
Mix everything except the honey and dried fruit thoroughly together in a large bowl. Spread it in a thin layer on a large baking sheet, and bake at 350° F until evenly browned, 20-25 minutes.

You'll want to stir it once or twice, and keep a close eye on those coconut flakes. Remove from the oven, and drizzle the honey over all while it is still warm. Stir to evenly coat the ingredients.

When the granola is cool, place back in the large bowl, and stir in the dried fruit. Pack into a couple of Mason jars, lids on tight, and keep in the fridge or freezer to protect those essential fatty acids until serving time.
Recipe Notes
You can omit the oats and use 3 cups of large coconut flakes if you want to make a paleo-friendly, lower-carb version. Or try quinoa flakes instead for a gluten-free start to your day. Or skip the sweetener, fat and baking altogether to make muesli, best prepared by soaking in yogurt overnight before serving.
—
A note from Andrew: The opinions expressed on genetically modified foods in this post are Nishanga's. I'm not saying I disagree with her, but I believe there are pros and cons to all things. This is certainly an issue that can spark some heated debate, so if you have an informed perspective on the subject that you'd like to share, I encourage you to do so in the comments. (Please keep it civil!  Rude or inflammatory comments will be deleted.)
About the Author
Nishanga Bliss practices acupuncture, herbal medicine, and nutrition counseling in Berkeley, and teaches at the Acupuncture Integrative Medicine College. She's also a cook, locavore, and aspiring urban homesteader, and writes about all of this on her blog, at Gastronicity.