Kristin Smith is the owner of SweetChip, a custom-crafted cookie company based in Lawrence, Kansas.  She delivers locally, but also ships to all fifty states. We connected via Twitter, and she offered to send me a complimentary batch of her 100% Whole Grain, Unprocessed Oatmeal Maple Spice Cookies. I happily accepted, once we confirmed that they passed the Kitchen Test.
I'm impressed. Even after traveling for three days, they're delicious. Moist, soft, and almost cake-like.  Not super-sweet, either, which I definitely prefer.
Today she discusses some of the challenges she's faced in making unprocessed cookies for specialty diets — and also graciously shares her Oatmeal Maple Spice Cookie recipe with us. (Just don't ask for the secret to her Chocolate Chip cookies!)
If you just discovered October: Unprocessed, go here to find out more and take the pledge. Don't worry if you missed the start date! You can start your 30 days today, or simply join in for the rest of the month.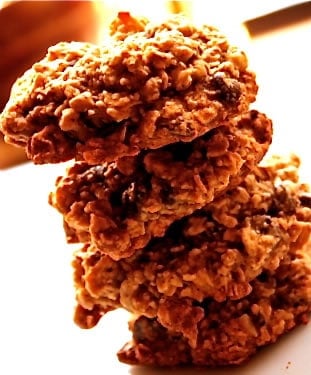 When I first decided the platform for my business would be to offer completely customizable cookies, I knew it would be a challenge.  I wanted to ensure that no matter what the request that two things would be consistent: The cookies would always be made with high quality ingredients, and they would always taste great. And so began the journey into the world of researching, testing, and tasting cookie recipes.
It started out simple. I learned how to manipulate recipes to create thick and chewy cookies, flat and crisp cookies, and puffy and cakey cookies.  We then created high-quality base recipes that allowed for customers to manipulate the flavors according to their own tastes.
Then came the more difficult tasks. First requests for vegan, then gluten-free cookies came in. So I expanded my knowledge of baking to these dietary restrictions in order to stay true to my mission.
Most recently, my biggest challenge was a customer request for a 100% unprocessed cookie. "What does that even mean?" was my first reaction.  All of our cookies are homemade from scratch. So doesn't that make them all unprocessed?  Well, no.  After much research, I finally got a grasp on what the request truly meant.
Here is where it got difficult, not because of the request but because our approach to fulfilling the request was completely wrong.  We sat down and went through our "traditional" recipes and figured out what we could not use.  We can't use bleached flour, we can't use processed sugar, we can't use baking powder or baking soda, etc.  To be completely candid, I was overwhelmed and really didn't think we were going to be able to do it.
But as I was brainstorming one day, it came to me.  We needed to quit thinking about what we could not use and start with what we could use.  And almost immediately it came together.  It sounds almost so simple it's silly.  That one little change in thinking I truly think is the key. Look at all of the wonderful natural ingredients you can use and let your creativity take charge.
One last simple key to our success in baking for any kind of request is to never underestimate the power of spices.  It is such a simple way to add tons of flavor.  Cinnamon, Nutmeg, Cayenne, Mint, Allspice, Anise…  All natural, and all flavor!  So my words of advice for cooking and baking unprocessed: "Focus on what you CAN use and spice it up!"

Oatmeal Maple Spice Cookies
Replace the raisins with dried cranberries and orange zest for another great flavor combination!
Ingredients
1/2

cup

Unsalted Butter

browned

1/2

cup

Light Olive Oil

1/2

cup

Honey

1/2

cup

Pure Maple Syrup

2

Eggs

2

cups

Whole Wheat Flour

3

cups

Oatmeal

1/2

teaspoon

Sea Salt

2

tablespoons

Cinnamon

1/2

teaspoon

Nutmeg

1

cup

Raisins

optional

1

cup

Toasted Pecans or Walnuts

optional
Instructions
To brown butter: Put butter in a small sauce pan over medium high heat. Once butter has melted, continuously stir until you see it turn a caramel color. This generally takes 1-1/2 to 2 minutes. Do not stop stirring or the butter solids will burn. The browned butter will add a nice depth of flavor to your cookies. Remove from heat and allow to cool.

In a large bowl, mix cooled butter, olive oil, honey and maple syrup until well combined. Add eggs one at a time and beat until combined.

In a medium bowl, combine flour, oatmeal, sea salt, cinnamon and nutmeg. Gradually add the dry ingredients to the butter mixture until all combined.

If desired, mix in raisins and/or nuts.

Allow dough to chill in the refrigerator for at least one hour and up to 24 hours.

Note: The chilling step is important. These cookies will not hold their shape very well if baked before the dough is chilled.

Preheat oven to 325°F (lower than most cookie recipes due to the honey, which can burn more easily)

Scoop out cookies with a small ice cream scoop. Do not flatten the cookies. Because there is no baking powder in this recipe, this will help keep them from completely flattening out.

Bake for 17-20 minutes, or until golden brown.

Devour while still warm. Enjoy!
Recipe Notes
Makes about 2 dozen cookies.