Building Relationships… with Pumpkin Fondue
Oct 30, 2011, Updated Sep 29, 2017
When Andrew asked me if I wanted to participate in this year's October Unprocessed I was thrilled.  Of course I wanted to participate because when it comes down to the nitty-gritty Andrew and I both believe that when you cook real food at home for yourself and your loved ones you are doing something that is nourishing to mind, body, and spirit.
Growing up I spent a lot of time with my mom in the kitchen.  She even bought me one of those kitchen play sets that we kept in the kitchen so that while she made dinner for me and my dad I could make "dinner" for my dolls.  By now I am sure you have heard how beneficial cooking with kids can be, to which I can heartily attest.  It builds confidence, creates memories, and helps them develop a critical life skill.  One day when they flee the nest they will not have to survive on pizza delivery and fast-food alone.
When I left home for the first time I discovered that nearly all my friends had no idea how to cook for themselves outside heating up a can of soup. Gradually, as word spread, my kitchen became the gathering place for friends and friends-of-friends who wanted a home-cooked meal. I found myself teaching my friends some cooking basics, like how to scramble eggs or bake cookies, in much the same way my mother had taught me.  We would talk, learn, and then eat in an atmosphere that was as much convivial as it was enlightened.
These days when I invite guests over for dinner we still congregate in the kitchen. I still teach people about cooking, and I often enlist them to help prepare the meal. Many of them claim to be inept in the kitchen; years of commercial brain-washing have convinced them they simply can't cook, but that does not stop me.  Even a small task like chopping vegetables or whisking a sauce leads to a big sense of accomplishment, and I hope it builds confidence, memories, life skills, and reveals to them that they can cook … and might even like it.  Even young guests get into the act, with parental supervision of course, and I guarantee they never feel left out of the evening and eat everything they are served.
So, how can you strengthen your relationships through cooking?  Here are just a few ideas:
Plan an interactive menu where your guests can help prepare their food.  Plan a pizza party where guests build their own masterpiece, or create a salad bar in your kitchen so your guests can create their own bowl of leafy bliss.
Invite your guests to an interactive pot-luck.  Rather than making food in advance and bringing it invite them on a trip to the local farmer's market to gather fresh, local ingredients for a favorite dish, then make it together.  This is also a great opportunity to spread the word about how eating local and in season is good for farmers and consumers, something I am passionate about.
Plan a progressive dinner party where each course is hosted at a different home. This is a fun way to get to know your neighbors and develop a tight-knit local community.  Be sure to include the recipe for each course served, and remember that if you are not doing a walking only party you should skip, or limit, the alcohol.
So, there you have it!  I could end here, but I could not leave without giving you a recipe for a dish that is as interactive to prepare as it is to consume.  Plus, it is perfect for the Fall.  It would make a wonderful dish to serve at a Halloween party or other spooky themed gathering.  I am sharing with you a rather delicious Pumpkin Fondue.  Most pumpkin fondue recipes call for a cheese sauce to be baked in a hollowed out pumpkin.  I find those recipes to be a little disappointing as they are often thin and lacking in much pumpkin flavor.  Here I incorporate homemade pumpkin purée into the fondue along with a crisp apple cider, warm spices, and creamy cheese.
Why pumpkin in the fondue?  First, it is loaded with vitamin-A, Vitamin-B, Vitamin-C, and Vitamin-E.  It is also a good source of fiber and minerals.  Second, pumpkin purée works as a replacement for some of the cheese in this recipe, and since it is naturally low in calories but packed with flavor you don't miss anything.   Finally, it is seasonal and I love cooking with what is fresh and in season.
So, gather your friends, cook something delicious, and remember that food is more than fuel for the body, it is fuel for the heart!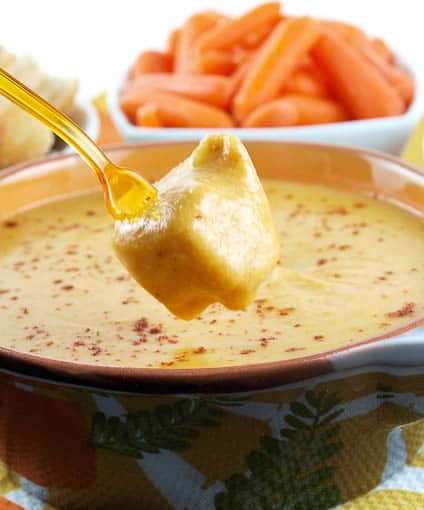 Pumpkin Fondue
Here I incorporate homemade pumpkin purée into the fondue along with a crisp apple cider, warm spices, and creamy cheese.
Ingredients
Fondue
1

clove

Garlic

,

smashed

1 3/4

cup

Crisp-Style Hard Apple Cider

,

or non-alcoholic apple cider if you prefer

3/4

cup

fresh Pumpkin Puree

1/4

tsp.

dry Mustard Powder

1/4

tsp.

Cayenne Pepper

1/4

tsp.

Homemade Mixed Spices

,

See below

1/2

tsp.

Sea Salt

2

Tbs.

Unbleached All-Purpose Flour

2

oz

about 1/2 cup grated Cheddar Cheese

1

oz

about 1/4 cup grated Gruyère Cheese

3

oz

Brie Cheese

,

rind removed (about 1/3 cup of cheese without the rind)

1

tsp.

fresh Lemon Juice
Mixed Spices
1

Tbs.

Cinnamon

1/2

tsp.

Allspice

1/4

tsp.

Nutmeg

1/4

tsp.

Cloves

1/8

tsp.

ground Ginger
Instructions
Fondue
In a medium sauce pan combine the garlic, apple cider, pumpkin, mustard powder, cayenne pepper, mixed spices, and sea salt. Whisk occasionally until well combined then cook over medium heat until it just comes to a boil. Reduce the heat to medium-low.

While the mixture is heating combine the flour with the cheeses and toss to coat. Add the cheeses to the pumpkin mixture in three installments, whisking until the cheese is melted before adding the next addition. Whisk in the lemon juice then pour into a fondue pot, or a heat-proof serving bowl that has been warmed.

Serve with diced apples, cubed rustic bread, and cut vegetables.
Mixed Spices
Combine the spices and mix well. Store in an air-tight container until ready to use. Yields 2 tablespoons (enough to season 1 apple pie).
Nutrition
Calories:
66
kcal
,
Carbohydrates:
5
g
,
Protein:
2
g
,
Fat:
3
g
,
Saturated Fat:
2
g
,
Cholesterol:
12
mg
,
Sodium:
155
mg
,
Potassium:
50
mg
,
Sugar:
3
g
,
Vitamin A:
130
IU
,
Vitamin C:
0.7
mg
,
Calcium:
58
mg
,
Iron:
0.2
mg
Like this recipe? Rate and comment below!