Quick-Cooked Apple Pie Oats, and Why Perfectionism Sabotages Healthy Habits
Oct 08, 2013, Updated Sep 07, 2017
Dani Spies is a New Jersey-based Health And Weight Loss Coach and the host of Clean & Delicious weekly web cooking show that teaches people how to make simple, delicious, nutritious everyday meals.
Dani believes that how we think about food is as important as the food we eat and loves helping others develop a healthy relationship with their food, body, and life!  You can find all of Dani's work on her blog Clean & Delicious, and can connect with her on YouTube, Facebook, Twitter, and Pinterest.
This is a guest post for October Unprocessed. If this is your first time here, welcome! …and it's not too late to join in!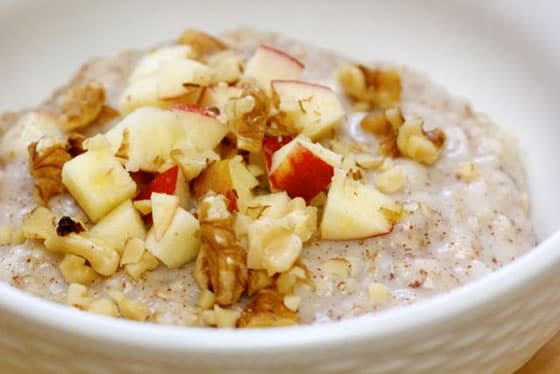 Hi. My name is Dani Spies and I'm an ex-wannabe perfectionist.
Oh the time and energy I wasted on trying to do "the healthy thing" the "right" way only to be constantly "trying again" or "starting over."
Any of you who have ever struggled with trying to "be healthy" can understand, I'm sure.
Here's what the equation looks like for a wannabe perfectionist:
Set a goal (to eat healthy)
Make a plan (buy the food, cook, etc.)
Execute plan (cook, eat, feel great)
Go 'off' the plan (have a donut, cookie, chips, etc.)
Kick yourself, beat yourself up, feel like a failure
Give up on trying to eat healthy because it doesn't work (This is the part where you tell yourself you don't really care… but you do. You're just tired from all the emotional abuse you do to yourself.)
Can anyone relate to this type of thinking? This is the thinking that makes people believe eating healthy is hard (hint: it's not the eating that's hard, it's our thoughts about the eating that make things hard).
Now let me show you the same equation minus the perfectionism.
Set a goal (to eat healthy)
Make a plan (buy the food, cook, etc.)
Execute plan (cook, eat, feel great)
Go "off" the plan (have a donut, cookie, chips, etc.)
Observe, adjust, learn, be curious, be interested, be patient and most importantly MOVE ON…
Continue to move forward towards your healthy eating goals and feel great
As you can see, it's never the donut or the bag of chips that is the problem, it's what we make the donut or bag of chips mean. And here's the great news: Eating a donut does not mean that you have failed, can't do it, did it wrong, will never get it right, etc. All eating a donut means is that you ate a donut.
Isn't that such a relief?
So whether you are a clean-eating super-star or just beginning your path to eating well, remember that the ultimate goal is to feel awesome, which is why being kind, patient, and curious with yourself is just as important as what you are putting on your plate.
Lean into the experience and enjoy the ride!
Now for those of you always on the look out for a quick, delicious, nutritious breakfast idea, here is a family favorite in my house that can be made in less than five minutes.
Quick-Cooked Apple Pie Oats
Delicious way to start your morning with a delicious head start.
Ingredients
1/3

cup

old fashioned rolled oats

2/3

cups

water

1/4

cup

egg whites

1/2

apple

,

diced

a few dashes of cinnamon

1

tablespoon

chopped walnuts
Instructions
Place oats and water in a large, microwave-safe bowl. Microwave on high for 1 minute.

Stir in egg whites. Place back in microwave for 1 minute.

Oats should be nice and fluffy when they come out. Stir in apples and cinnamon. Transfer to a cool bowl to eat out of. Top with walnuts and enjoy!
Nutrition
Calories:
181
kcal
,
Carbohydrates:
31
g
,
Protein:
10
g
,
Fat:
2
g
,
Sodium:
111
mg
,
Potassium:
294
mg
,
Fiber:
4
g
,
Sugar:
10
g
,
Vitamin C:
4.2
mg
,
Calcium:
14
mg
,
Iron:
1.2
mg
Like this recipe? Rate and comment below!