Jennifer Leal is the mother of two and the owner of the food and family blog Savor the Thyme. She obtained a MS in Immunology and worked for a large pharmaceutical company in Connecticut before starting her family. Currently, she works from home writing for Savor the Thyme, a daily post for Babble's The Family Kitchen, and weekly as the Rhode Island Traveling Mom.
Today she shares her thoughts on feeding her family real food — and her super-simple (and delicious!) sweet potato wrap recipe.
If you just discovered October: Unprocessed, go here to find out more and take the pledge. Don't worry if you missed the start date! You can start your 30 days today, or simply join in for the rest of the month.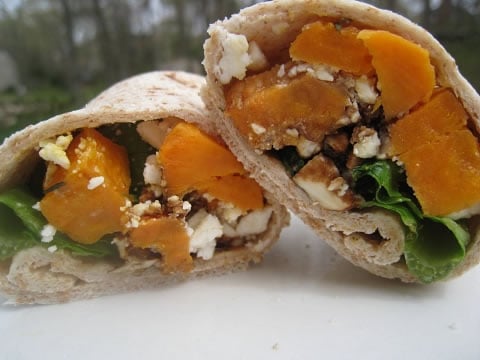 A number of weeks ago, I saw one of Andrew's tweets fly by mentioning something about unprocessed and I stopped in my tracks. I had to see what this about so I wrote him right away. I love what he is doing and am honored to be able to write about how I approach food for my family.
From the time I was a young girl, I witnessed the deaths of family members due to cancer, heart attacks, strokes, and obesity-related illness and even so much sadness from depression. Although I cannot prove or say that many of the diseases/deaths in my family were caused by what they ate, it made me determined to raise myself and our children to respect their bodies through exercise and food. Also, considering so many health issues are new to this generation, I feel we need to look at many factors, including the American diet.
It is common sense to eat this way: Let's eat the way Grandma did and get back to real food.
I am often flustered when I ask my friends "Do you read the ingredients labels?" on the foods they buy. They say, "Yes, I look for the amount of fat and sugar." I say "No, do you read the ingredients?" The response is usually "No, why?" or "I do not want to know what is in there." I am giving them a stunned stare at this point.
I believe in feeding your family in a healthy way, and to me that means eating "real" foods. These are foods that are free of artificial flavorings and preservatives. This also means that yes, we use real butter and if we are going to have sugar, it is sugar. We also believe in eating fresh, seasonal, and sustainably-grown foods. I believe in preparing meals and snacks for my family in a quick and affordable way with real food.
I am constantly teaching my children about food and each item that we eat. Do they ever get some junk? Yes, there are grandparents, birthday parties, and exhausted nights but luckily those times are maybe 5% of what they consume and I work hard to make sure those junky items are few and far between.
Most of the time, we eat what I consider to be real food: fruits, vegetables, meats, poultry, etc. This does not mean none are processed, as it depends to what level you take it. I am not going to grind my own flour, etc. We eat lots of fruits and vegetables whether they are raw, steamed, baked, sautéed, etc. We also eat meat, but buy organic as it is readily available at our local grocery store. The kids do sometimes consume a Fruitabu or Z-bar, but I do make sure that we do not eat HFCS, hydrogenated, sugar-loaded mish-mash.
We are on this journey with you for the month of October and doing our best to go 100% unprocessed. I hope that more parents and families join in.
Speaking of food for the family, my family is crazy for vinegar, cheese and — although the kids prefer a standard potato — they love eating the sweet potatoes in this wrap (especially when mommy bakes them in the shape of chips). This is also a wrap that my friends beg for and is a great way to use leftover sweet potato wedges. If you are concerned about fat content, simply use reduced fat feta.

Sweet Potato Wraps
Everyone loves eating the sweet potatoes in this wrap, they come begging trying to get more.
Ingredients
Sweet Potato Wedges

Room temperature or cold

Feta Cheese

Reduced fat

Lettuce

I prefer Romaine

Balsamic Glaze

100

% Whole Wheat Tortilla

Or similar wrap
Instructions
Place all items into the center of the tortilla, wrap tightly and enjoy.