Plant-Based, Gluten-Free, Paradigm-Shifting Tofu Tacos
Oct 07, 2014, Updated Aug 13, 2017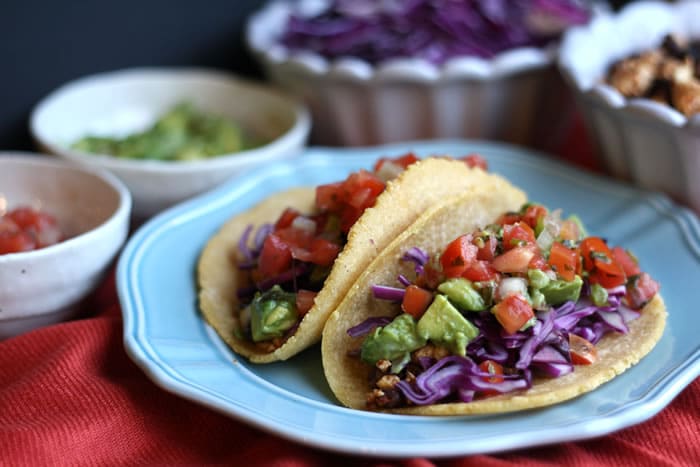 It's October, and the Unprocessed Challenge has begun. This time around, I've added two new dimensions to my challenge: gluten-free and plant-based. It's going to be a great ride!
About a year and a half ago, frustrated with my ever-present Psoriasis rash, having tried everything else, I decided to jump on the gluten-free bandwagon. Oh sure, to be honest, I had rolled my eyes at all of "that fad" and those who were doing it. But, let me tell you, I was desperate, and if anything could help, I was willing to try it. Three months in, there was no mistaking it was helping.
Fast forward a year or so, and my cholesterol numbers from my yearly checkup came back from the lab. Helloooooo high numbers, sprinkled with a little pre-diabetes thrown in. Oy. Thanks family history,  but you can take this particular thing back, K? I wasn't at death's door, but let's just say I was up the street aways as I headed into my 40s. Yeah, no thank you.
I started reading (more) about plant-based diets, changing one's diet in lieu of medication, and decided to give the plant-based way a try. In the past, I had lowered my blood numbers by dismissing dairy from my life, so what I was reading made complete sense to me. Five months later, I'm feeling better than ever. Oh, and I lowered my cholesterol by nearly 60 points in three months. So, I'd call that a win. (We shall see where those numbers are at for the 6-month mark.)
I share that with all of you this month, because we all have different reasons for taking this Unprocessed Challenge. Mine is to remind myself to be really, really vigilant about labels, which when you are plant-based AND gluten-free, can be a huge awakening. This isn't my first Unprocessed Challenge, but it IS my first with these two additional guidelines. For me, this is a quest to improve my health, which is my reason.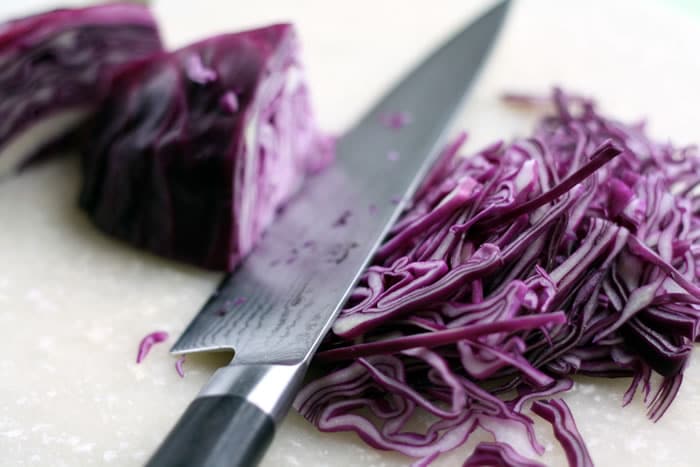 First, a rant about fake meat.
Meat "replacements" are something a lot of people turn to when starting out on a plant-based diet. It makes sense, right? Making a sandwich, pizza or other "meat" based dish is a lot easier when you have something that looks a lot like what you are used to. The problem is, most of those products are highly, and I mean HIGHLY, processed. Lucky (or unlucky) for me, most of them are loaded with vital wheat gluten. *sigh*
Gluten-free life causes one to be a vigilant label reader. I'm the gal in the store's freezer section holding the freezer door open to read the veggie burger label. Go ahead and try that sometime, because some of the biggest name brands have some of the nastiest, longest, and most processed ingredients imaginable. (Go ahead, read the label.)
Luckily, there are some veggie "meat" products coming onto the market that have some really great ingredient lists that pass the kitchen test. Or, if you have a food processor, you could make them yourself. Yes, yes, I know, it seems a bit time-consuming, but knowing what's in your food is better than hoping there's nothing icky in it.
Let's face it, eating plant-based requires thought and preparation (don't even get me started on how to travel). The thing is, you don't have to resort to "fake meat" to make some favorite dishes. You likely have all you need right under your nose. And yes, your kids will even like it.
Veggies and their products have taken the side dish route for a long time. I think it's time they shine, and with a little imagination, they can be the delicious main dish. Experiment, taste and experience how versatile they are. Two or three veggie "sides" make a delicious centerpiece. it almost feel like cheating sometimes… in a delicious, healthy way. It's a paradigm-shifting kinda thing.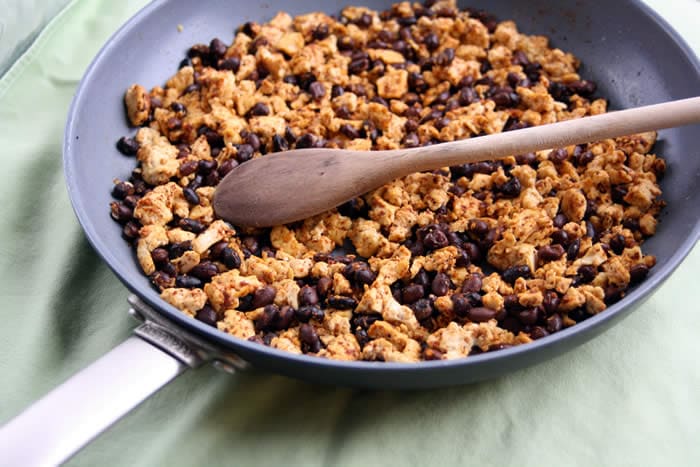 Spreading the tofu love.
Tofu is the unsung hero of the kitchen. Oh, you think it's bland? So do lots of people, but think of it in this way: it's just like chicken. Chicken is pretty bland by itself, but just like tofu, it is a blank canvas. Crumble it, dice it, blend it, and add flavors familiar to your family. (Case in point: I recently made a completely plant-based chocolate tart with tofu, and no one even suspected it was in there.) The easiest thing to start with is a plant-based taco night. I've been known to make vegan nacho cheese on occasion, but you don't have to go to such drastic lengths. Start with something easy like this plant-based taco. If you're in the "Taco Tuesday" crowd, this one is easy to roll into your week. My son (he's 12) has asked for this "taco tofu" specifically because he loved it so much. Um, WIN.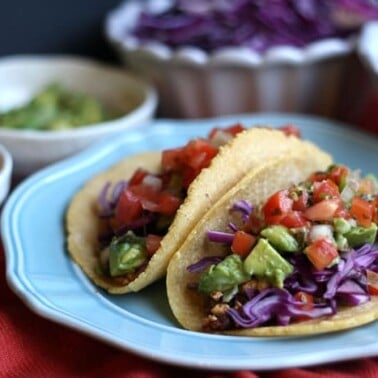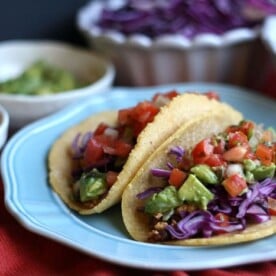 Tofu Tacos
Make It Easy On Yourself Tip: You can buy the taco seasoning, green chilies, beans, guacamole, and corn tortillas. Just be sure to check the ingredients to make sure they pass the kitchen test. If you're feeling more ambitious, pick one or all of those to make from scratch.
Ingredients
12

ounces

extra-firm tofu

,

drained

1

tablespoon

olive oil

2-4

tablespoons

taco seasoning

2-3

tablespoons

diced green chilies

1 15-

ounce

can black or pinto beans

,

drained and rinsed (or homemade, about 1 1/2 cups)

salt and pepper to taste

tortillas

salsa

guacamole

thinly sliced red cabbage
Instructions
Place a large frying pan over medium heat, and drizzle a little olive oil over the cooking surface of the pan. With your hands, crumble the tofu into the pan, and saute until warm or slightly browned.

Sprinkle the taco seasoning over the tofu, add chilies, and the beans. Stir, and taste. Add more taco seasoning and salt and pepper if needed. (Like a celebrity chef once lamented, we don't season our food enough. So "make it rain" when seasoning, that's what makes it taste good!)

To assemble each taco, take a tortilla and add some tofu/bean mix, a little salsa, guacamole and lots of cabbage.

Eat!
Nutrition
Calories:
249
kcal
,
Carbohydrates:
32
g
,
Protein:
16
g
,
Fat:
6
g
,
Sodium:
133
mg
,
Potassium:
673
mg
,
Fiber:
10
g
,
Sugar:
1
g
,
Vitamin A:
115
IU
,
Vitamin C:
2.1
mg
,
Calcium:
79
mg
,
Iron:
3.4
mg
Like this recipe? Rate and comment below!