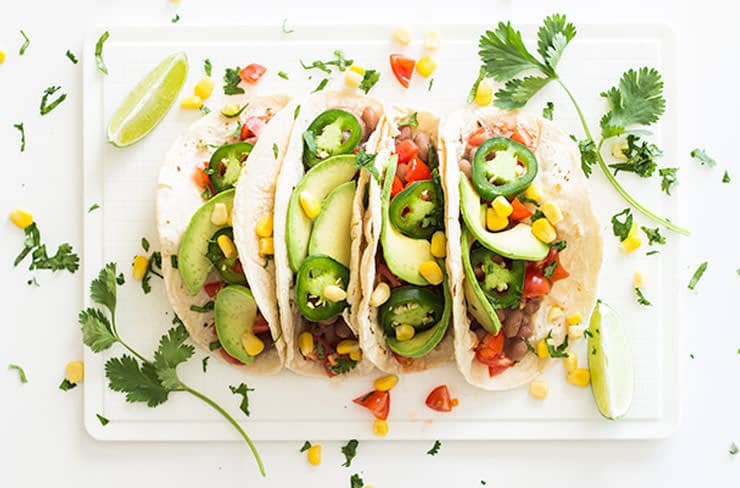 I love tacos with all kinds of different fillings, and vegan tacos are my favorite!
I prefer home-cooked beans a million times over canned, but you haven't planned ahead, canned will work just fine.
To cook pinto beans at home, all you have to do is soak your beans in abundant water overnight, then drain and rinse them very well the next day. Add them to a large pot and cover with water about 1 inch higher than the beans. While waiting for the water to boil, peel and very finely chop an onion and add to the pot. Peel and crush 1-2 cloves garlic and add those to the pot too. Lastly add some salt. Once the water is boiling, reduce the heat to low, cover and let simmer for 2-4 hours.
The amount of onion, garlic, and salt to use will obviously depend on how many cups of beans you are cooking. I prefer to cook 3-4 cups at a time and then freeze the cooked beans in Ziploc bags. That way I can always pull out a bag from the freezer instead of using canned beans.
I promise you, once you've cooked them this way you will never want to eat canned pinto beans again. They are much easier to digest and they taste a lot better.
The tomatoes and avocados give these vegan tacos a fantastic freshness and the sweet corn counteracts the spiciness of the chili which feels amazing in the mouth…and will make you want to eat a lot more tacos than just this starter.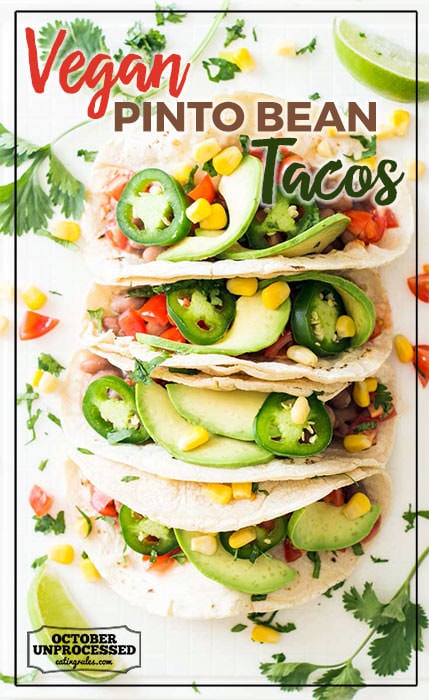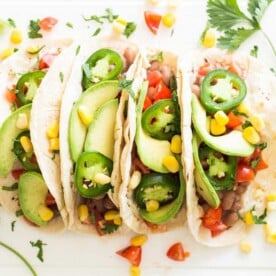 Vegan Pinto Bean Tacos
Whether you used freshly cooked beans or canned, these tacos are fresh and full of flavor.
Ingredients
2

cups

cooked pinto beans

,

with bean broth

salt and pepper

,

to taste

8

small corn tortillas

,

preferably from scratch (see note)

2

roma tomatoes

,

diced

1/2

cup

sweet corn kernels

1

avocado

,

sliced

2

jalapeño peppers

,

sliced

finely chopped fresh cilantro

,

for garnish

1

lime

,

quartered
Instructions
For home-cooked beans: Scoop out two cups with a little bean broth and reheat in a large pan for about 5 minutes, or until the liquid evaporates enough so the broth becomes a thick sauce. For canned beans: Drain and rinse the beans, then heat with 1/4 cup of chicken or vegetable stock. Season with salt and pepper, to taste.

Prepare the tortillas from scratch, or if using pre-made tortillas, warm them in a small pan over medium heat, about 30 seconds per side.

Assemble tacos by spooning 1-2 tablespoons of beans onto one tortilla, then topping with tomatoes, jalapeño, avocado, corn, and cilantro.

Squeeze some fresh lime juice onto your taco right before taking the first bite.
Notes
Like this recipe? Rate and comment below!