Cordon Bleu-trained chef Alison Ashton is the operations director for Nourish Network, a website devoted to empowering your evolution from processed food to real food. You can connect with Nourish Network on Facebook, Twitter, Pinterest, and Google Plus.
This is a guest post for October Unprocessed. If this is your first time here, welcome! …and it's not too late to join in!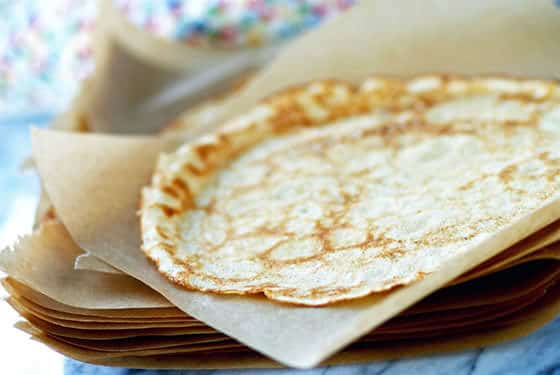 I'm sure October Unprocessed comes with all kinds of confessions and tales of reform.
Here's mine: I've got an intense sweet tooth. I've never met a baked good I didn't want to gobble. And when I got out of culinary school, I did a stint in a pastry kitchen, where I went through bins of processed flour and sugar to turn out countless pies, cakes and cookies.
So getting used to using whole-wheat flour in baked goods was a little bumpy at first. Someone would hand me a cookie or muffin or other goodie made with the regular whole-wheat flour, and it was good for me, sure, but not very … good. Truthfully, it was like eating a hockey puck. Heavy. Dense. Wheaty.
I knew I should be using whole-wheat flour in my baked goods. But I didn't really want to.
That is, until I found my secret weapon: whole-wheat pastry flour. Well it's not such a secret now, because you can find it in any natural foods store, online and even at many supermarkets. And that's great news for anyone who wants to bake unprocessed treats. Here's why:
Regular whole-wheat flour is made with hard white or red wheat. It's got lots of gluten, which is great when you're making a hearty loaf of whole-grain bread. (Here's the scoop on white whole wheat flour.) But it's a little much when you're making something more delicate, like cookies or muffins.
Whole-wheat pastry flour is milled from soft white wheat, so it has less protein than regular whole-wheat flour. Less protein means less gluten and more tender baked goods. And no more hockey pucks.
So give this glorious stuff a try in some of your favorite baked goods. Just go ahead and replace that all-purpose flour with the same amount of whole-wheat pastry flour.
And give it a spin in these delicate traditional French crepes, which are delicious with sweet or savory fillings.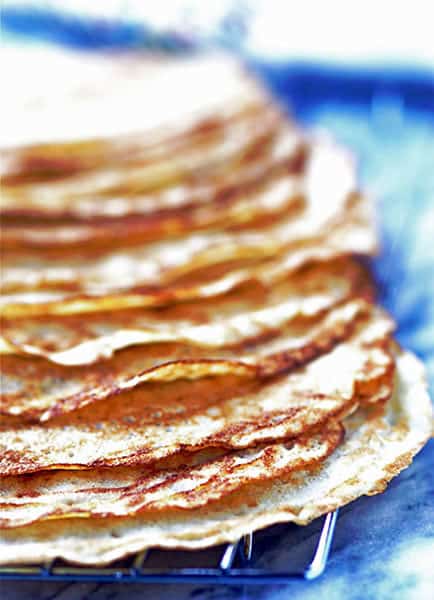 Whole Wheat Pastry Flour Crepes
Whole wheat crepes that are delicious with whatever treat you decide to put inside.
Ingredients
1

cup

whole wheat pastry flour

such as Bob's Red Mill

1/2

teaspoon

sea salt

3

large

eggs

lightly beaten

1

cup

milk

1-1/2

tablespoons

butter

or DIY Ghee

additional

melted butter

for cooking the crepes
Instructions
Whisk together the flour and salt in a medium bowl. Whisk in the eggs until well-combined. Gradually add the milk, whisking until the batter is thoroughly combined and the consistency of heavy cream. Strain the batter through a fine-mesh sieve (to remove any little lumps) into another medium bowl.

Heat 1-1/2 tablespoons butter in a stainless-steel skillet or small saucepan; cook until butter until is browned (if you use DIY Ghee, just melt it and you're good to go). Keep an eye on it so it doesn't burn. Whisk the browned butter into the batter. Cover, and let stand at least 30 minutes and up to 2 hours.

Heat a 10-inch nonstick skillet over medium heat. Brush the surface of pan with melted butter. Use a small ladle to add 2 to 4 tablespoons batter to pan (just enough to coat the bottom of the pan with a thin layer of batter), swirling the pan to coat. Cook about 2 minutes, or until the edges are lightly browned and the bottom is golden (use a rubber spatula to lift the crepe and peek at the bottom). Flip the crepe; cook another minute or so until the other side is golden. (Don't worry if the first crepe isn't perfect -- French cooks call that the "sacrifice.") Transfer crepe to a wire rack. Repeat with oil and remaining batter. Keep the crepes warm in a low oven to serve immediately, or cool completely and refrigerate or freeze.
Recipe Notes
You don't need a dedicated crepe pan for this recipe; any nonstick skillet will do. The number of crepes you get depends on the size of the skillet. I used a 10-inch skillet and ended up with 12 (7-inch) crepes. You can double the recipe and refrigerate or freeze the leftovers. Stack cooled crepes between layers of parchment or waxed paper and place in a zip-top plastic bag. Refrigerate up to 3 days or freeze up to 1 month (thaw them at room temperature). Reheat in a low oven or in a nonstick pan over medium-low heat.