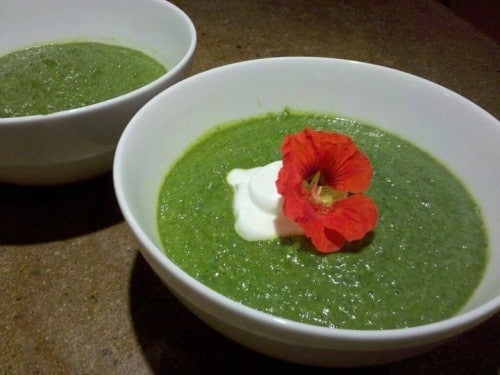 This light vegetable puree from Deborah Madison's terrific and extensive Vegetarian Cooking for Everyone
can be served hot or cold, and makes a wonderful start to a meal.
If served within minutes of preparation, it's a bright, vivid green.  We had leftovers this morning for breakfast, and although the color had darkened a bit, it was delicious cold, right out of the fridge.
Bright Green Spinach and Pea Soup
Prep Time:
Cook Time:
Total Time:
Ingredients
2 Tablespoons Olive Oil
2 bunches Scallions (including half of the greens), coarsely chopped
1 small Onion, thinly sliced
3 Carrots, thinly sliced
1 Celery Stalk, thinly sliced
1 Tablespoons chopped Marjoram or Basil (or 1 tsp. dried)
10 Parsley Springs, chopped
1 large bunch Spinach, stems removed
1 cup Peas, fresh or frozen
¾ teaspoon Salt
Freshly Ground Pepper
Lemon Juice, to taste
Instructions
Heat the oil in a soup pot, and add the scallion, onion, carrots, celery, herbs, salt, and ½ cup water. Cover and simmer for 5 minutes.
Add 5½ cups water and bring to a boil. Lower the heat and simmer, uncovered, for 20 minutes.
Add the spinach and peas. Make sure the spinach is submerged, and cook until the leaves turn bright green (2 – 3 minutes).
Remove from heat and puree (with an immersion blender, or in two batches in a regular blender) until smooth.
Taste for salt, season with pepper, and stir in at least ½ teaspoon lemon juice to "bring up the flavors" (as Madison puts it).
Serve immediately with a dollop of fat-free Greek Yogurt (though Madison recommends the much-more-caloric Crème Fraîche) and garnish with edible flower blossoms.
—
Update 6-28-10:  Replaced my photo with a far superior one, compliments of readers Chillindamos (photographer & flowerer) and Michelle (chef extraordinaire).