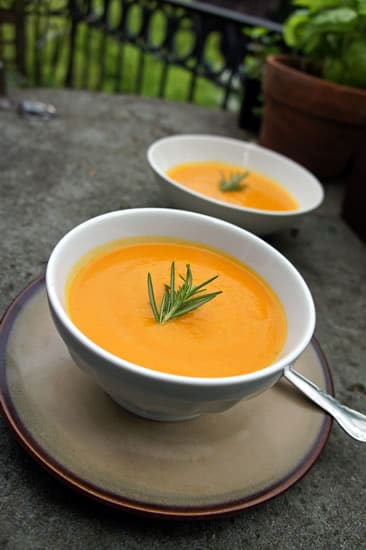 My grandmother used to say, "If you can boil water, you can make soup." She never grasped the concept of soup in cans.For her, soup was what one did when the garden delivered too many tomatoes or carrots at once, or one employed the remnants from the crisper drawer after a solid cleaning.
Simple soups offer an inexpensive, low-fat , kid-friendly meal solution. Soup needs adequate time, salt and seasoning; try to avoid skimping on any of those three. Below the basics, you'll find a recipe of the technique in action.
Basic technique:
Heat two to three tablespoons of butter or olive oil in a wide five- to eight-quart pot.
Sauté three handfuls of diced onions and cook until soft, about 10 minutes. Add carrots, celery, leeks or garlic to the onions if desired.
Stir in a pound of chopped vegetables such as zucchini, asparagus, potatoes, celery, corn and so on, along with dried or fresh herbs, spices and a couple pinches of salt, a few grinds of black pepper and two teaspoons of a dried herb or spice cook briefly.
Add two quarts of water, chicken or vegetable stock. Bring to a boil, then reduce heat, partially cover and simmer until the vegetables are tender, at least an hour.
Just when you think the soup is nearly done, add ingredients that don't need much cooking time such as canned beans, diced cooked meats, shellfish, pasta or cooked rice. Cook for a few minutes or until those ingredients cook through.
Puree if that's your intent. Taste. Add salt, pepper, fresh herbs, citrus, hot sauce or any other potential flavor enhancers. Add in small doses, taste, wait a minute, taste again and add more until it taste good to you.
Garnish it. Yogurt, croutons, chopped scallions, grated cheese, herbs, bacon, breadcrumbs, the list is endless.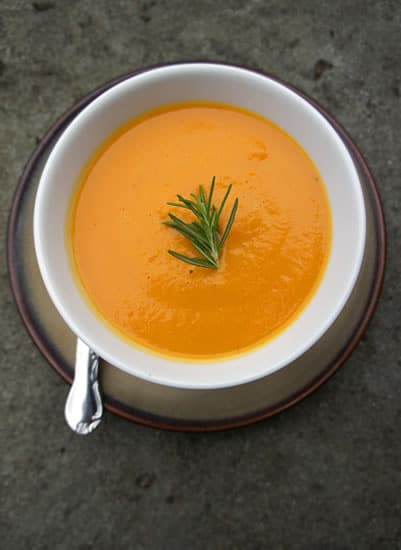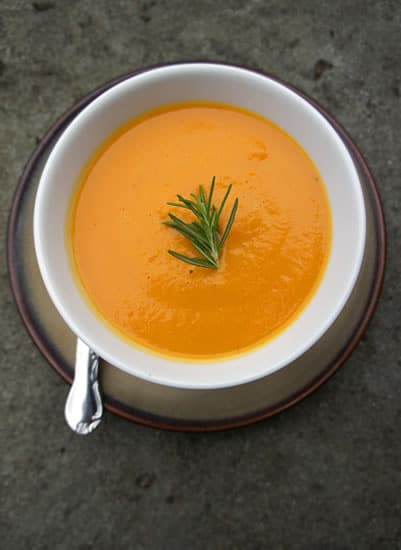 Velvety Chilled Carrot and Rosemary Soup
This savory and sweet pureed soup can be served at any temperature, but it's excellent chilled. Immersion, or "stick," blenders are great for soup because you can plunge them directly into the pot. Hot soup can create a vacuum in conventional blenders, so if you use one, let the soup chill slightly first, and then take the cap off and cover with a towel. Running soups through a food mill is a low-tech option. If you have none of the above, simply mash the softened vegetables with a fork or potato masher; it will lend a rustic feel to the finished product. Add the rosemary, branch and all, but be sure to remove it before pureeing. Makes eight one cup servings.
Cook Time
1
hour
15
minutes
Total Time
1
hour
25
minutes
Ingredients
2

Tablespoons

Olive Oil

1

Medium

Onion

chopped (about 1½ cups)

2

Leeks

white and light green parts, chopped

1

pound

Carrots

diced

Several fresh Rosemary Sprigs

1

Bay Leaf

2

quarts

Chicken or Vegetable stock

Coarse salt and freshly ground black pepper

Pinch

of Cayenne

optional

1/3

cup

Quality Plain Yogurt

optional

Croutons

optional
Instructions
Heat the olive oil in a 4-quart or larger saucepan. Add the onion and leeks and sauté until softened.

Add the carrots, rosemary sprigs, bay leaf, stock, a couple of pinches of coarse salt, a few grinds of coarse pepper, and a pinch of cayenne if using.

Bring to a boil, then cover and reduce the heat to simmer until the carrots soften, about 1 hour.

Remove from the heat. Discard the rosemary and the bay leaf.

Puree until smooth. Add in additional water if necessary.

Return to the pot. Check the seasonings, adding salt, black pepper, and cayenne to taste.

Serve warm or cooled. Garnish with a scoop of yogurt or croutons if desired.
About the Author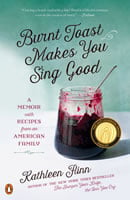 Kathleen Flinn is the author of three books: Burnt Toast Makes You Sing Good,  The Kitchen Counter Cooking School: How a Few Simple Lessons Transformed Nine Culinary Novices into Fearless Home Cooks
,
Her best-selling memoir The Sharper Your Knife, the Less You Cry
 is about her experiences training at the famed culinary school Le Cordon Bleu in Paris.
She writes on her site cookfearless.com and can be found on Facebook, Twitter, and Pinterest.