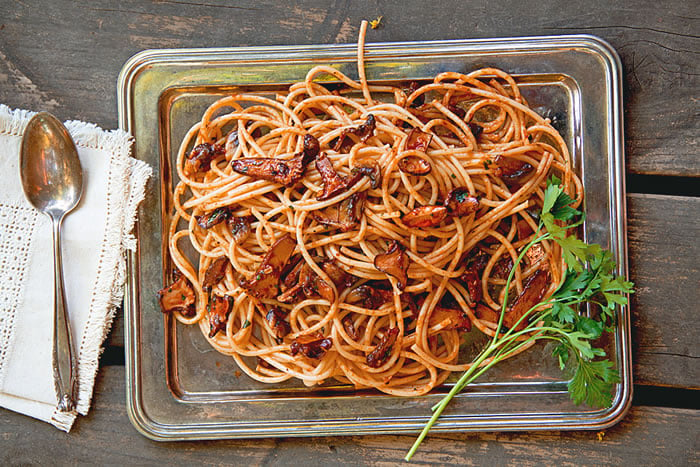 You see I eat unprocessed pretty much all year long. Though I don't have any standards or guidelines I follow. I simply prefer to eat meals that I've made myself from whole food. Sure I have exceptions, because I'm a never-say-never kind of guy. However, most of my exceptions are too trivial to mention or far too embarrassing to admit in public.
But that's not my quirk. My quirk is pasta.
I like 100% durum wheat semolina pasta with no vitamin enrichments. I'm not anti-vitamin, and my decision has nothing to do with processed vs. unprocessed food. I don't like these additives in my pasta because they ruin it. I have a reason for the strong opinion. I hope you don't think I'm being a picky bastard. Picky eaters are a pet peeve of mine. So you can imagine that I'm a bit embarrassed to admit that almost all of the pasta I see on the shelves just doesn't suit me.
Still, I can't live without pasta. I just can't.
Of course Andrew mentions in his Unprocessed FAQs that fresh pasta can be made at home– and it can. Most fresh pasta is made with eggs. There's nothing wrong with eggs in pasta and I would argue that even eggs from the grocery store count as unprocessed (other than the "mechanized" pasteurized eggs).
My problem is this: Fresh pasta is delicious, but it's not always the best choice for every recipe. Pasta is not pasta. Fresh pasta isn't necessarily interchangeable with dried pasta. There's a reason Italians love both versions.
Pasta was originally a Southern Italian dish. Particularly Sicilian. Eventually the cultivation of wheat moved into other areas of the country, and pasta became a common food item all over Italy.
The South specializes in dried pasta. These are typically made without egg, and are called Pasta Secca. This pasta is made with "hard" (high-gluten) durum wheat semolina because the gluten allows the pasta to hold its sometimes-intricate shape. Of which there are approximately 3,500 different shapes.
The durum also helps the pasta maintain an al dente consistency in cooking. Which refers to the amount of "bite" the noodle has retained after cooking. Proper al dente is the point where the pasta is tender, but still chewy.
Northern Italian pastas are generally pastas with fresh eggs and ¨soft" wheat– soft wheat is lower in protein and gluten content. Bakers tend to like flour from soft wheat for batter-based foods like cakes and biscuits. Think cake flour. The soft wheat and egg produces pasta that has a silky texture. These pastas are often prepared as stuffed pastas (like ravioli) and in Italy they are called Pasta Fresca.
I love both styles of Italian pasta. However, nine out of ten times I prefer the chewy bite of dried pasta to the silky slurp of fresh pasta. To further complicate matters the very best dried pasta, in my opinion, must be 100% durum wheat semolina, water, and nothing else. Because the "else" lowers the gluten content. I know I must sound crazy. Gluten-free is the trendiest thing in food since, well– sliced bread. So when choosing to go with unprocessed pasta (for me) it's not as simple as simply making fresh pasta at home, and I don't have the skills (or the room in my kitchen) to make dried pasta. That leaves me stuck scanning labels in grocery stores looking for the magic words: "Ingredients– Durum wheat semolina, water."
Which is where things get tricky. As basic as pasta should be, pasta made for the American market doesn't pass Andrew's Unprocessed test (as I interpret it). I don't know why it has to be that way either. Is it just a cruel Italian joke, designed to keep good pasta out of the mealy mouths of unworthy Americans?
Well, the Italians didn't plan this particular cruelty. The truth is closer to a (well-intended) governmental directive gone astray. Enrichments are added to American pasta in order to replace some of the nutrition that gets processed out of whole wheat flour. Unfortunately, chemically adding back what's lost changes the structure of the gluten. And worse, keeping the whole wheat whole may make delicious noodles, but it will never make what a culinary purist (like me) would call pasta. Meaning whole wheat is not a one-size-fits-all solution either.
So we're stuck with an irony. Pasta made in this country (or even pasta made elsewhere for consumption in this country) is almost always re-processed to add the "health supplements" niacin, riboflavin or thiamine. Though I'm dubious of the healthful benefits that these enrichments supposedly provide, they're not my main complaint. What really gets me mad is that these enrichments change the texture of the pasta.
As I said, it's hard to find pasta without enrichments even in the very best markets. You can pick up a package that says "Made in Italy" and think you're getting the real deal. Even the good stuff from Whole Foods may very well have been made in Italy for an American consumer and still contain additive enrichments – just check the label if you don't believe me.
This doesn't mean you can't get unenriched pasta in the United States. Good Italian markets or gourmet specialty shops will carry brands like DeLallo, Latini, Rustichella d'Abruzzo, Maestri and La Molisana. These brands are quite a bit more expensive (of course) than the grocery store varieties, but it really only works out to about 50 cents a person in the long run.
Which brings me back to that quirk of mine. Good pasta. Life's too short to live it without it. You can make fresh pasta at home following unprocessed guidelines, and it's delicious. But it will never have the "tooth" of dried pasta. Whole wheat noodles are a healthy alternative, but that's exactly what they are – an alternative.
Which makes me wonder when (and why) did choosing good pasta get to be so difficult? It's the simplest of foods. Italian's have been enjoying pasta (that follows Andrew's Unprocessed guidelines) for centuries. Why can't the American market demand quality pasta made from 100% Durum wheat semolina, water and nothing else? Once you've compared it to "enriched" pasta you'll never go back.

Chanterelle Bucatini
Adapted from Dominica Marchetti
Ingredients
½

cup

extra virgin olive oil

2

cloves

garlic

peeled & minced

16

ounce

fresh chanterelle mushrooms

trimmed and sliced lengthwise

1

teaspoon

minced fresh rosemary leaves

1

cup

tomato purée

see note

1

teaspoon

sea salt

plus more for pasta water

1

pinch

freshly cracked black pepper

1

tablespoon

minced fresh flat-leaf parsley

1

pound

dried durum wheat semolina bucatini

¼

cup

freshly grated pecorino Romano cheese

plus more for or serving
Instructions
Place the extra-virgin olive oil and garlic in a large sauté pan set over medium-low heat. Cook, stirring occasionally until fragrant but not browned; about 3 minutes. Stir in mushrooms and rosemary. Raise the heat to medium-high and cook the mushrooms without turning until they are browned on the underside; about 2 minutes. Toss the mushroom to turn and continue to cook, tossing or stirring occasionally until golden brown; about 12 minutes more.

Stir in tomato puree and reduce heat once again to medium-low. Add 1 teaspoon salt and a pinch of pepper; stir in parsley. Turn off heat and cover the pan to keep the sauce warm.

Meanwhile, bring a large pot of salted water to a rolling boil. Add dried pasta, stirring to separate the noodles. Cook according to the manufacturer's instructions until al dente; about 7 minutes. Drain the pasta in a colander set in the sink, reserving about 1 cup of the cooking water. Do not rinse.

Transfer pasta to the pan with the sauce. Stir in as much of the cooking water as necessary to just loosen the sauce and get the pasta coated. Transfer to a warmed shallow serving bowl or platter; sprinkle with ¼ cup cheese. Serve immediately with additional cheese on the side.
Recipe Notes
Homemade tomato purée is easy to make. For 1 cup, briefly dip 6 big tomatoes in boiling water; peel, halve, seed and roughly chop. Whirl in a blender until smooth. [Here's an alternate method.]
About the Author
Greg Henry writes the food blog Sippity Sup–Serious Fun Food and  has authored two cookbooks, Savory Pies and Savory Cocktails. He's led cooking demonstrations in Panama & Costa Rica, and has traveled as far and wide as Norway and Alaska to promote culinary travel. Greg also co-hosts The Table Set podcast which can be downloaded on iTunes or at Homefries Podcast Network. You can follow him on Facebook and Twitter.