Coconut Horchata
Oct 03, 2014, Updated Aug 13, 2017
There are so many non-dairy "milk" options these days, vegans and omnivores alike can have their pick of white-ish beverages that didn't come from a cow: hazelnut, flax, hemp, coconut, oat, rice, etc. And, while we tend to get in a rut with one favorite, nutritionally speaking it's best to vary our routine. Each one has a bit of a different nutrient profile — soy milk has more protein, almond milk has fewer calories — so you get the best of everything when you occasionally switch up what's in your refrigerator.
While the boxed and cartoned stuff is awfully convenient, milk substitutes are definitely something you can make at home, which means they pass the October Unprocessed Kitchen Test with flying colors. Making them yourself also allows unlimited combinations of flavors and ingredients so you can create a mix that suits you perfectly.
I believe I have done just that with this recipe. Horchata has its roots in Mexico and Spain and is probably one of the original milk alternatives, and I think still one of the best. There are lots of versions, but most everyone agrees that it's essentially rice milk with a bit of cinnamon. I've used almonds and coconut in my concoction, too, which gives it a full creamy flavor.
I would encourage you to experiment with making your own nut, seed, or grain beverages to see what floats your boat. For horchata, it's as easy as boiling water and using a blender. If you plan ahead to give yourself a little time for soaking the ingredients overnight, you'll be drinking your custom dairy-free delight before you know it.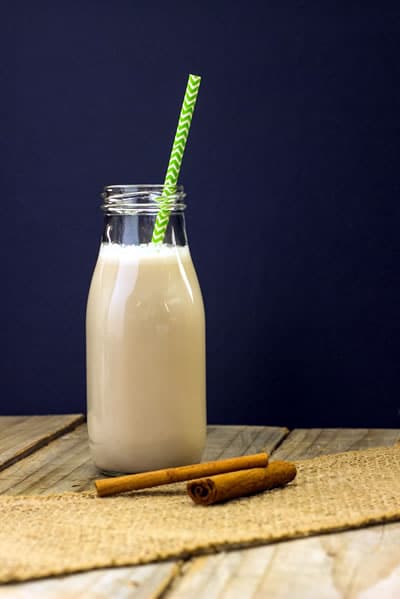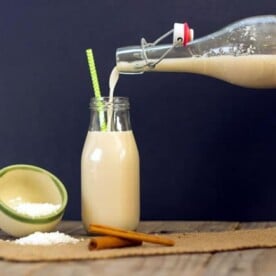 Ingredients
5

cups

water

,

divided

1½

cups

shredded coconut

,

unsweetened

1

cup

sliced almonds

½

cup

Jasmine rice

,

uncooked

2

cinnamon sticks

,

each about 3-inches long

¼

cup

honey or sweetener of your choice
Instructions
Heat 3 cups of the water to almost boiling.

Mix coconut, almonds, rice and cinnamon sticks in a large bowl (I use a 2-quart glass measuring cup). Pour hot water over the mixture, stir, and let cool for about an hour. Cover and refrigerate overnight.

Add the mixture to a blender, cinnamon sticks and all, and blend for 1 minute. You may have to intermittently stop the blender and stir things up a bit with a spoon to be sure everything is coming into contact with the blades. Add honey and 1 cup of water and blend for another 30 seconds.

Strain half the mixture into a bowl or pitcher by pressing with the back of a spoon through a fine mesh strainer or by squeezing through a nut milk bag or cheesecloth. If you can find a good use for the leftover ground nuts and rice, hold on to it...otherwise, compost or discard (see notes). Repeat the straining process with the last half of the mixture. Stir your remaining 1 cup of water into the white liquid you've extracted to finish your horchata.

Serve chilled. It's delicious over ice or straight up.
Notes
* You could compost the leftover rice/nut mixture, at your discretion. A bit of web research suggests there are two different schools of thought on these particular ingredients: good for compost and not good for compost. If you're an experienced composter, you probably know what works best for you and your pile. You could also turn it into rice pudding with a little heat, sweetener and additional liquid. While these two recipes call for just rice leftover from the horchata process, you could use them as your inspiration for a special nutty coconut version: Easy Horchata Pudding or Arroz Con Leche Rice Pudding.
Nutrition
Calories:
527
kcal
,
Carbohydrates:
61
g
,
Protein:
10
g
,
Fat:
29
g
,
Saturated Fat:
12
g
,
Sodium:
106
mg
,
Potassium:
403
mg
,
Fiber:
7
g
,
Sugar:
33
g
,
Vitamin C:
0.2
mg
,
Calcium:
133
mg
,
Iron:
2.4
mg
Like this recipe? Rate and comment below!